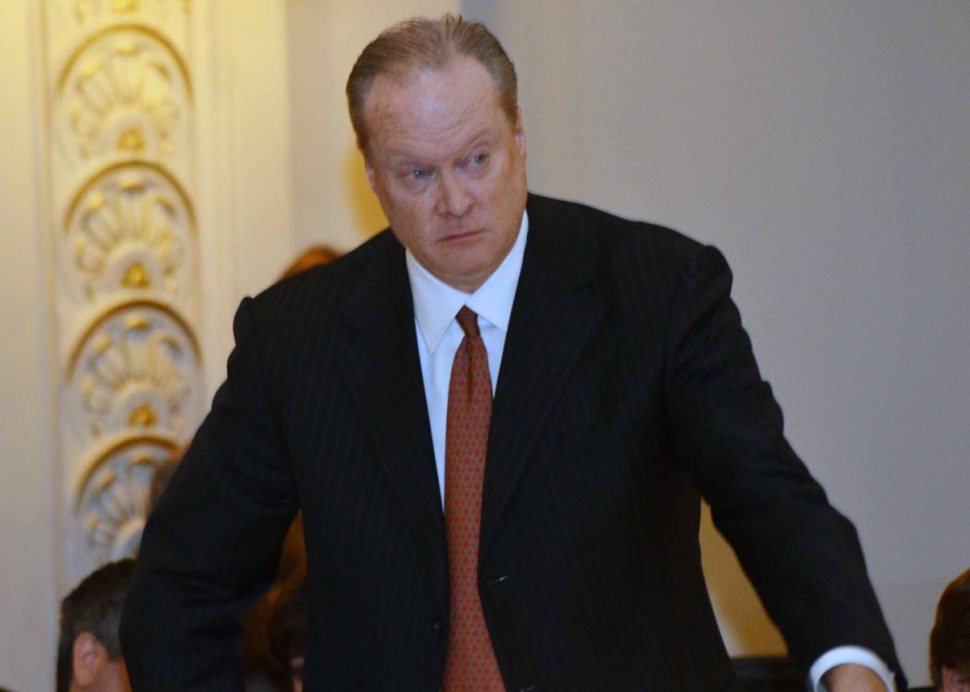 Middlesex sources say a long-time-a-coming effort to install state Senator Peter Barnes (D-18) in a superior court judgeship will happen by the end of the month, specifically by April 26th, and possibly as early as next week.
Over the course of the past month, Trenton sources have seen Barnes at intervals hovering outside the governor's appointments counsel's office, but the senator from Edison turns 60 on the 26th, which has put his judgeship on rush-deliver for pension purposes.
Barnes himself worked the phones Monday night telling players he's ready to do this, phone calls that created mass hysteria in Middlesex political circles.
Long in the pipeline for promotion, Assemblyman Pat Diegnan (D-18) stands poised to have the full support of the Middlesex County Democratic Organization in his pursuit of Barnes's vacated seat.
A source told PolitickerNJ that the affable assemblyman was good-naturedly campaigning for the job at a district event as recently as last night. His assuming the 18th District throne from a swing district town has some sources in Edison – biggest town in the 18th District – mildly grumbling. But no one will have the organizational strength to challenge Diegnan, who's built a lot of goodwill over the years, sources said.
Three Edison electeds have positioned themselves to make a play for Diegnan's seat: Councilman Bob Diehl, Councilman Rob Karabinchak, and Councilwoman Sapana Shah.
Like everything that happens in Edison, the process is thorny and brutal, with more than just feelings likely to hurt, but certainly feelings and egos, the entire situation made more complicated by the fact that Keith Hahn licked the longstanding party organization in town to take charge of the Edison Democrats over the strenuous objections of the old Doc Paterniti crew, captained by longtime party loyalist Anthony Russomano.
Hahn's a local cop, who won the chairmanship over Russomano when Diehl backed out of his own pursuit of the leadership position and threw him his support. Diehl presumably now wants to reap the benefits of his 2015 support for Hahn by benefiting from Hahn's 2016 backroom bare knuckling.
But though it's still fluid, sources say Karabinchak is likely to get the organization nod over Diehl.
Karabinchak has done what he's told, played ball, facilitated developers and been a good soldier, all of those pre-requisites to be the party favorite. The suspicion is that if Diehl doesn't have the support for an assembly run now, he'll surface next year as the alternative to incumbent Mayor Tom Lankey.
Lankey and his allies are trying to tiptoe through this thicket in hopes of maintaining some clout for 2017. But their worry is that whomever – whether Diehl or Karabinchak – gets booted as an assembly choice will be back later wearing war paint and looking for local payback.
Then there's Shah.
She appears to be making moves to give herself the best chance of replacing Diegnan. She held a successful fundraiser two weeks ago and, in contrast to her rivals, presents publicly with all the suggestion of a new generation of district-wide leadership. As a South Asian American and representative of Central Jersey's fastest growing minority community, the young lawyer brings the bonus of offering to the Democratic Party a chance to rectify that 2014 nightmare when Assemblyman Upendra Chivukula  sought party support in Middlesex and was unceremoniously shown the door.
South Asians don't have a freeholder in Middlesex and don't have a Trenton legislator.
Shah provides that opportunity.
But party sources insist she doesn't have the requisite political support with old timers and local party pooh-bahs in the district's towns, whose thumbs-up she'd require to edge Karabinchak, the likely establishment choice.