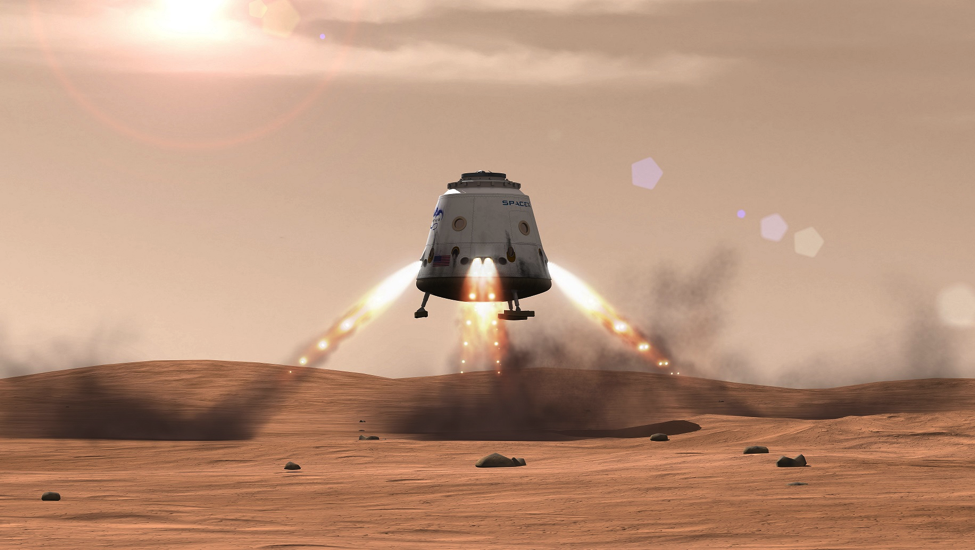 After the historic landing of the Falcon 9 rocket on a drone ship off the coast of Florida earlier this month, SpaceX CEO Elon Musk confirmed that he will reveal the company's vision for colonizing Mars at a conference in Mexico this September. Today, the official SpaceX Twitter account released a major aspect of their plans for the red planet.
While Elon Musk told the Observer during a press conference that he will discuss SpaceX's plan to build a "city on Mars" at the International Aeronautical Congress in Guadalajara, it seems that the company is releasing some of those details before that event.
"Red Dragon missions to Mars will also help inform the overall Mars colonization architecture that SpaceX will reveal later this year," a SpaceX rep told the Observer in an email. The missions are dubbed Red Dragon for its destination.
The upcoming mission will see the company's Dragon 2 — the same vehicle that will ferry astronauts to and from the ISS — test the capabilities required for future missions to Mars. According to Musk, the Dragon 2 is capable of landing anywhere in the Solar System, and this will be its first test flight.
Unfortunately, not much else is actually known about the "architecture" SpaceX is referring to, only rumblings on Reddit and internet rumors about a Mars Colonial Transporter—a large spaceship that could initially help establish a populated Martian city.
Elon Musk wants to send humans to Mars beginning in 2025 which in the space industry, is around the corner. If the first Red Dragon mission launches in 2018, a round trip with crucial data and samples is expected to take about 3 years accounting for flight time and the 18-month re-alignment between Earth and Mars. Launching humans into space on a mission to Mars only 4 years after that is considered doubtful.
The robotic Red Dragon will be launched atop SpaceX's new heavy-lift rocket, the Falcon Heavy, which is expected to make its first test flight from Cape Canaveral later this year. The Falcon Heavy, a launch vehicle that is essentially three rockets, will have the lift power to propel vehicles beyond Low-Earth orbit and to deep space destinations.
"The Falcon Heavy will carry more payload to orbit or escape velocity than any vehicle in history, apart from the Saturn V moon rocket, which was decommissioned after the Apollo program," Said Elon Musk at a press conference in 2011. "This opens a new world of capability for both government and commercial space missions."
Robin Seemangal focuses on NASA and advocacy for space exploration. He was born and raised in Brooklyn, where he currently resides. Find him on Instagram for more space-related content: @not_gatsby.
Amy Thompson is a science writer, focusing on all things space. You can find her on Twitter @astrogingersnap.