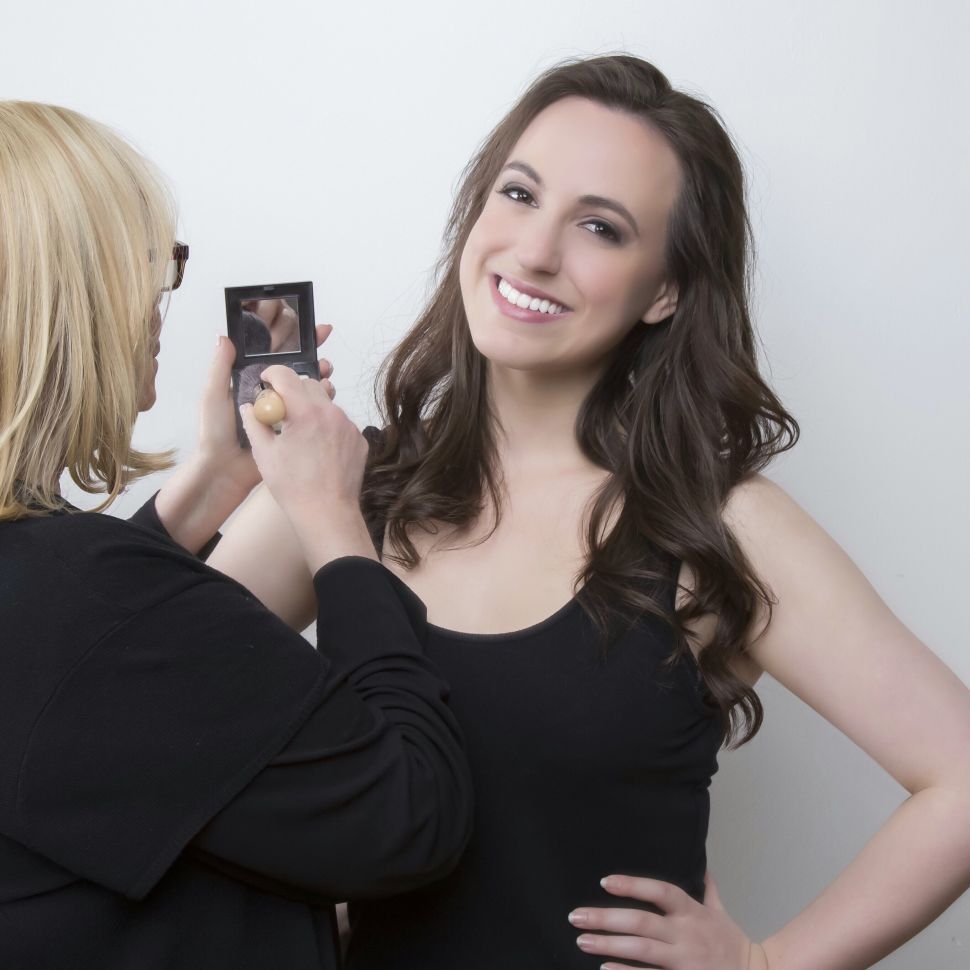 If you follow the Crazy Jewish Mom Instagram account, you probably feel like you know the mother/daughter duo behind the madness. You want to know why Superjew hasn't proposed, if CJM truly hates him and if the Brooklyn neighborhood where her 'Death Trap' apartment is located is crawling with man bun hipsters. In person, the pair is somehow even more entertaining than the account…and that's saying something.
CJM became a cultural phenomenon after Buzzfeed reposted messages from the now wildly popular Instagram account. More than 800,000 followers read 27-year-old Brooklynite Kate Siegel's daily texts from her mother, Kim Friedman, and they're as bonkers as the title leads you to believe. They touch on a wide variety of subjects, including, but not limited to, kegels, Spanx, carbs, pegging, gynecologist appointments and the Ivy League educated men her mother attempts to set her up with, despite the fact that Ms. Siegel has been with her current boyfriend for two years. Her mother calls him "Superjew."
The account has not been without it's fair share of controversy. The Forward's op-ed encouraged people to "Stop LOL-ing at My Crazy Jewish Mom," calling her messages "emotional abuse" and xoJane, whose commenters are notoriously prickly, was not laughing at the book's very funny press release, with useful advice on husband hunting.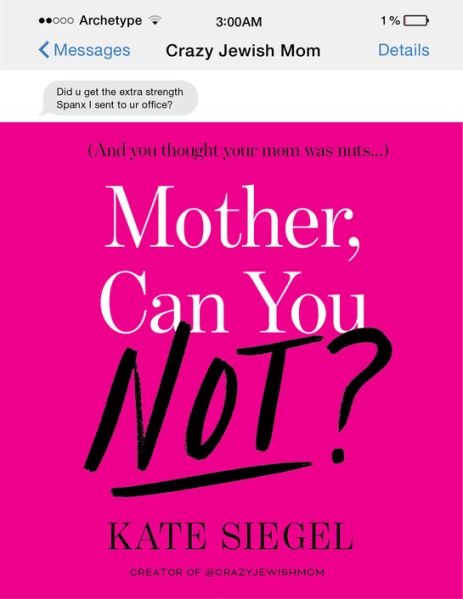 An afternoon spent with the so-called "Crazy Jewish Mom" and her daughter is like spending the day with your own slightly overbearing (but ultimately well-meaning) mother…especially if your mother happens to be Jewish and just a little bit insane. After all, in a world of helicopter parents, it's not unusual for moms to text their kids on a constant basis.
Still, Crazy Jewish Mom is next level. These Instagram posts will have you tagging your own mother if she's ever wondered when you were getting married and whether you've been to the gym. Many of Ms. Friedman's oft-texted catchphrases have caught on, especially "No ring on the finger, must not linger" and "No ring in sight, you must take flight."
Over coffee and biscotti, the Observer talked to Kim Friedman and her daughter about the best dating apps (Ms. Friedman is on all of them, posing as her daughter), why 20-somethings should freeze their eggs and feminism. During the span of the interview, Ms. Friedman offered to set me up with Superjew's twin, the two yarmulke-wearing men who walked into the coffee shop and both of her EDM-loving Israeli neighbors. And that's just the beginning of the slew of eligible suitors she keeps on call. 
Ms. Friedman is a hysterical, unstoppable source of entertainment, and while she drives her daughter crazy, it comes from a good place. The bold Ms. Friedman opened by explaining her current distress over her spawn's career goals. "My worst nightmare is, 'Oh, I'm going to be a writer!' And I'm going to be a freelance writer!'" Then, Ms. Siegel interrupted to explain, "Well,  it's entirely your fault!" The cross-talk was a constant throughout their conversation, showing how in sync the pair is; one could envision a Broad City type show following their hijinks. 
Ms. Siegel quit her job as a producer at Condé Nast a year ago to start working on her recently released book, Mother Can You Not? highlighting their relationships. While it might be mom's worst nightmare, Ms. Siegel maintains that the writing career is all her mother's fault. After all, Ms. Siegel received Shakespeare readings while in-utero. 
In the insanely funny opening chapters, Ms. Siegel detailed her aspirations of pop superstardom, describing a photoshoot gone awry (no spoilers, it is entirely worth the read). After her Britney Spears dreams were crushed, Ms. Siegel decided she wanted to be a writer. So she wrote what she described as a "super embarrassing" book in high school. CJM offered to send me her original book, and the pictures from the photo shoot, but Ms. Siegel explained her technologically challenged mother wouldn't be able to figure out how. Ms. Siegel made her mother an Instagram account so she could catch up on her popular posts, but she has since forgotten the login. 
Before landing the official title of Crazy Jewish Mom, Ms. Friedman was a director on Beverly Hills 90210, Dynasty, Square Pegs, Star Trek and Love Boat and the family lived in California. After Ms. Siegel ventured to Princeton for college, Ms. Friedman and her husband moved to New Jersey to be nearby.
Ms. Friedman worries about the book selling, especially when it's next to books by Amy Schumer, Tina Fey and Mindy Kaling. "Who's going to read Kate Siegel, who has a book about her mother?" Ms. Friedman worried. "I think the book is fabulous, but no one knows about the book!"
Luckily, her daughter's Instagram-base knows exactly who Kate Siegel is. At a recent JSwipe event, the line was out the door, with hundreds of people waiting to meet Ms. Siegel, who was signing for hours. Still, Ms. Friedman wants to pass out resumes just in case; at a recent AOL event, she asked to meet the CEO, to see if there was a job available for her daughter.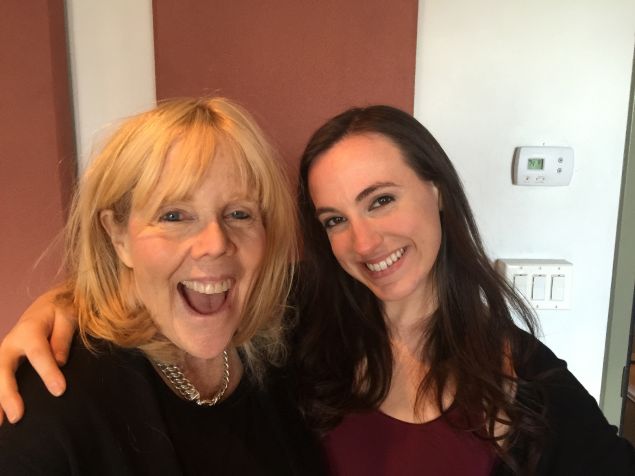 On the topic of JSwipe, Ms. Friedman explained she has her daughter on every app, naming JSwipe, JDate and "Fumble" (better known as Bumble). "There's no hope for her and Superjew!" Ms. Friedman disclosed, citing her daughter's long-term relationship with the "great guy" who she doesn't think she'll ever marry. "I don't think either of them should waste time!" 
While she might not think they'll get married anytime soon, she did inadvertently set them up. After hearing about a Princeton rabbi with a knack for matchmaking, Ms. Friedman basically stalked him, friending him on Facebook and keeping a list of upcoming events at the Princeton Club on her refrigerator. Ms. Siegel ultimately met her boyfriend at a Chanukah party thrown by the rabbi.
"I just want to know, what are they saying about me that's mean? Do they hate me? I love the mean ones, I wish I could read them out loud somewhere!"
"After two years, you know everything you're going to know!" Ms. Friedman said, explaining that while her entire focus isn't on her daughter getting married ("I want her to have a big career!") she doesn't want her wasting time. "I do want grandchildren, I don't care if she's married or not," Ms. Friedman said. 
Ms. Siegel hopes her mother's reputation will change after this book. "On Instagram, she gets this horrible rap as this archaic woman who sets women back a million years." While it bothers her, her mother said, "I just want to know, what are they saying about me that's mean? Do they hate me? I love the mean ones, I wish I could read them out loud somewhere!"
While some might think the constant baby talk makes her less of a feminist, Ms. Friedman has been trailblazing since her early days in Hollywood. Her daughter brought up a story from the book shocking enough to make most people head to Amazon immediately, and Ms. Friedman was more than happy to describe it in full. 
"I think it gets misconstrued, but she's advocating for things that I ultimately want."
At an interview for an action movie, Ms. Friedman knew she wouldn't get the job. "I was all dressed up and I said, 'Look, I know this is just a courtesy meeting. I know you're never going to hire a woman to direct an action movie. But, I know why. It's because I don't have something, and I know what I need. And I brought out a big, rubber dildo and put it on his desk and said, I've got just the thing…I did not get the job.'"
Both women explain that the pressure for children is because Ms. Siegel wants a family of her own one day. "She wants me to be happy…" Ms. Siegel began, until her mother interrupted to suggest both of us go to a sperm bank near Harvard or Stanford. "I think it gets misconstrued, but she's advocating for things that I ultimately want," Ms. Siegel admitted. "All of the intensity and pushing is towards that."
"What I've realized as I've gotten older," Ms. Friedman said, "Is no one really cares…They only care about what they are like. I don't care what people think," she announced, giving an at times much-needed message to millennials who distress over nasty internet comments. "Please, I went on the first feminist march in New York!" She exclaimed, before advising us, again, to go to a sperm bank—but while having our careers, of course. Ms. Siegel is trying not to let the criticism bother her, with help from her mom. "Malala has critics! If people have problems with Malala, they're going to have problems with us."
Talk turned to their recent Nightline appearance. Ms. Friedman said, "We're in New York, where everyone wears black, so I knew I had to wear something else to stand out. So I looked a fat, giant blueberry. A nice, fat, Jewish blueberry" (truth be told, she did not look like a Willy Wonka character, as she suggested).
"Can I brag about something?" Ms. Friedman asked. "Of all the [Amazon] reviews, only two are bad. So they don't hate you! The book is funny, even if they don't agree with what's in the book." Ms. Siegel said, "The community has been incredibly kind, but every now and then you get 'This is so backwards and anti-feminist,' but you try to reason with them and explain there's a lot more going on."
When Ms. Siegel isn't responding to text messages from her mother, she's running four separate Instagram accounts. She has a personal page, @AssholeThor for her chihuahua and CrazyYourMom, where people send in their own anecdotes. Ms. Siegel explained why she decided to focus full-time on Crazy Jewish Mom, even though it didn't come with benefits, a fact her mother reminds her about constantly. "It was sort of getting to the point where I didn't have a book contract in place…It wasn't the best. But the thing is, I was at a point where I had this opportunity in front of me and it was my dream."
"White girl!" Ms. Friedman chimed in to describe her problems. "I fully acknowledge that it's ridiculously lucky," Ms. Siegel said, rolling her eyes at her mom's description. "What if you hadn't sold the book?" Ms. Friedman worried. Luckily, Ms. Siegel did sell the book, and the reviews are rolling in; with 129 and counting, made up of almost all 5 star reviews. Naturally, the first one was penned by her mother.