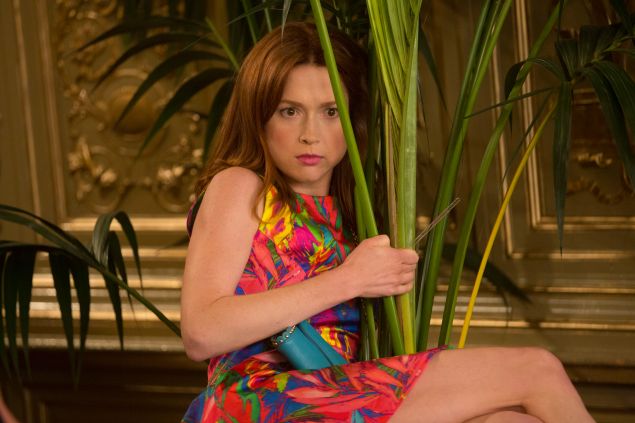 Welcome to our TV Fashion column, where TV Ate My Wardrobe's Emma Fraser discusses the trends in television apparel. This week: The dynamic, dinosaur-themed wardrobe of Unbreakable Kimmy Schmidt.
Season 2 of The Unbreakable Kimmy Schmidt was unleashed on the world (or rather Netflix (NFLX)) last week. Ideal timing, too, because as spring wardrobe inspiration kicks into gear we have new looks into Kimmy's post bunker, bright and cheery wardrobe. Once again, it looks like her entire closet has been dipped into part of a rainbow. But color is not the only important signature; pattern plays just as vital a role in Kimmy's style including an array of florals, stripes, and hearts.
The 90s, too, are a big influence on Kimmy's look, but thankfully Kimmy is more Spice Girls pop than choker wearer – which, according to Taylor Swift, is maybe the new flower crowns of Coachella – and she is still attached to her color of the day scrunchies. Everything about Kimmy's look is trying to reclaim the time that was taken from her by Reverend Richard Wayne Gary Wayne and this includes rejecting the long pale blue garb that she wore every day underground.
Costume designer Tina Nigro keeps up the same color-soaked wardrobe from season 1 with Kimmy's quintessential look of yellow cardigan and pink pants making a hilarious appearance in episode 5. Season 2 does see Kimmy addressing or, rather, trying to deflect her feelings about her captive experience, but more blue does inch its way into Kimmy's wardrobe suggesting that she can't keep those feelings suppressed for too long.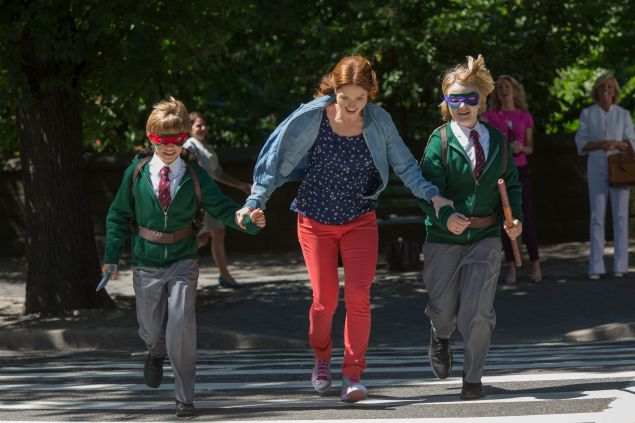 The level of bright color and bold pattern in one outfit might not be to everyone's taste and there are ways to get inspired by Kimmy without looking like an additional Scooby Doo member. So rather than wearing three different shades of purple in one outfit as Kimmy does – jacket, sweater, pants – stick with one and pair with jeans or a top in a different color. Jeans in less traditional colors such as this Topshop burgundy option (bonus: they are on sale) or thicker material leggings also work.
Floral pants are a Kimmy must and I swear by Uniqlo's lounge bottoms for a really affordable and super comfortable spring option for both in and outside the house. And you can go full flower power, plain color or my personal favorite – geometric shapes. They have pockets, which automatically adds to their value as when it comes to pants there is nothing worse than an illusion pocket.
As I have discussed in the past regarding buying clothes that you see on screen or for a similar look there are plenty of options and shows which try and stay within a character's likely budget. Tina Nigro mentioned stores such as Topshop, J.C. Penney, Forever 21 and American Apparel as Kimmy shopping hot spots and there are plenty of Kimmy inspired alternatives available here. One of the ways blue snuck in this season is via Kimmy's raincoat. For something even more Kimmy-inspired, Topshop has this yellow version with contrasting striped cuffs and hood lining. If I had that coat I would probably be less mad those April showers are all but guaranteed.
It might involve a trip to her local library, but ASOS is another treasure trove of items Kimmy would adore particularly the blouses that feature animals or in this case dinosaurs and hearts (there is also a dress version that is very Kimmy season 2). H&M also offers up plenty of fun patterned shirt options including zebras and swans. For all things floral check out J. Crew, an instant way to dash away those winter blues even if HBO keeps reminding us winter is coming.
Other vital Kimmy Schmidt wardrobe staples include cable knit sweaters in every color, a variety of cross body bags, which are both good for a lighter day of carrying and for an extra bag when your backpack is full of school related stuff. Or in my case whenever I travel this is the ideal combination of bag types. A denim overall dress is a classic for a reason and Kimmy pairs hers this season with a mustard top underneath which feels very 90s with a dash of the 70s. It isn't surprising to see these two decades reflected back as the 1970s played a big part in shaping fashion in the 1990s; now they are having their moment again as fashion is cyclical and nostalgia means we keep repeating ourselves intertwining two previously separate periods.
One brand out of Kimmy's current price range that pretty much screams Kimmy with every outfit and accessory is Kate Spade New York; the mix of bright color and whimsical motifs look like they could've come directly from Kimmy's brain. The same can be said about a lot of the new Coach collection particularly the repeated use of flowers and this T Rex sweater (which I am currently coveting hard) keeps in line with Kimmy's penchant for sweaters with animals on them. Foxes and felines have appeared this season; I can see Kimmy branching out into an extinct species too.
Not everyone wants to dress like they are auditioning to be a children's party entertainer or like they live on Sesame Street and this is where the opting for one thing out of the Kimmy look book comes into play; mixing and matching Kimmy's brand of color with a pair of blue jeans or a plain tank with floral pants is one way to go. Or if you want to embrace everything Kimmy then knock yourself out in fuchsia and canary yellow.
Comedy shows at the moment feature several other characters who have closets packed with bright and patterned items and this genre lends itself to clothes of a sunny disposition. Such Kimmy adjacent shows in terms of their outfits include New Girl, The Mindy Project, Last Man on Earth, Brooklyn Nine-Nine and Black-ish.
Kimmy isn't the only one with a strong look on The Unbreakable Kimmy Schmidt and her roommate Titus Andromedon has a distinctive style of his own and I regret that I did not include him in my robe discussion as his collection is one of the best on TV.
So whether you want to dress head to toe in varying shades of purple or if you just want that one perfect floral sweater (you can also put a bird on it) to brighten up your wardrobe; look to Kimmy Schmidt for not only excellent pet crime fighting theme songs, but for all your colorful and bold looks for spring and beyond.
Emma Fraser is the creator of TV Ate My Wardrobe and spends most of her time writing about TV, fashion and costuming; Abbi and Ilana's Broad City style, the wigs on The Americans and Mindy Lahiri's pajamas are just as vital as talking about '90s/'00s teen shows. Emma has a MA in Film and Television and she probably holds Angela Chase responsible for this path. You can find her on Twitter @frazbelina.