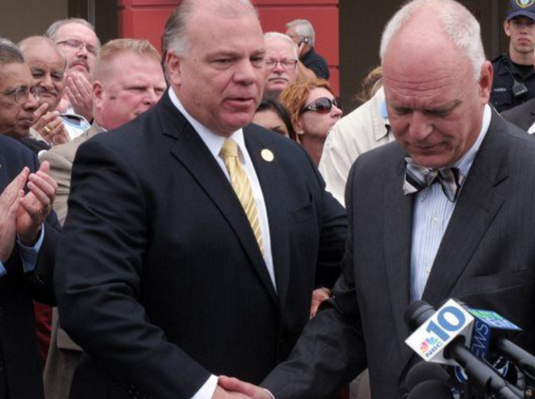 As a rival bill to offer Atlantic City additional benchmarks before the state takes over its finances goes back to committee this week, Senate President Steve Sweeney (D-3) is offering the beleaguered municipality 130 days to get its fiscal house in order before his own takeover plan goes into effect. Sweeney announced the compromise with Assembly Majority Leader Lou Greenwald (D-6) Wednesday. Governor Chris Christie has said that he will not consider any proposals that differ from the Sweeney bill passed in the Senate last month.
While Assembly Speaker Vince Prieto (D-32) is pushing an alternative bill that would give the city up to two years of new benchmarks before the state takes steps like tearing up city workers' union contracts and privatizing its water authority, the proposed amendment to Sweeney's bill would give the city another quarter to make shore up its $102 million deficit. The new Sweeney compromise would require the city reduce its current spending per capita from $6,700 to $3,500 on the first day of the month following approval of the plan.
"This plan gives Atlantic City the opportunity to use all the tools at their disposal to finally reduce spending and reform government operations before the state asserts control over its municipal finances," Sweeney said in a statement. "For years the Atlantic City government has made bold assertions regarding its ability to solve the problem. Despite those assertions, no solutions have ever been implemented in a material way. Our proposal gives the city one last chance."
Greenwald wrote that under the new amendment, the city's ability to cut costs those costs would be the metric by which the state decides whether to expand its powers over the city's finances. Senator Paul Sarlo (D-36) will join Greenwald and Sweeneyin petitioning the governor to lend his support for the amendment and offer the city a bridge loan to maintain operations. If the city fails to draft a budget that hits that $3,500 per capita target, the state would proceed with Sweeney's original takeover plan.
"As I have said repeatedly, bankruptcy and financial ruin cannot be options for Atlantic City. Under this plan, the city will be able to maintain local control and will be given the summer to implement a legally-binding, realistic and responsible financial recovery plan," Greenwald said. "The timetable bridges the summer months that are so important for the city's tourism season. We want Atlantic City to recover and hope they can do it on their own. If they cannot, the state intervention should begin immediately."