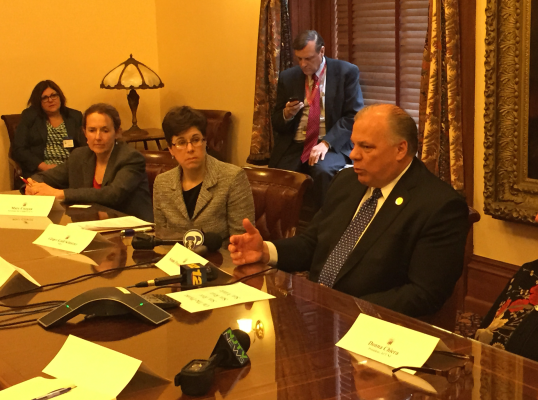 TRENTON — Senate President Steve Sweeney (D-3) called on Governor Chris Christie to fund lead testing testing for New Jersey public schools' water Monday, and said long-term infrastructure projects will be necessary to avert more disasters like Newark schools' elevated levels of lead in their drinking water. Christie dedicated $10 million to lead paint abatement last week, but said he would not consider any extra-budgetary spending to fund testing or the installation of filters.
"The fact that we had government agencies that knew about it kind of is the most alarming part of it," Sweeney said of last month's revelations that more than half of Newark schools have lead bleeding into their water because of pipes installed more than a century ago. Students there are relying on bottled water until the pipes are replaced or filters are installed. Sweeney's bill would appropriate as much as $20 million to reimburse them for installing mandatory water filters in schools that test positive.
"We're an old state, and a lot of our infrastructure is very old," Sweeney continued. "They have some wood pipes that run water through up in Newark. I mean, that's how old some of this infrastructure is. So you've got to come up with a system and a way to replace the infrastructure. Because you can't just say it's too expensive, that it's okay to poison children because it's too expensive or you're going to buy bottled water because it's cheaper.
"We're throwing the $3 million at it to do the testing, we think that's sufficient," he said of the plan's first steps, adding that other municiplaities should follow Hamilton and Paterson's leading in testing immediately, with or without the additional funding. "We can't mandate it, but I think they have an obligation as districts."
On persuading the governor to consider allocating the additional money, Sweeney said he was optimistic but that the conversation hasn't happened yet. Christie's willingness to compromise with the Senate President on a new Democratic justice for the state Supreme Court could bode well for those negotiations.
"I think that we're going to be able to talk to him on this, I really do," Sweeney said. "I think we all recognize there's an issue, I think that's why he put the $10 million back in for lead paint. But we have to deal with the water issue."