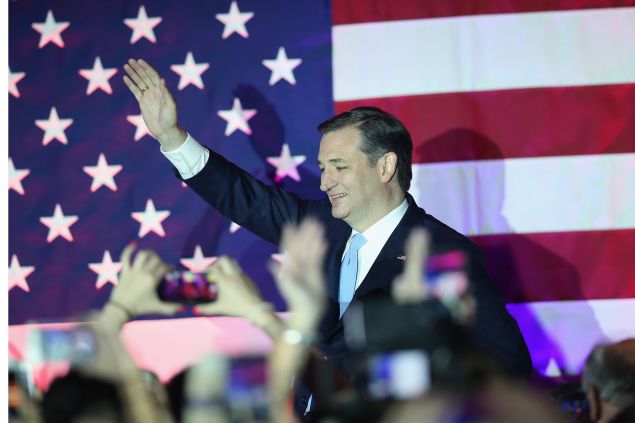 Sen. Ted Cruz took a few more jabs at his favorite New York punching bag.
Visiting a Bronx restaurant this afternoon, the Texas Republican tore into Mayor Bill de Blasio once again, telling a throng of reporters he "cheered" when police officers turned their backs on the Democratic mayor on several occasions in 2014 and 2015.
"Every time there has been a confrontation between criminals and police officers, the liberal Democrats side with the criminals and the looters and the rioters rather than the police officers," Mr. Cruz said, honing a line he has deployed with increasing frequency as the New York primary draws near. "The moment when the brave men and women in blue in the NYPD stood up and turned their backs on Mayor Bill de Blasio, I cheered for those New York cops and I'll tell you, people all across America did."
"That spoke to the entire country that when you have politicians that will not stand with police officers … that's an example of how these liberal politicians have forgotten who we are," he continued. "I'll tell you, as president I will always stand with the police officers and firefighters and first responders and everyone who risks their lives to keep us safe."
Mr. de Blasio, a proud progressive who has had a tumultuous relationship with rank-and-file police, has emerged as a top foil for Mr. Cruz, a hardline conservative who agrees with the New York mayor on just about nothing. The Parkchester neighborhood that Mr. Cruz visited, much like the rest of the Bronx, is heavily Democratic, and protesters greeted Mr. Cruz at Sabrosura 2, a restaurant serving Chinese and Latino cuisine. A fierce opponent of immigration reform and other liberal priorities, Mr. Cruz nevertheless said he found much he could identify with in the Democratic borough, including the number of small businesses bristling under governmental regulations and the growing number of charter schools. Because New York's Republican primary is proportional, and allocates delegates by congressional district, it makes sense for Mr. Cruz and his rivals to stump in areas with few registered Republicans.
State Senator Ruben Diaz Sr., a Democratic Pentecostal minister known for his socially conservative views, hosted Mr. Cruz, along with Rev. Erick Salgado, a former Democratic mayoral candidate who is also an opponent of same-sex marriage and abortion. Mr. Cruz met with the politicians behind a blue curtain in the restaurant for almost an hour and then emerged to take a handful of questions from the press horde crammed near Sabrosura 2's entryway.
Mr. Cruz, who is trying to deny front-runner Donald Trump the Republican nomination, reveled in his victory in Wisconsin last night, and taunted the billionaire real estate developer (and Queens native) for stumbling in a state he once believed he could dominate.
"Donald Trump promised, quote, a big victory in Wisconsin, and not only did he not get a big victory, but the men and women of Wisconsin resoundingly rejected his campaign," he said.
Mr. Trump is a heavy favorite in New York and Mr. Cruz's brand of uncompromising conservatism may be a tough sell in a state that has few evangelicals. His implication that Mr. Trump represents "New York values," a line that drew the ire of New York pols and the media, may also hurt him, though the Texan clarified today that he was specifically talking about liberals, not the state writ large.
Mr. Cruz said Mr. de Blasio, because of his past criticisms of charter schools, is "captive to the union bosses who control him."
"It's the values of the liberal Democratic politicians that have been hammering the people of New York for a long time," he said.
In a statement, a spokeswoman for Mr. de Blasio, Karen Hinton, urged Mr. Cruz to "be a man."
"Some friendly advice for Ted Cruz. Be a leader. Be a man," Ms. Hinton said. "Start sounding more presidential and less extremist. Talk about NYC's job growth, low crime rates, need for more affordable housing, parental leave and the city's successful pre-K effort. Bring people together. Stop dividing them."
Disclosure: Donald Trump is the father-in-law of Jared Kushner, the publisher of Observer Media.