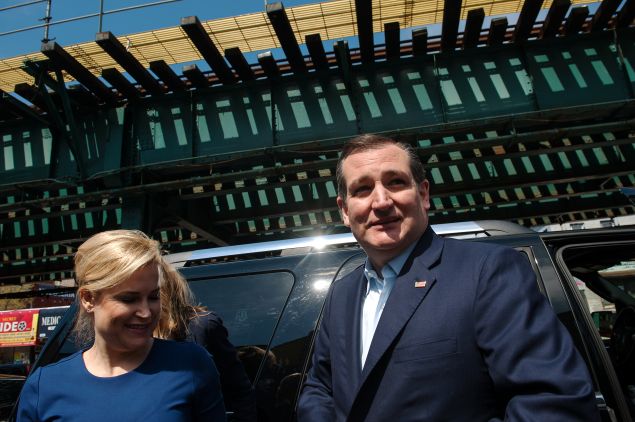 Heidi Cruz, the wife of Texas Sen. Ted Cruz, waxed nostalgic about the odors of the Big Apple in a speech at the Queens Republican Party gala tonight.
The aspiring first lady recalled her first job out of college in New York City when speaking to the crowd at the Terrace on the Park catering hall in Flushing. The comment came just four months after Mr. Cruz deprecated so-called "New York values" on a debate stage in Iowa, a poll-tested line deployed against his chief rival, Donald Trump—a native of the same borough Ms. Cruz spoke in tonight.
"I spent some early years in New York, so I feel partially at home. It's great to be back," the Goldman Sachs investment manager said. "I came to New York and thought I had arrived in the center of the universe. And I think that is still probably true today. I rented a small place in the city. I took the subway to work every day. I love the smell of New York. I love the hustle and bustle. I love that it was hard. And, to this day, I love the people of New York."
"You are survivors, you are leaders. New Yorkers make things happen," she added.
Ms. Cruz also listed a few of her other favorite memories from her time in the city.
"I wrote my very first rent check to a New York real estate broker, and my first taxes were paid in your great state," she said.
She continued to enthuse about New York to press after her speech, before an aide ushered her away.
"Love it. Love the Empire State, always have, always will," Ms. Cruz said.
Ms. Cruz's affection for New York and its assorted olfactory delights seem to contrast with her husband's apparent distaste for the state. He used the line in telephone push polls, in radio interviews and later in a TV ad.
Asked about it at the Fox News debate on January 14, he noted New York's history of left-leaning politics.
"I think most people know exactly what New York values are. There are many wonderful working men and women in the state of New York," he said. "But everyone understands that the values in New York City are socially liberal or pro-abortion or pro-gay-marriage, focus around money and the media. Not a lot of conservatives come out of Manhattan. I'm just saying."
Mr. Cruz triumphed in Iowa, the first of several defeats he has dealt the GOP front-runner—the most recent being in Wisconsin and Colorado.
But an NBCNews poll released today found him in third place in New York, with just 18 percent of the vote, trailing Ohio Gov. John Kasich's 21 percent and Mr. Trump's 54 percent.
Disclosure: Donald Trump is the father-in-law of Jared Kushner, the publisher of Observer Media.