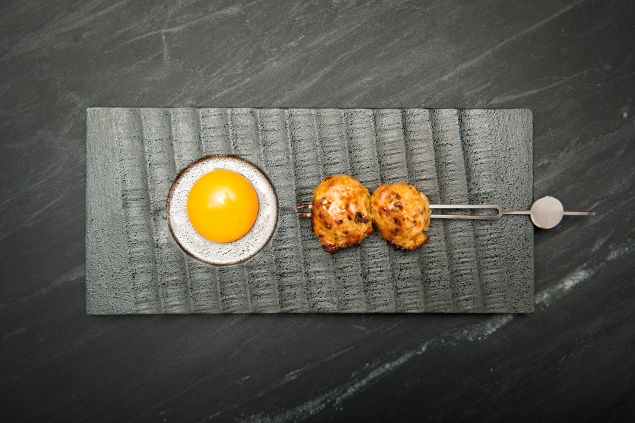 Bored with your usual order of spicy tuna roll? There's a new Japanese restaurant in town that is bound to help with sushi fatigue: Teisui. Technically it's a yakitori spot, serving grilled skewers of chicken thighs and meatballs, but a variety of Japanese cuisines are applied in the restaurant's 10-course tasting menu. There is one sushi course in there, arriving just after a plate decorated to look like a piece of fine, modern art with dots of pureed beet and wasabi sauces. It's finished off with a single chicken thigh skewer.
But back to the sushi. Only two pieces are served; one of which was a torched piece of tuna, topped with a dab of uni from Hokkaido. Delicately prepared by the head chef, I savored each pearl of vinegary sushi rice and bit into juicy chunks of ginger. Yes, chunks. There are no measly slivers of pink grocery store ginger; this is the real deal.
Teisui is the brainchild of Takuro Hirabayashi, a Japanese entrepreneur who also runs a hotel by the same name in Akita. Naturally, both properties sit on the same latitude line, at 40 degrees North. The restaurant's general manager stopped by before my meal to tell me that even emperors stay at Mr. Hirabayashi's hotel. "This is a big deal," he emphasized, topping off my glass with H. Goutorbe Cuvee Prestige champagne.
Nestled on 28th Street, Teisui features a 17-seat bar, which overlooks the handful of chefs residing in the open kitchen, including Nobutaka Watanabe and Yuichiro Yoshimura. These are the seats to request as they offer an unobstructed view of food being delicately plated. And each plate is crafted until it looks perfect; imperfections are discarded.
The meal starts off with uni royale, a treat that isn't on the menu, but really should be. The amuse bouche is served in a small bowl, where egg custard suspends a dash of edamame purée, foie gras and a touch of uni. Creamy, rich and unbelievably flavorful, this is an ideal warm up for the rest of the meal.
Most of the dishes on the menu are quite interactive. A crisp, fresh salad is served on the rim of a plate, hovering just inches above a juicy duck breast; a cup of Kyoto miso, frothed up like a cappuccino, is poured by the diner over rabbit breast and leg; a plastic bag is untied to reveal a bowl of tender chicken and mushrooms.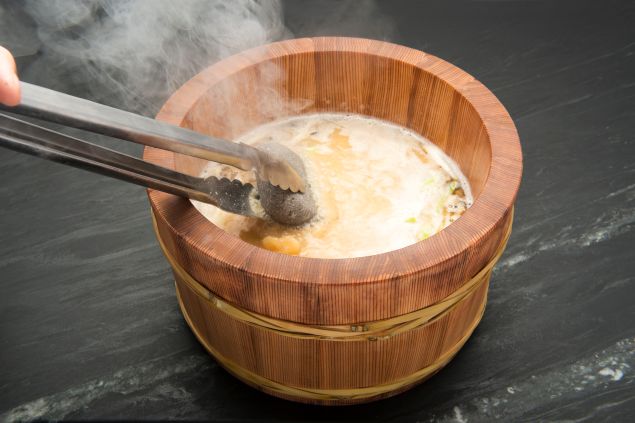 Even the miso soup is far from ordinary. Rocks from Mount Fuji are heated on the grill and dropped into the broth. Upon contact, the broth starts boiling and bubbling. The rocks warm up the Japanese red snapper and King crab which are suspended in the miso broth.
And as for the wine pairing? It's worth the $90. Each glass is impeccable, including the fruity-yet-acidic Domaine les Hautes Noelles Heho Rouge to the San Vincenzo Anselmi, from grapes grown in Northern Italy.
Though the restaurant has a focus on meat, I had the opportunity to try a vegetarian option, albeit with fish. I didn't receive all 10-courses, but the Teisui staff seamlessly provided alternatives to duck and rabbit. My personal favorite dish was the Tori-Momo, plated on a sparkling gold platter. Rather than a chicken thigh, I was served skewered and marinated mushrooms. Their umami flavor played well with the Israeli couscous and toasted tots of mashed potato. Within the next few months, Teisui plans on rolling out this vegetable-based menu for the rest of customers to try.
Just a warning, it will be hard to return to your average Japanese spot after the opulent Teisui experience.