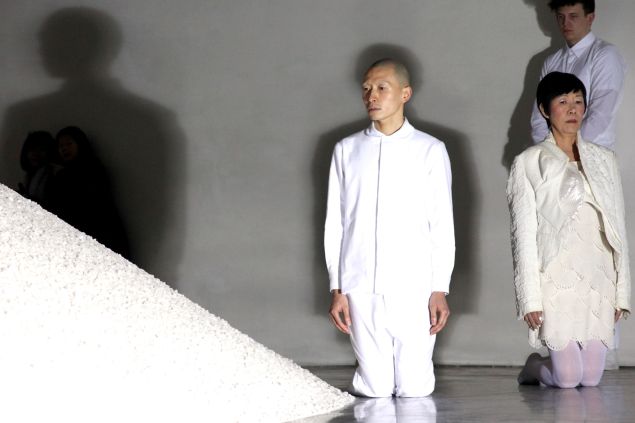 Artist Terence Koh is coming down the mountain (literally, he lives nearly off-the-grid in Upstate New York) to do his first gallery show since "quitting" the art world in 2014.
In May, the artist will fill Andrew Edlin Gallery on the Bowery with an installation titled Bee Chapel, featuring a giant apple tree and a new series of collages made with beeswax. The exhibition will be his first since he cut ties with his representing galleries—New York's Sean Kelly, Paris' Thaddaeus Ropac and Los Angeles' Peres Projects—and left the city for the country. His last major projects were both in 2014: a quiet performance called tomorrow's snow and a way to the light for the Luminato Festival at Canada's McMichael Canadian Art Collection with, and a joint show in Norway with Entree Gallery and Tag Team Studio.
When Mr. Koh was a more active participant on the scene in the early aughts, he was a notorious figure. He's known for dressing in all-white, dolling out explicit quotes to the press, hard partying and for his extreme art projects. He once sold what he claimed to be his gold-plated feces at Art Basel for $500,000; he told The New York Times he was the "Naomi Campbell of the Art World" while describing a raucous tour through Miami Arts Week as better than previous years because "I made much more filthy money than last year." In 2007, the artist's first U.S. solo museum show was held at the Whitney Museum.
Then, in 2011, the art world's premier party boy took a softer tone. In a show at Mary Boone Gallery he crawled on his knees around an eight-foot-tall mound of salt for eight hours each day for a month. "Mr. Koh gives his ascetic side full reign, to disconcerting effect," said critic Roberta Smith, who praised his transition from scenester to more refined performance artist.
According to gallery owner Andrew Edlin, Mr. Koh hasn't been on a break these last two years, and said the artist sought him out for the forthcoming show. "I visited him on a mountain top, " he told the Observer.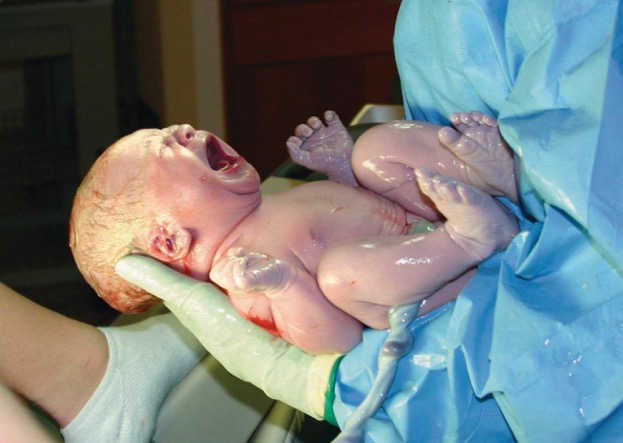 Trying to deduce what will actually be on view from an abstract press release the gallery provided is a challenge. The announcement features cryptic quotes from Martin Luther King, Jr., a call for a peaceful march in front of 50 East 1st Street on the day of the opening, a prayer that reads "god is light, light is love, love is god," and the image of a newborn infant (pictured above).
A central installation will recreate a structure Mr. Koh first built on his rural property, said Mr. Edlin. The artist describes the project in the release through rambling narrative prose, hinting at bringing a diseased tree named "Eve" to the gallery, where it will be watered and serenaded with the sounds of two black holes colliding.
Here's Mr. Koh's description:
when we enter the room and we touch eve we are creating new vibrations too, and this new vibration togather [sic] with a live stream of the bee chapel vibration, we will send back into the heavens through a satellite attached too [sic] the front of the gallery. a new energy transmission into the universe and perhaps aliens will come visit the gallery?
A "Fun Fact" at the top of the release adds, "We will power the whole show by sunlight using solar panels attached too outside the gallery."
The artist's show is big news for both him and the gallery, a leading dealer of Outsider art, though its roster includes a mix of contemporary artists as well. Mr. Koh is among the most high profile contemporary artists to collaborate with the gallery. As to whether this is the start of a longterm relationship, Mr. Edlin would only say "we're working significantly together."
"He's a visionary. I think he's miles ahead," he said. "This show is grand, universe driven, and very of the moment."