The Tribeca Film Festival is celebrating its Big 15 this year, but on Saturday, it will be a birthday of a different sort: the fifth annual Tribeca Film Institute's Interactive Day. While SXSW gets a lot of cred for combing a film festival with a tech conference (in actuality, they occur in two separate weeks), Tribeca has proven itself to be a competitor in the realm of virtual reality and augmented reality storytelling experience. With a lineup for Saturday's event thats spans from Makers to (Guy) Maddin, and involves electric paint, hackersvests, and holograms, the Interactive Playground can be a little daunting to navigate. We spoke to Opeyemi Olukemi, Senior Director of Interactive at Tribeca Film Institute along with Tribeca Enterprises' new CEO Andrew Essex (formerly at Droga5), about what to expect at this next-level, live experience.
Observer: So talk to us: What is going on with TFI's Interactive this year?
Opeyemi Olukemi: We're really excited to kick off the fifth year of TFI Interactive. We started this event with the help of the Ford Foundation five years ago. It was really focused on journalism and how filmmakers can reach into their audience with social media. And in the years that have passed, it has really blossomed into this community where people are no longer just one type of discipline.
With this being the fifth year and with the change of focus, we really wanted to reset the mark and say "We had a great run, let's revisit what we've done and where we are right now, and how we can continue to innovate and inspire and create really meaningful content." That's really the key here, in my opinion. Create meaningful content. We wanted to flip the script.
Instead of pulling from this really small pool of interactive artists, we basically we did an umbrella from four different categories. We have Story, Community, Maker, and Technology. And with these 16 speakers, we can infuse a new energy into this interactive community. Because in my opinion it has stagnated a bit. VR has had a huge uptick, but I think that everything else around interactivity has been swallowed. We're trying to reassess why that is, and give it new life and meaning. And on top of that, we want to find how people work best across disciplines. Because when you find the best content out there, it's when someone comes from the left field and thinks of a project in a totally different capacity.
And addition to programming under these four unique umbrellas, we're shifting into a Maker environment, where we're going to challenge the audience on different levels of engagement to create for themselves, to create with each other and in teams, to work with speakers and create something meaningful.
So we're really excited about it, I'm really proud of it and my team, and I cannot wait for Saturday to come!
Observer: Can you talk a little bit about the Maker Space and what that is?
Olukemi: The reason why we had the Maker Space was that I had a confidential conversation with a colleague…my frustration was that, you go to these conferences and see these wonderful people like Nonny de la Peña and Chris Milk, and you feel so stimulated and want to be part of this movement, but you don't have the tools to do so. So you leave at these events the will or the energy to be part of the community. So I thought, "What would it look like if right there and then we could challenge the audience to create for themselves?" Or, if you were a designer, the chance to work with a really fantastic technologist who you'd never meet before, but you'd all circle around this event, because you had a different set of speakers attracting them here? How would it look like if we focused on bringing new communities into the space, so no longer we just have filmmakers, but let's talk about disabilities! VR is huge! What would it mean if you were blind? What does that mean, for that section of humanity that can no longer participate in art in this capacity?
So we have three levels. Level 1 is quite simple: you can walk up to the table, it's kind of–not a "Choose Your Own Adventure," but it's simple enough that you can sit down and figure it out for yourself. It ranges from creating your own holograms to creating your Faraday case, which is like a copper filled packet that allows you to block signals from reaching your iPhone, and it's used for security. We'll also have something from Bare Conductive involving electric paint, which will allow you to do your own tattoos and your own graphic art. You can walk in, walk out as many times as you want. That's Level 1.
Level 2 is actually ingrained in the process itself. Within the 16 speakers. We have segments where we have facilitators on-stage giving prompts to the audience to create something. So we have Joanna Peña Bickley from IBM Interactive doing a session; we have Barbara Karanian from Stanford d.school also doing a session; we have Kipp Bradford, founder of kippkitts, engaged with the audience.
Then we have Level 3, my favorite one. We have two this year, they're both focused on social issues. The first one is Notes on Blindness, where we are pairing VR creators with people from the filmmaking and blind community to create around binaural sound. How you can further use the platform of VR to reach people in a different capacity. Wwe're sitting down collectively in a large group and building multiple stories in a two-hour block.
The other Level 3 is the Argus Project, which is about surveillance and community empowerment. We're going to allow the community to create their own Hackervest, and not only walk away from the session with their own hacker materials, they can record themselves, and it also feeds the project downstairs into Storyscapes.
Observer: There are several projects this year which seem very meaningful and impactful. But several of them, like Solitary, also seem stressful. How do you get people interested in these issues to the point that they can cross that discomfort threshold and experience what it's like to be in solitary confinement through VR?
Andrew Essex: I think the prism has to be storytelling. I think with any story, there is a need to have the  story be inherently interesting. So it can be entertaining, it can be extremely challenging, but as long as it has some sort of narrative propulsion, that's our baileywick.
What I love about Tribeca is that these stories are told on every screen and every platform. So it can be something that can be something that is interactive, it could be a live performance, it could be music, it could be film, it could be television, but the coherent element is storytelling.
Observer: There are going to be a lot of people reading this story who may not actually be present for the Hub or TFI. If you're not actually present, if you can't actually make it to Tribeca, how can you engage with these projects?
Essex: Well, you can live vicariously through our social channels. But yeah, it does require a kind of physical presence, because it is an event. That's what makes us different. In this day and age, you can stay home and watch one of 409 scripted television programs and never leave the house, but you can't experience with 500 other people a real-time, VR happening, or see the original cast of Taxi Driver coming to see the film 40 years later.
We are an event; that's the special sauce. You have people who are willing to travel to Park City, Utah, which is quite difficult to get to…this is New York City: there are lots of reasons to come here.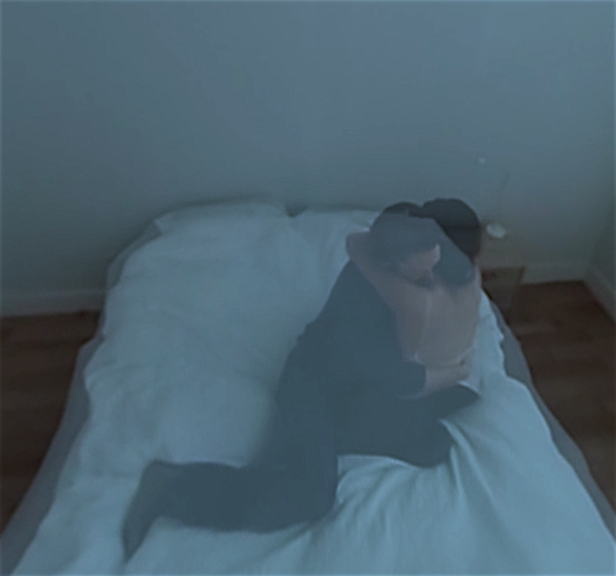 "Because the one time you watch it, that's the only time it exists…and then it disappears. So in a sense, it's not permanent, but that experience itself and the community you have you can always cherish and feel."– Opeyemi Olukemi, Senior Director of Interactive Programs at TFI
Observer: There's an element of some of the projects…I'm thinking Guy Maddin's Seances, in particular, that aren't just interactive but community-oriented. Can you speak to that aspect of projects, that you're building it with other people?
Olukemi: So that project came to us through the NFB, and Lock Dao, who has been a pioneer of this kind of work in Canada. From the very, very beginning, when they were just focusing on social media and even the earlier form of web documentaries, they were always about community, from Day 1. Reviewing the metadata, figuring out who is viewing it, who their audiences should be, how they can really cultivate this audience. So what's been really interesting is in the last eight years that they've been part of this community, that is the centerpiece. So one thing that I think a lot of people have an issue with in VR is its a very solitary experience. So they thought "With community being the core of what we are, how can they also embrace this new technology, and also say we don't have to watch it by ourselves? What would this look like if we had one or two people involved? What could we also do to make this new form of technology–in a weird sense, permanent? Because the one time you watch it, that's the only time it exists…and then it disappears. So in a sense, it's not permanent, but that experience itself and the community you have you can always cherish and feel.
Observer: It's ironic, but the idea that comes to mind about a lot of this new technology and TFI is that of a live concert: you kind of have to be there. It can't be replicated, since it's about the experience of joining a group of people for this momentary, ephemeral event that refuses to be recaptured. And yet we're talking about doing it with all this new technology.
"This idea that Tribeca was created in response to 9/11 to bring people together through storytelling: that's not jargon, that's important."– Andrew Essex, CEO Tribeca Enterprise
[vimeo 70209271 w=640 h=360]
Seances – Guy Maddin: Jour 7 / Day 7 from Centre Phi | Phi Centre on Vimeo.
Andrew, what made you want to make the change from what you were doing over at Droga5 to working with Tribeca?
Essex: Well, first off, I'm a big fan of Madonna-like reinvention, every 10 years. Ten years at one place is plenty, and I was privileged to be there and to build it from the bottom up. But this is an incredible organization. It is one of the great brands on the planet. It's got unaided global recognition. And it stands for something. It's a purpose-driven organization that is again rooted in the human power of storytelling. This idea that Tribeca was created in response to 9/11 to bring people together through storytelling: that's not jargon, that's important.
Observer: What does your job entail, being CEO of Tribeca Enterprises?
Essex: Working with the team to expand the business to move into the next generation, to the future. So global expansion, new verticals, new partnerships, bigger and better.
Observer: If someone was interested in joining in this interactive space and maybe submitting to TFI next year, how would they do so?
Olukemi: So MIT released this report early in the year of some good practices to take not only into VR, but interactive art in general. We also created a Sandbox of sorts, that's a call to our favorite projects to explain how they were made. And that's also available online. Honestly, you can't create good interactive content unless you have the ability to experience it yourself. So the opportunity to see VR, go to a panel and speak to the creators, I would recommend that people start there. Also realize the box isn't confined. Come to the platform of where you are and try to blow it up. I think we're at the pioneer point, and what we're seeing is just the tip of the iceberg.
For more on the TriBeCa Film Festival and TFI Interactive, click here.