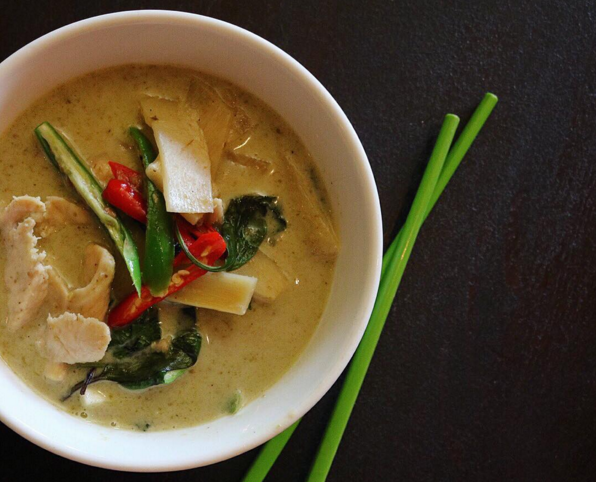 Thai food—spicy, sweet, sour, sticky, funky—is great drinking food. It's ideal for sharing while getting sloshed, so you can expect a lot of family-style revelry at the new Same Same wine-and-beer bar in Silver Lake. L.A., after all, is laab city as much as it is Lob City.
We popped by Same Same on opening night last week and there was already a chile-laden buzz in the air, a lively crowd feasting while drinking rose cava, dry riesling, tempranillo, Singha and Racer 5 IPA. While the food might not be as rambunctiously melt-your-face-off as some places in nearby Thai Town, there's a big bold menu of spicy salads, noodles (including the requisite pad Thai and a respectable bowl of boat noodles), curries made from scratch and specialties like crispy pork belly.
You'll want some of the grilled meats, marinated in garlic, peppercorns and celery root. My dining companion devoured the chicken, juicy and bursting with flavor without being greasy, and declared that it's worthy of its own fast, casual spinoff. There's also grilled pork and steak if you want to really give yourself the meat sweats. You'll probably want more beer too in that case.
L.A. has no shortage of hot new options for pairing Southeast Asian food with good drinks. There's Bryant Ng's Cassia in Santa Monica, our favorite new L.A. restaurant of 2015, where a lava float can chill your mouth after you've eaten a big spoonful of sambal. There's Button Mash in Echo Park, where Starry Kitchen's famed tofu balls have been resurrected in a video arcade/bar with lots of craft beer. There's Shawn Pham's Simbal in Little Tokyo and Andy Ricker's Pok Pok in Chinatown, both of which sling creative cocktails. But if you want a one-liter bottle of a sauvignon blanc blend from Slovenia along with your green curry shrimp, Same Same is the place.
Same Same's partners include Katy Noochlaor and Annie Daniel, who operated Rambutan Thai in this space on Sunset Boulevard at Silver Lake Boulevard. (Loyal customers of that restaurant can still place to-go orders from the old menu.) They've teamed up with the indie-bar vets at Last Word Hospitality. A lot of the food is based on Noochlaor/Daniel family recipes. The eclectic and gently priced wine list—available by the glass or bottle with bottles mostly under $50—skews largely European. But the lighting and playlist and no-fuss vibe also make this a place where you'll be happy to come in for a quick beer and maybe some Thai beef jerky. If this is what counts as the Same Same in L.A., we're ready for more.