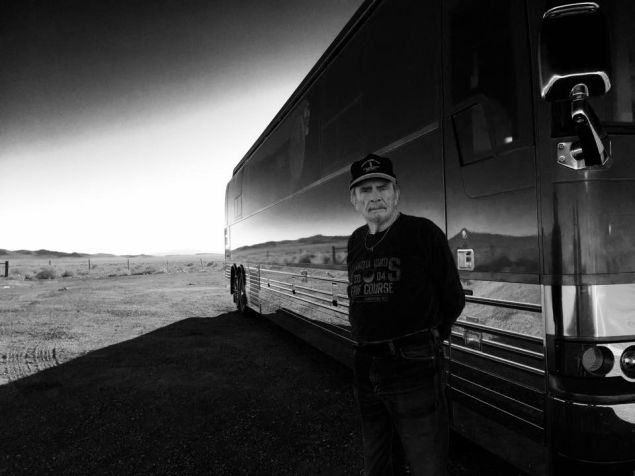 Merle Haggard didn't have time for bullshit.
The California native already been through so much by the time he turned 20—including a two-year stint in San Quentin Prison—that, by the time he'd signed his first record deal in 1962 at the age of 24, Haggard's music was presented simply, clearly and directly.
It was a matter-of-fact approach he'd employ for the duration of his career, even during his most rebellious moments.
Haggard died Wednesday on his 79th birthday, from pneumonia, triggering a wave of remembrances and a renewed hand wringing about country music's ongoing mediocrity (something Haggard himself had noted just last year).
It's true they don't make 'em like Merle anymore, but it's exceedingly difficult for those who evoke his artistic legacy to find a foothold anyway.
As with so many of the other notable musical deaths in 2016, this too marks the end of an era, or, perhaps, the beginning of an end of an era. The true, unquestioned legends—those who define the artists actively making music now—continue to shuffle off this mortal coil at an alarmingly steady clip.
So, in pausing to mourn and remember, it is worth singling out Haggard as the sort of Frank Sinatra of traditional country. He did it, from first note to final album, his way—heedless of market demands, what was in fashion, or what interested anyone other than himself. Haggard was his first, best audience, and because of that, his sprawling catalog is stuffed with fascinating detours and blind alleys and, of course, the indelible, last-call-at-the-jukebox hits.
There are fertile, if less celebrated, periods, particularly in the late 1970s and early 1980s, when Haggard wandered the creative wilderness, recording full-bore gospel, odes to trains, tributes to Elvis and 200-proof drinking songs, even as Nashville grappled with countrypolitan polish and outlaw country scruff.
His profligacy is another astonishing legacy: a total of 38 No. 1 hits, ranging from his first (1966's I'm a Lonesome Fugitive) to his last (1987's Twinkle, Twinkle Lucky Star).
Haggard just kept writing—his New York Times obit closes with a telling quote from a 1999 LA Weekly piece: "I'm still writing good songs. I got a stack of stuff this high up at the house that'll probably never be recorded."
In that sense, Haggard's approach to life and art was the same—the only way out is through. Just keep going, keep writing and keep singing—tour until you physically cannot anymore (which Haggard more or less did, with a full slate of tour dates scheduled for much of 2016).
It's an ethos that has fallen out of favor, in an age of quick hit, high visibility, low substance fame. Haggard was beloved because he was not only good at what he did, but what he did meant something. He sang, plainly and proudly, for the common man, itself an endangered species in the era of the vanishing middle class.
You can hear it in every note he ever played: Merle Haggard did not have time for bullshit.
"Mama Tried"
[youtube https://www.youtube.com/watch?v=jxQbvSjQy9A&w=420&h=315]
"I turned 21 in prison/Doing life without parole" should not sound as jaunty as it does here, but having lived it, Haggard probably figured, why not offer a hint of promise? A bleak narrative laid against a sparkling folk guitar figure.
"Okie from Muskogee"
[youtube https://www.youtube.com/watch?v=-iYY2FQHFwE&w=420&h=315]
One of Haggard's most enduring and most misunderstood hits. Aiming at satire but instead being perceived as lamenting progressive culture, "Okie from Muskogee" nevertheless remains a concise evocation of small-town Americana.
"Silver Wings"
[youtube https://www.youtube.com/watch?v=CMxOMSy8hJo&w=420&h=315]
A true tear-in-your-beer track, sung from the point of view of a man pleading with his lover to stay, and not take a plane flight away, maybe forever: "You locked me out of your mind/You left me standing here behind."
"If We Make It Through December"
[youtube https://www.youtube.com/watch?v=U9TByT3QlWc&w=420&h=315]
A prime example of Haggard's ability to deftly render working-class hardship in compact, elegant form. The narrator's determination to gut it out after being laid off is deeply moving—"Got plans to be in a warmer town come summertime"—and tinged with hope.
"The Fightin' Side of Me"
[youtube https://www.youtube.com/watch?v=uIxBmyRQlwQ&w=420&h=315]
The follow-up to "Okie", and a song that Haggard initially resented, because it reinforced the (misunderstood) image of him as a fierce conservative. Still, a rowdy call to arms for those who yearn for the good ol' days.
"I Think I'll Just Stay Here and Drink"
[youtube https://www.youtube.com/watch?v=YM0w6CgRjKc&w=420&h=315]
Hag ushered in the '80s with the wryly funny, resigned track about reaching an impasse with a difficult lover: "Ain't no woman gonna change the way I think/I think I'll just stay here and drink," he intones over a sizzling guitar solo.
"I'm Gonna Break Every Heart I Can"
[youtube https://www.youtube.com/watch?v=rxNGxMcmgNs&w=420&h=315]
From early in his career, the young Haggard conjures not one, but two of his heroes, Jimmie Rodgers and Lefty Frizzell. There's a bit of Johnny Cash-style menace in these lines too: "I'm gonna break every heart I can/In everyone I find."
"Misery and Gin"
[youtube https://www.youtube.com/watch?v=mSjuEsAO3AA&w=560&h=315]
Another all-time trad-country weeper, which is another of Haggard's '80s classics. "Memories and drinks don't mix too well," he sighs at the outset, knowing full well he'll be at that bar, drowning his sorrows, until last call.
"The Bottle Let Me Down"
[youtube https://www.youtube.com/watch?v=E4ujMvABhkE&w=420&h=315]
Booze flows freely through Haggard's catalog—another reason his songs are so beloved by the clock-punching crowd—and this stone-cold classic practically pours the first shot down your gullet itself.
"Django and Jimmie"
[youtube https://www.youtube.com/watch?v=nxJWmZEwAG8&w=560&h=315]
Haggard's last studio recording was a collaboration with his long-time friend Willie Nelson. This tender ballad, which finds both men name-checking their idols—Django Reinhardt and Jimmie Rodgers, among others—feels like a poignant conversation between two legends.