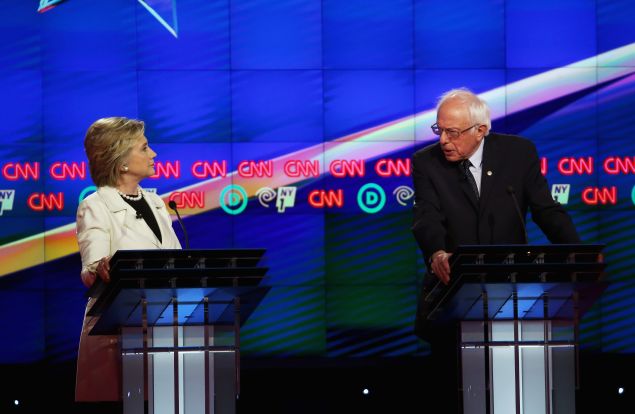 "If you're both screaming at each other, the viewers won't be able to hear either of you."
The words from Wolf Blitzer, the CNN moderator, just about summed up the showdown between Hillary Clinton and Sen. Bernie Sanders Thursday night, which was designed to be testy and fulfilled its mandate. The two Democratic candidates, five days away from New York's primary, traded barbs on guns, Wall Street, tax returns, Israel, the environment and their qualifications to run for the highest office in the land. If there was no single stand-out moment, there was plenty of vitriol, with the two candidates practically shouting over each other to make sure there attacks could land.
"Does Secretary Clinton have the experience, intelligence?" Mr. Sanders asked, referencing a charge he had recently made about whether the former secretary of state was "qualified" to be president. "Of course she does but I do question her judgment. I question a judgment which voted for the war in Iraq. The worst foreign policy blunder in the history of this country. Voting for virtually ever disastrous trade agreements which costs us millions of good-paying jobs. And I question her judgment about running super PACs which are collecting tens of millions of dollars from special interests, including $15 million from Wall Street."
"Well, it is true that now that the spotlight is pretty bright here in New York, some things have been said and Senator Sanders did call me unqualified. I've been called a lot of things in my life," Ms. Clinton, a former New York senator and first lady, shot back. "That was a first."
The debate, held at the Brooklyn Navy Yard, was framed as a chance for Mr. Sanders, a Vermont independent, to pull off an upset over Ms. Clinton in New York, where she leads by an average of about 13 points in the polls. Whether Mr. Sanders, a Brooklyn native, did enough to rattle or derail Ms. Clinton wasn't clear; both candidates were often agitated and appeared sick of each other. Each held their ground on policy, though Mr. Sanders seemed to force Ms. Clinton left when she said tonight she would support a federal $15 minimum wage if a theoretical Democratic Congress (it's currently GOP-controlled) passed a bill and sent it to her to sign. Before tonight, Ms. Clinton had maintained $15 was too high to be a nationwide minimum wage, though she backed the push in New York to raise the wage that high.
Ms. Clinton was on the defensive from Mr. Sanders and CNN moderators when she again refused to explain why exactly she wouldn't release the transcripts of the six-figure speeches she delivered when she was in the private sector. On foreign policy, Ms. Clinton sought to discredit Mr. Sanders, who was criticized for stumbling through some answers during a recent Daily News editorial board meeting, even as the Vermont independent emphasized judgment was more important than details.
"When asked about a number of foreign policy issues, he could not answer about Afghanistan, about Israel, about counterterrorism, except to say if he'd had some paper in front of him, maybe he could," Ms. Clinton said. "I think you need to have the judgment on day one to be both president and commander-in-chief."
Mr. Sanders directly challenged Ms. Clinton on the remark she made 20 years ago when she called certain violent criminals "super-predators," calling it "racist." Though she warily defended elements of the 1994 crime bill, which toughened sentences for nonviolent drug offenders, she was in her element when flaying Mr. Sanders for his weaker record on gun control. The Vermont senator, who represents a gun-friendly rural state, voted against sweeping gun control legislation in the 1990s and for a bill that gave gun manufacturers immunity from lawsuits in the 2000s.
"We have a problem in America. We need a president who will stand up against the gun lobby. We need a president who will fight for commonsense gun safety reforms," Ms. Clinton said.
On Israel, Ms. Clinton and Mr. Sanders also demonstrated sharp differences. Ms. Clinton is a staunch defender of Israel and voices opinions in line with the political mainstream in the United States, which emphasizes the terrorist threat posed by Hamas. Mr. Sanders, however, challenged Ms. Clinton for not mentioning the plight of the Palestinians in her speech to the American Israel Public Affairs Committee last month.