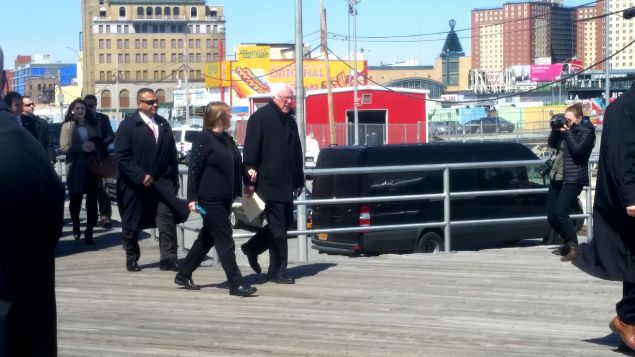 The Coney Island boardwalk, like a quiet block in Midwood, doesn't usually play host to presidential candidates.
But Bernie Sanders, a 74-year-old who calls himself a democratic socialist, is an atypical candidate in a year unlike any other. And it's only fitting that New York City, for so long irrelevant in the presidential year circus, gets its moment in the spotlight, with its streets and parks and playgrounds serving as a backdrop for the struggle over the future of the United States. Mr. Sanders, standing this afternoon near the foot of the Thunderbolt roller coaster at Brooklyn's iconic Coney Island, touched on his usual themes—Wall Street's greed, Hillary Clinton's Iraq War vote, the need to bring universal healthcare to America—but he did so in his native borough, where thousands lined up on Surf Avenue to reach the boardwalk where he would speak.
Michael Stipe, the former singer for the rock band R.E.M., introduced Mr. Sanders, and the Vermont senator's nods to his birthplace were brief. He said he used to swim in the waters of Coney Island beach and took credit for eating "about half" the hot dogs Nathan's produced. Onlookers who didn't want to cram onto the boardwalk stood on the beach to watch.
After that, it was the usual Bernie, and his fans loved it as always. He took direct aim at Ms. Clinton, the Democratic front-runner, taking her to task again for collecting six-figure speaking fees, backing free-trade and raising cash from the financial industry. He even wagged his finger at the major television networks for not covering the issues he believes are important.
"One of the points of this campaign is we as Americans, we have go to determine what the issues are. It's not gonna be CNN, CBS or ABC," Mr. Sanders said. "Because they will talk about anything except the most important issues facing the middle class of this country."
Mr. Sanders mocked the idea that the funds Ms. Clinton has raised weren't impacting her campaign platform in some way. He implied her unwillingness to call for the break-up of the nation's largest financial institutions and the reinstatement of the Glass-Steagal Act, a separation between commercial and investment banking, were byproducts of her compromised position.
"Every candidate, Democratic or Republican, who receives millions of dollars from the wealthy and the powerful—they always say, 'hey, not gonna impact me!' But the question we have got to ask is why do these … entities make these large campaign contributions?" he said. "They may be greedy but they are not dumb."
"And then on top of that, as you know, Secretary Clinton has given a number of speeches on Wall Street behind closed doors for $250,000 a speech," he added. "Now that is a lot of money for a speech."
"Release the speeches!" one man cried from the crowd, echoing Mr. Sanders' frequent call for Ms. Clinton to release the transcripts of her six-figure speeches. She has so far refused to do so.
But the future of the country wasn't the only thing on Mr. Sanders' mind. After his rally, he made a quick stop at Nathan's, which is celebrating its 100 anniversary this year. He had a hot dog with sauerkraut and mustard, according to reports.