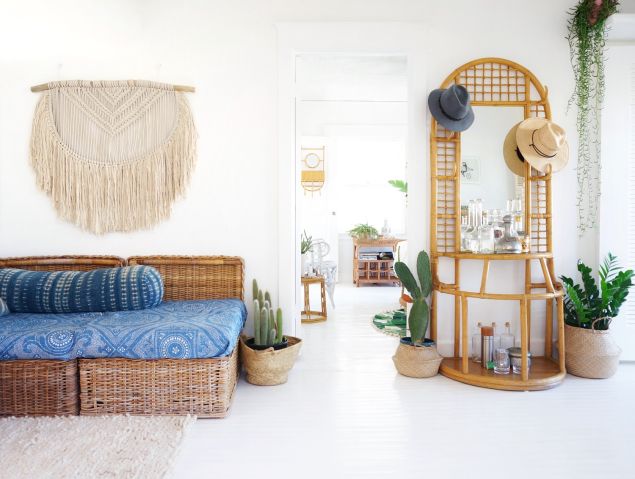 If you've ever admired the décor at The Butcher's Daughter and thought, 'I wish I could live here,' now you sort of can. The founder of the vegetarian restaurants has also designed a three-bedroom bungalow for rent on the Venice Canals. "California is my spiritual home," said Heather Tierney, whose flared denim and side-braid peering from underneath a straw fedora make it hard to picture her living anywhere else. "In fact, when I opened the first Butcher's Daughter [in New York] I came to Venice to research, and go to different juice bars and just get inspiration. It's such a California concept," she added. With a glass of rosé in hand, Ms. Tierney admitted she enjoys the occasional hamburger or steak. "I like to say, our food is vegetarian food for non-vegetarians, because if you can get the non-vegetarians to eat vegetarian food, then you're doing something right." She applies the same concept of creating spaces where she'd want to go to all of her ventures—including design consulting through her firm Wanderlust. "I kind of put myself in the target market and hope it's what other people want too, and that's kind of all I know how to do," she said.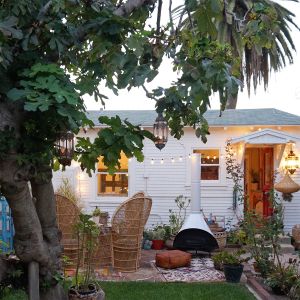 She's doing something right. Most recently the laid back Indianapolis native designed a rental property coveted by the fashion crowd, and another Butcher's Daughter is set to open in the West Village in May. Like her restaurant décor, Ms. Tierney opts for found objects in her Venice Canal bungalow.
For instance, vintage wrestling mats from Berlin are sewn together and placed atop individual seats to function as a couch. She invited us into the bohemian abode that's been used as the backdrop for countless photo shoots and look books for the likes of Free People, Domino magazine, and Show Me Your Mumu.
As we walked, Ms. Tierney added final touches—lighting the fireplace, straightening out hats on the rattan rack and leaving out a palm tree throw that she thought the family who would be arriving later that evening may want to use at the beach.
Do you have a background in design? The Butcher's Daughter is the first commercial space I did.
How would you describe The Butcher's Daughter in three words? Industrial, earthy and California.
What's a design element your spaces share in common? All of my spaces have concrete floors.
What are some design elements you love? I have a rattan and indigo fetish!
There is so much attention to detail. I love when people notice that, because that's what I notice, and put into it. For me the details are in the accents. You can also go into overload. There's knowing when to allow the blank space to be blank space. It's also like… you can't wear all of your favorite jewelry at once or you'll look like Mr. T.
You have a lot of one-of-a-kind pieces. It's more interesting to have found objects than stuff you can get from CB2 and West Elm—and I do buy stuff from CB2 and West Elm, but not everything. Just a couple things, because I want things you don't see all the time.
How do you pull it all together? The whole thing is weaving in the old with the new. If it's just all old stuff—like the rattan, if it's all rattan—it's like your grandma's attic. You have to bring it into the time period that you're living in with more modern stuff too, and from abroad. You need a little bit of everything. It's also the masculine and feminine working together to balance everything out.
You mentioned you don't get too attached to anything material. I know I'm always going to come across things in my path, that's why I don't get attached. It's fluid. They stay for a bit, and I'll switch them out. I don't spend a lot of money on design, that's why I can afford to keep passing things on.
Where are some of your favorite places to shop? Etsy. Vintage Venice Paradise.
Where do you find your inspiration? Ojai is an inspiration for me. I started going there when I first moved here. It's this agriculture mountain town with tons of farmland. People have been going there since around the 1920s. It's been known as a spiritual place because of the energy fields of the earth where they connect. There's a lot of meditation there and spiritual cleansing practices—this is totally hippie—but I love it.
I noticed a few crystals around the home. Are those from Ojai? Yeah, there's a ton of crystal dealers there. I like placing crystals around the space—[it creates] little pockets of energy.
You do have a very positive energy. It's honestly California. I'm more positive in California. In New York I'm just busy-busy, get it done.
I can't picture you living in New York. I was there for 11 years and I owe a lot to New York, because I got my start there. I achieved a lot that I wanted to achieve in my career there. And I think the city and the energy allowed me to do that. It pushes you to produce there. And I owe New York that.
The 1920s 'Bungalow and Breakfast' is available for rent on Airbnb for $325 a night, and includes a complimentary breakfast at her nearby Abbot Kinney restaurant.