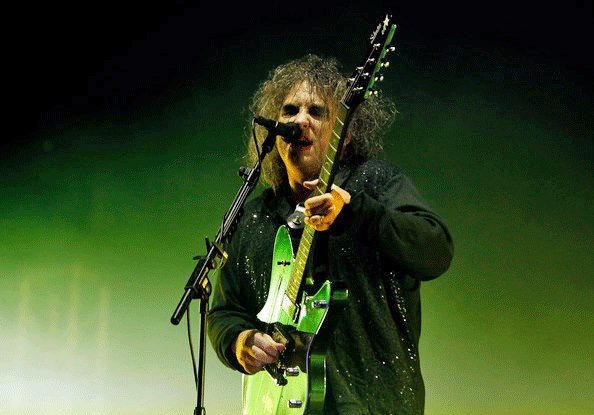 Glacial, monumental and devastatingly simple, Faith, the third album by the Cure, is the spirit of '76 slowed to a crawl, infused with Satie-like spaces, and re-imagined as a sad opium dreamscape. It is one of the greatest accomplishments of post-punk, and April 14 marks the 35th anniversary of its release.
For the most part, the first flowering of British punk was a sunless and airless brick, condensed for maximum effect; it needed to be that way so it could crash through the sugar-glass of the post-Sunshine Superman '70s. "Attention must be paid!" said the punks, as martial/Marshall guitars defined a clean break from the field hippies, lovers of FM filigree, the flute and lute players stinking of patchouli and hash, and all those wearing hip-hugging bell bottoms stained at the bottom by two inches of earthy slime.
But around 1979, artists began to use air and space to fracture the solid wall of the punk palette. Compact sheets of rhythm guitar were supplanted by airy arpeggios, weighted silence, glassy sparks and gasps of atmospheric synth; anxious rhythms and thudding toms were exchanged for simple snares, front-mixed kick drums and atmospheric splashes of cymbals; and the hectoring announcements of punk were replaced by plaintive, emotive, even muezzin-like vocals.
A masterpiece of the genre, "Faith" is one of the greatest accomplishments of post-punk.
The first shot of this cool war was fired by Public Image Ltd. on their debut album, First Issue, released in December of 1978; retaining punk's energy, simplicity and attitude, it inserted breathing room, an unhinged and almost viscerally emotive creativity, and a touch of art-frosted hashy wheeze into the punk template.
(Now, the label "post-punk" can stand for a lot of different things: the brittle, amphetamine'd Leeds funk of Gang of Four, Au Pairs and Delta 5; the arching opuses of Echo & the Bunnymen and the Teardrop Explodes; the rhythmically and musically progressive punk of acts like the Skids or the Ruts; the bubblegum-rumble of Adam and the Ants and Bow Wow Wow; the Kraftwerk-isms of Gary Numan and Visage; and the label has been applied, with varying degrees of accuracy, to everyone from XTC to U2. But here I am addressing only a particular form of post-punk, the one that resulted from stripping the flesh off of punk, exposing the beating heart and placing the near-corpse on a field of poppies.)
In 1979 and '80, some fabulous and inventive bands began to follow in PiL's footsteps, releasing albums that combined shadow, shade and shock in a shattering way: the most notable of these include Joy Division's Unknown Pleasures and Closer, Wire's 154, the Raincoats eponymous debut, Cut by the Slits, Join Hands and Kaleidoscope by Siouxsie and the Banshees, and in the United States, Pylon's Gyrate. Now, the Pet Sounds of this amazing moment in music is most likely PiL's revolutionary ultra-reductionist mastARTpiece, Metal Box/Second Edition (1980); but Faith is nearly as impactful.
[youtube https://www.youtube.com/watch?v=QNipumgHpnI&w=420&h=315]
Faith is a deeply simple but vastly expansive record; it is bare yet never naked, outlined but never insufficient. It is a master class in economy, driven by the supremely uncluttered instrumental performances of Robert Smith, Simon Gallup and Lol Tolhurst (whose drums are often reduced to just a snare and a kick, with a very occasional cymbal crash tucked into the corners of the mix). Yet within that framework there is an enormous longitude, as if the band were making an epic, carefully and majestically framed.
In many ways Faith is most comparable to Pink Floyd's Meddle, another album that created an untraditional cavern of sound out of traditional pieces, and embraced the idea of non-traditionally structured songs and long instrumental passages. Both Meddle and Faith are albums that sound like they're sitting on a cloud yet are never cloudy, opium-hazed but never hazy, full of richly elongated musical segments and swatches of instantly memorable melody.
The Cure had been hinting at this approach for their entire recording life; on Seventeen Seconds (their second album, released almost exactly a year before Faith), they had gently unspooled the tightly-wound Wire-meets-sad-bubblegum pop of their debut, 1979's Three Imaginary Boys, introducing the slo-mo spatial rock techniques that would define Faith.
On both Faith and Seventeen Seconds, the Cure were perfecting a kind of environmental minimalism, built around a small amount of instruments whisper-screaming through a wide open mix. Seventeen Seconds is a gorgeous and essential record, but only on "A Forest", which evokes the feeling of being chased while on Benadryl, does Seventeen Seconds approach the stately heights of Faith (no matter how many times I listen to Faith, I always find myself surprised that "A Forest" isn't on it).
[youtube https://www.youtube.com/watch?v=0xrZ61cuKLk&w=420&h=315]
Making great and effective use of repetition and an opium-tinged stretching of structure, and perhaps influenced by the instrumental cuts on Low and Heroes (not to mention the elegiac work of Hans Joachim Roedelius), the Cure allow the songs on Faith to unwind with a grave, gorgeous ultra-minimalism that somehow remains deeply engaging, even catchy.
The bass, often double tracked, does the heavy work of framing the songs, allowing sighs of keyboard pads and chimes of guitar to create a wintry, evocative ambience. Faith's focus on bass reaches its apotheosis early, with the two bass 1/5/7 turn-signal churn of "Primary." Even though it may be the one of the greatest 45s of the 1980s, the song's lack of guitar, it's almost Suicide-esque approach to the rhythm, and it's ability to summon a roundness out of such square pieces make it so deeply unique that it fits in perfectly in Faith's brave artscape.
Although Faith is very much a guitar/bass/drum record, keyboards, which later make such a significant contribution to the Cure sound, appear not infrequently on Faith. The synths used on Faith mostly refuse to grab or define a line or a part, and instead have the effect of watercolors spilled on a paper that is nearly the same shade as the paint. And although it sounds like the Cure may have been trying to achieve some kind of funereal effect on Faith—I've read quotes to that effect, anyway—the album is so perfectly executed, so novel without being pretentious, such a lysergic rainbow seen from an ice floe, that it is positively joyous (the Cure would finally achieve that funereal affect—using many of the same pieces that built Faith, but evoking a sagging aura of hopelessness—on their next album, Pornography).
Curiously, the climax of Faith comes on a song that isn't actually on the album.
[youtube https://www.youtube.com/watch?v=-PPWvOEpv5I&w=420&h=315]
"Carnage Visors: The Soundtrack" is a nearly 28-minute instrumental track that originally was released as a cassette attached to the early copies of Faith (and now appears on expanded versions of the album; it was also shown with an accompanying film before the band's performances circa 1981). A nodding, mesmerizing instrumental, it encapsulates all of the ideas the band had been hot-housing since Seventeen Seconds, but without any pressure to abridge.
"Carnage Visors" is a chiming, sunrise-in-real-time tic-tic clock of 1/8th speed arpeggios and clave, sounding not unlike someone having a very, very slow perfectly rhythmic scratching fit in the middle of a planetarium; it would fit right in on Pink Floyd Live at Pompeii. Like "Primary," it's the moment where the Cure teeter between their most original and most accessible.
After Faith, never again would the Cure achieve this near-perfect blend of mission and omission.
Although it's likely that Pornography—released almost exactly a year after Faith, as Faith had been released a year after Seventeen Seconds—is the third album in a trilogy (on all three, the Cure are exploring the idea of environmental, melody-based slow-moving rock), by Pornography grace had given way to Goth; and by 1984's The Top, the Cure had surrounded themselves with squid ink and whimsy and there was virtually nothing left of the sound of Faith.
The Cure went on to achieve many wonderful things, but they would never again be such a startling, rich, measured and patient band. The wondrous legacy of the three-piece Cure is Faith, one of the greatest achievements not just in the air-blasted basscapes of post-punk music, but of the entire 1980s.