With the onset of spring, denim's season is here. Every year, the mainstay fabric for the warmer months is rendered into breeze appropriate jackets, moderately (or excessively) destroyed pants and the dreaded, out of fashion shorts. "Denim is just a timeless garment in a man's wardrobe, even more so now with the fact that it's more acceptable to wear to work and it's not just casual," Johnathan Crocker, the director of global communications of AG told the Observer via phone. "The utility nature and the versatility to be able to dress it up and dress it down makes it a staple in a guy's wardrobe season after season."
But with that, each season brings new trending looks and styles. In fact, recent seasons have seen the men's market borrowing from women. "I've been doing denim since Paper Denim in 1999 and in the last 17, 18 years the thing that's been the most incredible on the men's side of the business is this amazing use of technology and how they've innovated on the stretch side," said Scott Morrison, founder of 3×1. While women have seen stretch jeans for years, the technology has been increasingly adopted by men's brands recently.
Mr. Morrison admitted that after introducing stretch denim into the brand's wholesale collection two seasons ago (it's always been present at the Soho bespoke outlet), the majority of next year's spring collection is designed with it. Mr. Crocker points to AG's 360 Denim product with its two-way stretch as their contribution to the trend.
But stretch isn't the only trend happening in the market. Both of our denim experts point to vintage, worn in washes as well as styles with some sort of destruction as key items for the season. "Over the last three or four season we've seen a lot more denim on the runway and that's definitely trickled down and been influential," Mr. Crocker admitted. Among the brands putting denim back on the runway: Saint Laurent, Dsquared2, Calvin Klein Collection and Tom Ford. Even athletes like Chad Johnson don't find themselves immune to the influences. The wide receiver has been so enamored with Fear of God's iteration of the trend that the wide receiver has been destroying multiple pairs of H&M trying to recreate it.
For fashion fanatics at the luxury end, Saint Laurent offered quite a few versions of the destroyed style in their Spring 2016 collection. Sliced at the knee with threads askew, the design has been in some way a part of Hedi Slimane's YSL aesthetic since his Fall 2013 debut. For this season's (restrained) take on the destroyed look, check out Paige Denim's Federal Distressed style. When you're looking at washes though, go for something that feels genuine: "It's really about authenticity," Mr. Morrison explained. "does it look like the guy has worn it and had it in his closet for years?" Calvin Klein showed only light wash options with fading at the natural wear points. Even a denim sweatshirt was faded at the elbow.
https://www.instagram.com/p/BEJonH8NiQx/?taken-by=3×1
For guys hoping to go as authentic as possible, 3×1 offers up their Wash #5 style. Those jeans are washed in black but that paint will chip off over time to show the wearer's natural crease lines, truly creating a one of a kind product.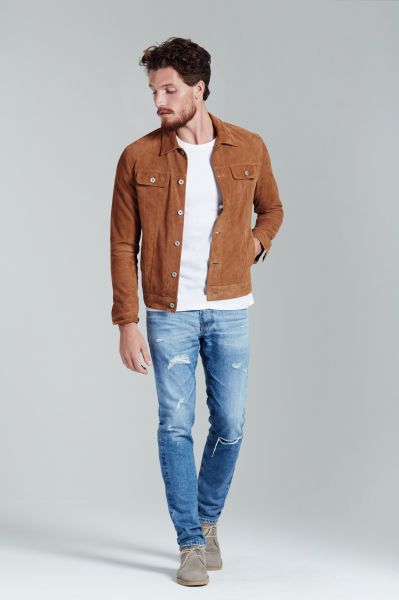 For customers hoping to get a jump on their friends and call themselves an early adopter by adopting trends before they go mass, both Mr. Crocker and Mr. Morrison say to look at your hems. "I think that [undone hems are] something that's coming up," Mr. Morrison said. "Cut off above them ankle or right at the ankle."  The most fashion forward will even go further, wearing styles where the hem length might be slightly asymmetrical. When Magasin — the Los Angeles based menswear shop opened by former Bloomingdale's fashion director Josh Peskowitz — opened last month, they were hawking an exclusive Levi's collaborative 501 jean with the hems askew.