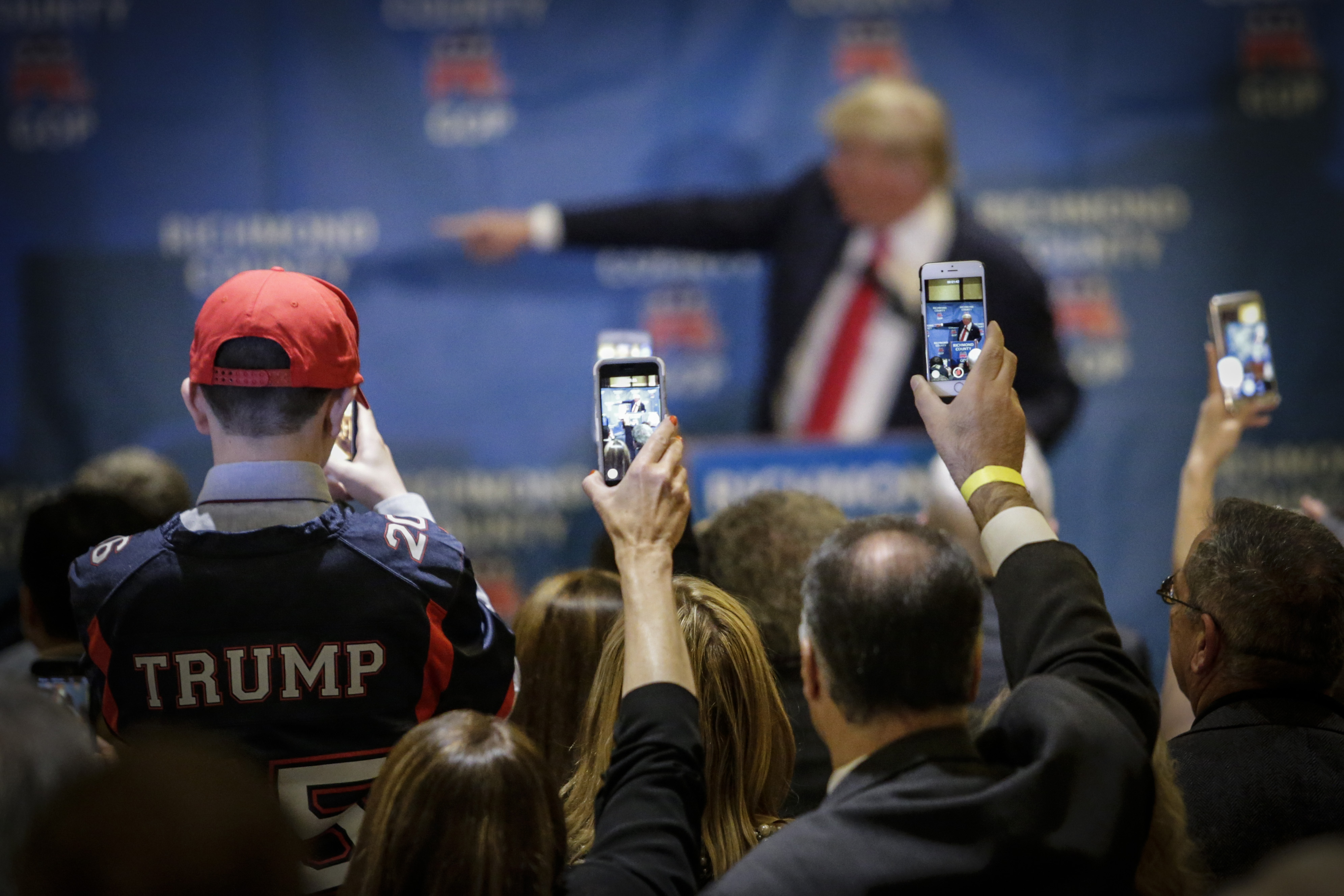 It wasn't a Donald Trump rally, but it felt like one.
Mr. Trump brought his boisterous but divisive campaign to Staten Island today, where he and his supporters crashed a typically staid local Republican party brunch as more than 1,000 people ignored their plates to stand and watch (and yell) as Mr. Trump delivered a stump speech.
"We have great people on Staten Island, and I know it so well," said Mr. Trump, whose father owned apartments here years ago. He said he'd worked in the borough over summers when he was younger, before name-dropping a couple local neighborhoods. "Grymes Hill, Tysens Park."
"We love you President Trump!" a woman shouted in response.
Aside from his local shoutout, Mr. Trump's remarks were mostly a retread of his greatest hits. He argued that he was the one who could beat Democrat Hillary Clinton—"Crooked Hillary," he called her—in the general election and was the only Republican who could compete in states like New York. He promised to "build a wall," have Mexico pay for it, and heavily tax companies that moved out to countries like Mexico and tried to send their goods back into the United States. He said Ted Cruz—"Lyin' Ted," as the crowd shouted back to him—hates New York. He railed against China—and pointed to a Drudge Report headline about how China is angry at his comments—for beating the country on trade. He said the United States shouldn't have gone to Iraq but should have kept the country's oil. He passingly mentioned Jeb Bush, and people in the crowd shouted he was low energy. A protester interrupted and Mr. Trump insisted the "dishonest" media would focus only on that (prompting plenty of boos directed to the press riser).
"We're gonna win so much, we're gonna win, win, win," Mr. Trump told a crowd that was eating it up. "You people are gonna get so tired of winning you're gonna say, 'Please, Mr. President, let's have a couple of losses.' And I'm gonna say, 'No way.' "
Mr. Trump's speech was the main event for the crowd at the packed ballroom at the Hilton Garden Inn, and the candidate said the owner of the hotel had told him it was the biggest crowd the banquet room had ever seen. (The hotel's owner, Richard Nictora, did not take Mr. Trump up on his offer to join him on stage when invited to discuss the crowd size.) Outside, a couple dozen people protested against Mr. Trump, but they were kept far from the entrance to the hotel.
Mr. Trump was in the "forgotten borough" for the Staten Island GOP's annual Lincoln Day Brunch, a fundraiser typically, well, forgotten by most people in the borough besides local party activists. But today the event drew a record crowd of people willing to make $150 donation to hear Mr. Trump speak, according to party chairman John Antoniello, some of them arriving hours early, decked out in Make America Great Again garb.
"He speaks to the people and he says what they want to hear," Mr. Antoniello told the Observer. "He's a very down to earth person and he's gotten a lot of emotions from the people that are on the island and in the city."
Mr. Antoniello and others seemed to bask in the island's moment in the spotlight—noting that their Democratic colleagues are also getting a visit today from their party's frontrunner, Hillary Clinton.
"It's the first time in Staten Island history that we have two leading presidential candidates on the Island on the same day," he said.
The long line of Staten Island voters hoping to glimpse Mr. Trump is not particularly surprising. The borough is the most Republican-leaning in the city; it is the whitest borough, though it is becoming increasingly diverse, and home to people who drive rather than take sparse public transit and own homes rather than rent apartments. There's a large population of civil servants, particularly firefighters and police officers, and many victims of the September 11, 2001 terror attacks lived here. Shortly before Mr. Trump spoke at the brunch, he held a press conference in a smaller, tea house-themed banquet room across the hall where he accepted an endorsement from an obscure group called the New York Veteran Police Association. He also took questions from the press, largely about his campaign's trouble wrangling delegates ahead of this summer's Republican convention.
While Mr. Trump was an unprecedented draw for the general public on Staten Island, he's still not convinced all of the local party faithful. Mr. Antoniello has backed him, as has City Councilman Joseph Borelli, who introduced him today and represents the South Shore, the most conservative enclave of a conservative borough.
"This really is Trump Country," Mr. Borelli said. "I think he'll certainly win over 70 percent when the votes are all tallied, and he'll take three delegates away from this congressional district."
But other Staten Island officials have chosen someone else or hedged, unwilling to come out unabashedly supporting the divisive Mr. Trump, even if he's more popular on their home turf than he is elsewhere in the city. Staten Island Borough President James Oddo is supporting John Kasich; Congressman Daniel Donovan—the only Republican in the city's DC delegation—says he likes Mr. Kasich but would support Mr. Trump if he wins the nomination. Assemblywoman Nicole Malliotakis hasn't endorsed and seems a bit pained about her remaining choices after her favored candidate, Marco Rubio, dropped out of the race.
But Mr. Borelli expected them to get on board, eventually.
"Guarantee," he said. "I think whoever the nominee is, I think you'll see pretty big support for them here."
Disclosure: Donald Trump is the father-in-law of Jared Kushner, the publisher of Observer Media.