All the usual markings of a run-of-the-mill fashion party were on display at the DVF Awards. It was held at an exclusive location (the U.N.), attended by a slew of models and starlets (Liya Kebede, Olivia Palermo, Allison Williams) and featured countless social media moments (mostly Instagram and Snapchat). But the subject matter at hand made it clear that this Thursday evening wasn't celebrating fanciful frocks. Rather, the spotlight was on women's empowerment.
Now in its seventh year, the DVF Awards were co-hosted by powerhouse entrepreneurs Diane von Furstenberg and Tina Brown; the latter was in the midst of hosting the three-day-long Women in the World summit, which took place just across town at Lincoln Center.
"I don't know that we are particularly doing well, if you look at the whole world," said Ms. von Furstenberg, on the current status of women's rights. "But, when I was at The Women of the World today, and saw the courage of the women who are willing to fight, then there is hope."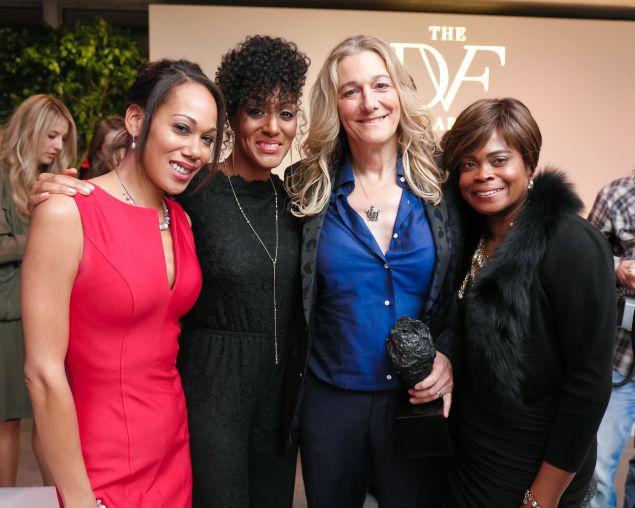 Among those wanting to fight for a better world, one where the odds aren't stacked against women, were the five DVF Award honorees at the event including Sirius XM founder Dr. Martine Rothblatt, a transgender female who took home a lifetime achievement award for her work on LGBT equality, and Tony Award-winner Sarah Jones, who channeled four different, hilarious characters—while accepting the Inspiration Award. Each recipient won a $50,000 prize from The Diller-von Furstenberg Family Foundation, in support of the organizations they are affiliated with.
The People's Voice Award, given to I Am That Girl's Emily Greener, was decided by open voting on the DVF website. In Ms. Greener's own words, I Am That Girl is "a community, a movement, a bunch of girls who are peer-to-peer, having honest conversations about things that matter." That includes online chats and local events, in addition to partnerships with relevant destinations, including e-commerce startup Spring, and Manhattan fitness boutique ModelFIT. "Girls get 3,000 messages a day telling them what they're not. We're a message telling them to celebrate exactly who they are," said Ms. Greener.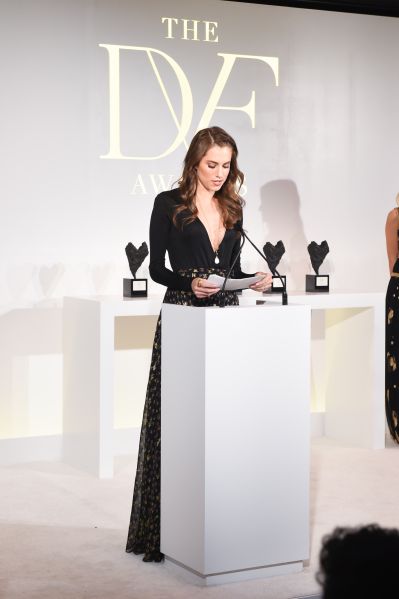 Two International Awards went to Maria Pacheco and Agnes Igoye. The latter is fighting on the front line against Uganda's industry of human trafficking.
But you'd never know it from looking at her birdlike exterior, which was enrobed in a white Grecian frock designed by Ms. von Furstenberg. "I've watched children who have been abducted by the Lord's Resistance Army…some of them get pregnant or have a disease they contracted from somebody who enslaved them. You see resilience among these women and [despite] all that has happened to them, they can still smile again," she explained to the Observer of her work, with a smile of her own.
Ms. Pacheco, on the other hand, co-founded Wakami, which partners with female artisans in Guatemala to sell their goods and provide them with a source of income. This year, three Wakami artisans graduated high school alongside their daughters, a feat in a country with a literacy rate hovering around 74 percent. One of those graduates recently thanked Ms. Pacheco for making her feel like she was worthy of holding eye contact during a conversation, rather than lowering her gaze in shame.
Despite the sober topics of the evening, the atmosphere was relaxed; just a few steps up from an evening spent drinking wine with your most encouraging girlfriends. The female-heavy crowd perched on white leather couches, while balancing plates of quinoa and chicken on their laps. Most conversations skewed toward the inspirational force of Ms. von Furstenberg.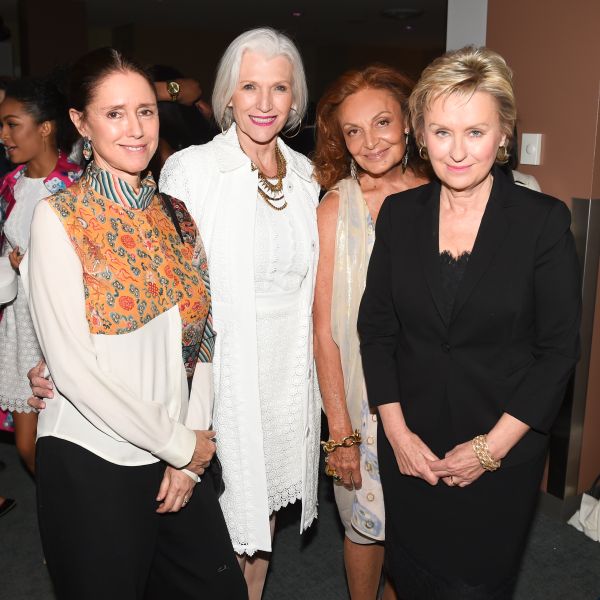 Ms. Brown voiced everyone's feelings about the international fashion designer and chairwoman of the CFDA: "It's not just about making women look better that drives Diane's legacy, it's giving back to women all over the world who haven't had her opportunities and freedoms."
Backstage, even the first lady of New York City, Chirlane McCray, raved about Ms. von Furstenberg. "Look at this event, look at all she's doing! This is amazing. It's so important because young girls need role models and we all need the inspiration that these women bring."