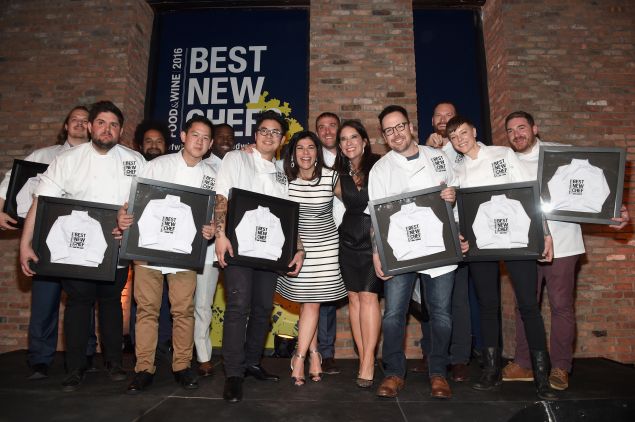 The annual announcement of Food & Wine's Best New Chefs winners is eagerly awaited by the tastemakers and gatekeepers of the industry—as well as by food enthusiasts in general. This is, after all, the same award that has been previously accepted by Mario Batali, Daniel Boulud, Thomas Keller and David Chang.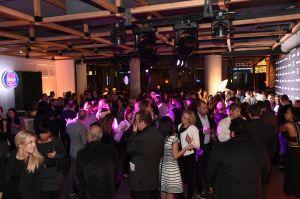 The winners are a select group of cooks who have been in charge of a kitchen for five years or less. And the selection process takes months: After chefs are nominated by industry bigwigs, editors of Food & Wine travel across the country to anonymously taste their food. Not only does the list usher in the next generation of culinary talent, but it's also marked with a soirée honoring the winners.
From the moment one entered the party at the Eventi Hotel, it felt like entering a foodie's Instagrammable version of heaven. To start, stylishly dressed waiters holding trays of delightful looking cocktails greeted incoming guests, though, of course, there was no shortage of beverages of any kind inside the actual event space. Two elegantly organized bars served cocktails with whimsical names like London Buck, Singapore Sling, The Estate Daiquiri, and, last but not least, a Jamaican Mule.
The event maintained an air of anticipation despite announcing the Best New Chefs of 2016 earlier that day, complete with an enormous projection of a timer counting down to the first official appearance of the winners. In the meantime, the culinary glitterati had all come to celebrate, with chefs Geoffrey Zakarian, Marc Murphy and Elizabeth Falkner, as well as food critic Gail Simmons, mingling amongst each other, eating the passed around hors d'oeuvres prepared by Lauren Tourondel, and posing for photos. Naturally, a PhotoBooth set up looked was a particularly popular attraction.
When the Best New Chefs did file out onto the stage, after an introduction by publisher Christina Grdovic and the newly named editor-in-chief of Food & Wine, Nilou Motamed, it felt vaguely reminiscent of a high school graduation. Recipients David Barzelay, Kevin Fink, Michael Gulotta, Edouardo Jordan, Ravi Kapur, Brad Kilgore, Iliana Regan, Aaron Silverman, Jeremy Stone & Fabián von Hauske, and Kris Yenbamroong had their names called and stood together as what Ms. Grdovic declared to be the "Best New Chefs Class of 2016."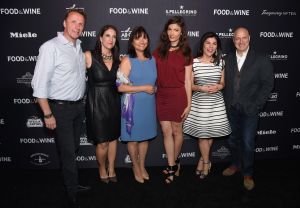 The freshly anointed Best New Chefs, however, were not there to showcase their culinary talents just yet. Instead, past winners Laurent Tourondel, Missy Robbins, George Mendes, and Bryce Schuman, along with Jeremy Ford, the newly announced Season 13 winner of Bravo's Top Chef, had individual stations where each had prepared a dish to be enjoyed by guests.
Our first stop was Missy Robbins' station, which had a perfect appetizer of garlic bread topped with mozzarella, and a glass of rosé, if one was so inclined. The food at each station was also accompanied by a wine from Kendall-Jackson Vineyard Estates that was pre-chosen by each chef to best go with their food.
"Her philosophy is to do something simple but good, so she can enjoy the event," one of the cooks behind the station informed us.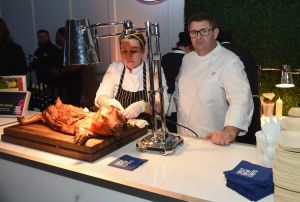 Mr. Tourondel's porchetta sandwich station was perhaps the most intimidating, with an entire pig resting on a carving board. The class of 1998 alum, however, knows what he's doing—upon tasting the barbecued porchetta steam bun, we were immediately won over, and wondered if we should try to make a reservation at his restaurant, L'Amico, located just downstairs.
George Mendes, the executive chef of Michelin-star restaurant Aldea, who opened up his own restaurant Lupolo last year, served shrimp topped with trout roe. "We wanted something simple but elegant, with a level of luxury," Mr. Mendes explained, "so we thought, 'caviar,' and didn't want to be too much, so then, the roe," he said. "Shrimp is a staple at both restaurants, so we thought it represented us." His tastes aren't only limited to seafood–he told the Observer that for the summer, he goes for something else.
"I love barbecue!" he exclaimed. "Ribs, everything. Dirty food and just getting your hands dirty!"
Though not quite barbecue, Mr. Schuman had guests using their hands, too. "Just eat it like a taco," he instructed the Observer when we asked how to properly approach the Chinese sausage with pepper atop red cabbage.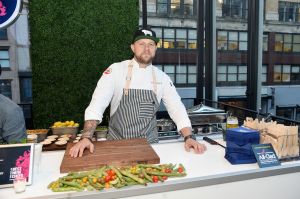 Our personal favorite, however, was the lamb with fava bean ragout and cauliflower at the station helmed by Jeremy Ford, the newly announced winner of Top Chef, who also shared our love of Madonna's 'La Isla Bonita,' which was being played during the DJ set by Nina Sky.
"I'm all out!" he laughed, gesturing to the station where, thankfully, we'd already enjoyed two of his dishes. "It's springtime, and when I think of lamb, I think spring," he told the Observer. There's one culinary trend, however, that he's not embracing.
"I'm over everyone doing fast casual all of a sudden," he lamented. "Not that I hate fast causal, but everyone has jumped on board. Every chef! Am I right, or am I right?"
The Top Chef had some advice for future chefs-in-training he shared, as well. "You have to believe in yourself, and you have to believe in the food you stand behind," he said earnestly. "If you do, you're going to go far!"