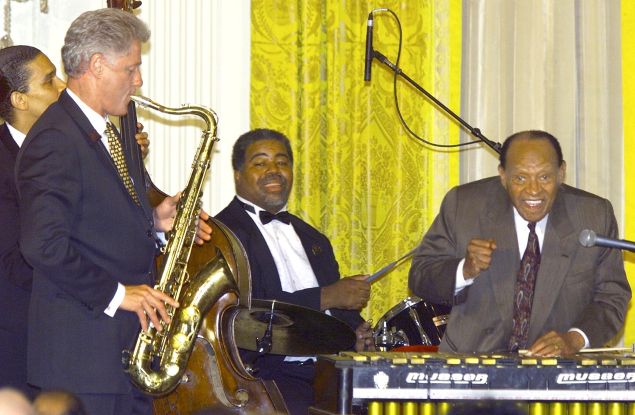 There's been a lot of talk about music during the 2016 presidential primaries. Secretary Clinton is celebrating her NY win on TV right now, and the CNN anchor assures me the band playing in the background is, in fact, live.
That prompts a flashback to childhood—I'm a little kid, watching my mom hang a screen-printed poster of this watercolor on the wall of her room. It depicts Bill Clinton when he was running for president in the 1992 election, wearing black sunglasses and playing saxophone on The Arsenio Hall Show. "Play It Again, Bill" is written under the image, in prototypical meme font.
My folks explained to me that this television appearance really was a watershed moment for President Clinton. They likened it to the first-ever televised debate ever between Kennedy and Nixon, when the former's charisma and charm triumphed over the latter's bad body language, haggard appearance and gratuitous flop sweat. President Clinton's crudely delivered saxophone skronk, aimed squarely at charming Arsenio Hall's viewership, likely seemed enough then to assume the Clintons really understood black people.
[youtube https://www.youtube.com/watch?v=CRatTuWdT_Q]
I wish that I knew what I know now when I was younger. Because when Mars introduced the blue M&M three years later, with his shit-eating grin and his fucking Ray Bans, it would have become apparent that the blue M&M was just Bill Clinton, in disguise, all along.
Alright, maybe that's going a bit overboard. But then I recall that huge Gore/Lieberman rally in Downtown Miami on election night in 2000; man, I remember it vividly. Some cougars cut in front of my stage-side vantage point, their signs proclaiming their love for Jon Bon Jovi. Bon Jovi came out eventually, playing a short acoustic set with Richie Sambora that included the hit song "Cowboy." He'd seen a million faces, and he'd rocked them all.
Then Stevie Wonder came on, the legend, but we were treated to no "Higher Ground" or "Superstition." Instead, a 15-minute group chant led by Mr. Wonder on his keys: "The only way for America to win, is to vote for Gore and Lieberman!"
[soundcloud url="https://api.soundcloud.com/tracks/219161562″ params="auto_play=false&hide_related=false&show_comments=true&show_user=true&show_reposts=false&visual=true" width="100%" height="450″ iframe="true" /]
You've got to understand, this was my window into the political process, through music. That was my first political event ever, I was 13 and about to become a man in the eyes of the Torah. As my mom continued to actively organize with Democratic women's groups of South Florida, music became the lens through which I viewed their outreach. I never understood then why anyone would pay thousands of dollars a plate to meet Jimmy Buffet at the Biltmore Hotel, and I still don't understand now.
It makes a little more sense to me that I always felt such a disconnect from the inspiration these musicians were intended to evoke, now that the establishment has emerged so boldly in the Democratic Party, bolstered heartily by the business class that happily replaced big labor interests. I half expect Secretary Clinton to approach a podium dressed in a raincoat, smiling maniacally and asking us if we listen to Huey Lewis and the News.
[youtube https://www.youtube.com/watch?v=vzN3qO-qc8U]
It also makes more sense that I'm feeling more aligned with the relationship between musicians and the left these days. I don't know about Queen Be stumping for Secretary Clinton, but when Obama brought a DJ on the campaign trail, it energized the crowds.
All the musicians coming out for Bernie Sanders reflect an evolution of that political engagement, too, beyond the campaign trail and maybe even into mid-term elections. During his past few weeks in New York, notable independent artists like Vampire Weekend, TV on the Radio, Dirty Projectors and Grizzly Bear proudly played short opening sets for the Vermont senator, and Bernie's level of engagement with the musically literate must not be understated. Ezra Koenig, the Columbia-educated Vampire Weekend frontman, still can't be sighted without his black Ray Bans—but I'd much rather see him and his Graceland-era Paul Simon fetish singing about lobster rolls on the cape, than I would see President Clinton pandering to black people through his black sunglasses on Arsenio Hall.
Bernie campaign staffer Rania Batrice laid it all out for Billboard. "We approached Vampire Weekend, Grizzly Bear and TV on the Radio because they all have great ties to New York," she told the music trade publication, "and music is such a great addition when you're talking about this candidacy with so much energy and excitement."
Graham Nash, we forgive you for skipping out on the Bernie rally in Washington Square Park, despite your name being listed on the event. Hopefully it's not an age thing (you're still woke). How apropos would it have been to hear you sing "Military Madness" in front of 30,000 young people.
Either way, Bernie will always have Killer Mike on his team. In the best line from their substantive conversation at Mike's barbershop in his hometown of Atlanta, Killer Mike nominates Bernie's portrait to be displayed alongside Dr. King and Malcom X, the token white guy at the barbershop. But Mike's stumping for the Sanders camp has gone even further—if anyone can name another rapper who has represented the candidate they support in a spin room, please let us know.
All of this may just be a long-winded way of saying that the creative class in New York City has aligned itself with politics again, recalling a level of grassroots participation the common leftist parlance would ascribe to the likes of Bob Dylan and Joan Baez in the '60s. From that frame, the sweet old hippie lady and self-described "esoteric astrologer" in line to see Bernie was right when she crunched the data on each candidate's star charts and said, irrefutably, that the times-they-are-a-changin'.
Part of it has to do with Bernie's message—the same vast gap in wages and benefits destroying the middle class in our country is amplified in our city tenfold, and our vanishing creative class is a large part of that dialogue. When Jeff Mangum, the hermetic frontman of Neutral Milk Hotel, started playing in Zuccotti Park to stand with the Occupy Wall Street movement, we heard him. It was a lightbulb-flash moment for those of us listening, because the discussion around Wall Street's rat-fuckery merged with the discussion around why working musicians continue to see new profits and new income in the music business all but evaporate from the pockets of the people making the art. Between Occupy and now, those discussions have become one and the same.
[youtube https://www.youtube.com/watch?v=uYb-Q8LxCI4]
The fight to get some reform and fair compensation for the musicians and artists in this city, and this country, is just the tip of the income inequality iceberg. And however Bernie performs nationally over the next few months, the passionate people for whom music and art are an essential part of being have mobilized through these shared passions.
None of this is to say that there's anything inherently wrong with Jimmy Buffet. I love Stevie Wonder, too, just wish he pandered a little less to the Gore-Lieberman event, because that cute campaign chant didn't keep the election from being rigged. My resentment for the establishment politics on both sides of our bipartisan system is only amplified by the bourgeois disconnect these parties confidently exude when they parade around creative people with the hopes that some "coolness" rubs off on their campaigns.
Because we, who have inherited our parents' slow acknowledgement of our crisis-level environmental situations, have also inherited our parents' sub-prime home loans, our parents' institutionally fucked criminal justice system, and our parents' susceptibility to bipartisan demagoguery.
We are in the midst of a great refusal. Music has always been about saying "fuck you" to the powers that be, because those powers seldom think about what comes next after they get what they want. How wonderful that we finally have a substantive dialogue happening between the creative, artist class in this country and a grassroots political movement again. May that relationship only grow stronger, whatever the numbers read.