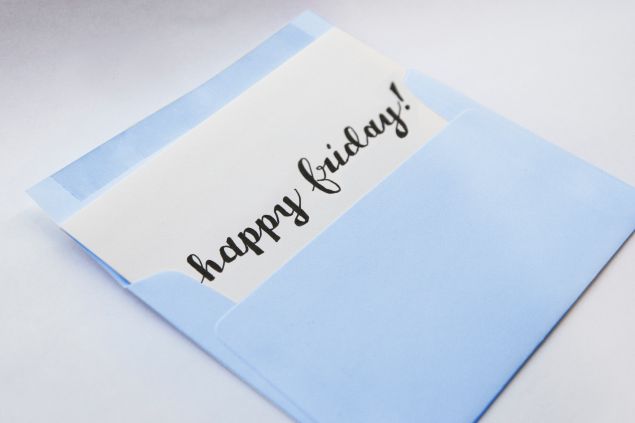 Every Friday morning, I dreaded walking through the front door of the Observer's old office building in Midtown. That's when the cheery lobby attendant greeted arrivals with a wide grin and a boisterous "Happy Friday!"
Though I knew nothing of his motivation for the modern equivalent of the hat tip, I imagined him counting the minutes to five o'clock and the promise of 64 hours of weekend freedom after another poorly paid day of accepting packages, directing pizza deliveries and summoning a stand-in whenever he needed to take a leak.
"You too," I would answer, feeling guilty for the weekly dose of dishonesty.
Then the other Friday, the transportation reporter on NY1 wished viewers a "Happy Friday." Soon after, one of the first emails I received led with the ubiquitous greeting. But I see the increasingly unavoidable phrase, as well as its annoying conjoined twin, "Thank God It's Friday," not as benign bon mots but rather as unconscious unpleasantries, evidence of widespread worker dissatisfaction in this country.
The data proves distressing. Just less than half of U.S. employees—48.3 percent to be precise—are content with their jobs, according to the 2015 job satisfaction survey published by the Conference Board. That's down from a historical high of 61.1 percent in 1987. The 2014 Work Stress Survey by Nielsen, meanwhile, found that eight-in-10 employees struggle with job-related stress. Low pay, long commutes, an unreasonable workload, and annoying co-workers ranked as the most common complaints.
Though researchers at the University of Vermont studying the content of social media found the most positive tweets on Sundays, Friday took the silver. But many American workers have little reason to celebrate Friday or any other workday; the country's labor laws still evoke Robber Baron brutality. Unlike most countries, the United States does not mandate employers give staff any vacation time, paid leave to care for sick family members or maternity leave.
"No-Vacation-Nation Revisited," a 2013 study published by the Center for Economic and Policy Research, reported that European countries provide employees with at least 20 days of paid vacation. Even Albania—Europe's Mississippi—offers a minimum of one-year paid maternity leave.
"Almost one-in-four Americans has no paid vacation (23 percent) and no paid holidays (23 percent)," the report added.
Yet American workers largely put up with stingy labor policies without a peep. The streets are quiet, the barricades unmanned.
Instead of protest, workers anonymously grouse about the Man on social media or wish officemates a happy Friday. There's no data tabulating how many people spout such seemingly optimistic small talk, but a thread titled "When Did Everyone Start Wishing Each Other Happy Friday?" on an exercise forum drew many fervent responses, including one from a Michael Dowling, who pointed out that he had just run into two well-wishers on a Friday trip to the bathroom. "Do the people who are so excited for Friday go off into some exotic world full of blissful sex and guilt-free drinking all weekend long?" he asked. "Are we really treating every Friday like a holiday now?"
Mr. Dowling's comment led to an admonition from one Algunos Hombre: "Looks like Somebody's got a case of the Mondays," he wrote. "On Friday, no less."