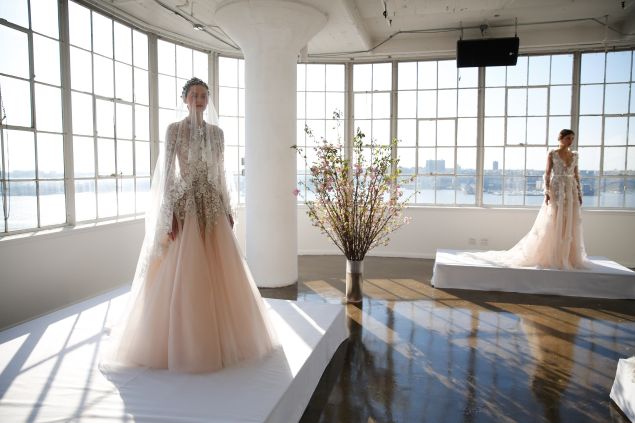 As bridal fashion week skips to a close, the word that most quickly comes to mind is schizophrenic. In a good way. While some designers have clearly thrown out the rule book and are going where no bridal line has gone before, others are embracing the romance and elegance we often associate with weddings. The great news is that regardless of the approach, the men and women dressing the new generation of brides is bringing enormous talent and enthusiasm to the market.
We saw gowns that conjured dreams of royal weddings in ivy-covered castles, the kind of confections a modern Grace Kelly would swoon over. We also saw frocks that looked as though they had been on the receiving end of an impatient groom faced with a stuck zipper. Both are completely valid. At long last, there are as many types of wedding dresses as there are women poised to wear them.
Here come the brides:
Oscar de la Renta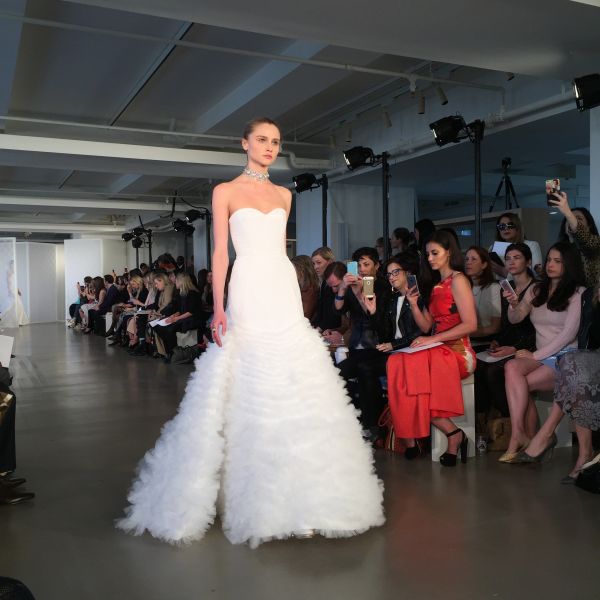 The Trend: Simplicity with a Twist
Nobody does strapless as perfectly as de la Renta, who understands that simple doesn't mean boring. In this ivory silk faille trumpet gown, the master of refined elegance keeps it clean on top, then lets loose with an impeccably textured skirt, which moved down the runway as if in a cloud of 10,000 butterflies. The strapless bodice, paired with an outstanding choker necklace, is utterly flattering.
Carolina Herrera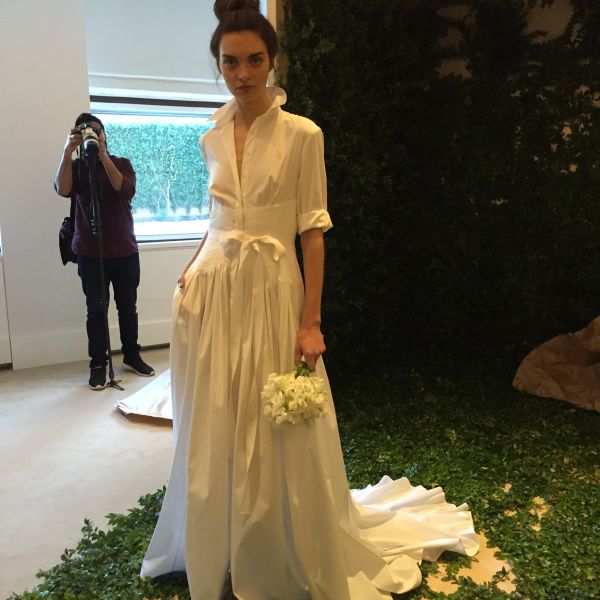 The Trend: Sophisticated Streets
If the idea of marrying in a shirtwaist seems less than romantic, look no further than this study in classic elegance. Crisp on top, a puddle of romantic fabric below, this may be the first bridal gown to truly marry today's bride's desire for simplicity and sophistication. The ready-to-wear silhouette conjures Ms. Herrera's own signature white blouse as well as her classic trench, with enough pin-tuck detailing to feel once-in-a-lifetime luxurious.
Jenny Packham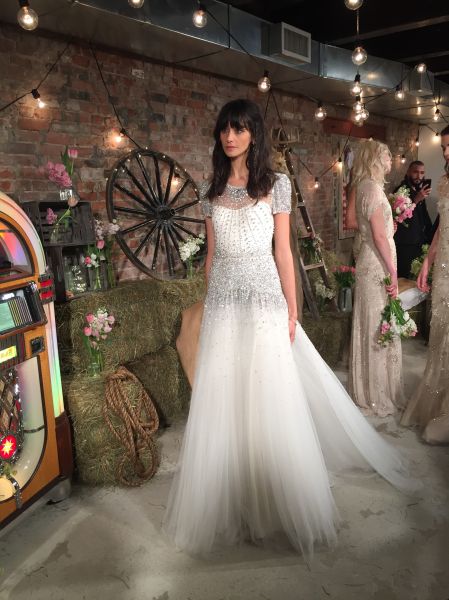 The Trend: Rhinestone Cowgirl
For the honky-tonk woman with a boho bent, Ms. Packham's Western-inspired collection sends a young and free-spirited message. The jeweled belts, glittering collars, pleated tulle skirts and vaguely bordello-style bodices are the bridal equivalent of denim and diamonds. If your fantasy life involves being a rodeo queen with front-row seats at Coachella, this trend's for you.
Lela Rose
The Trend: Cool Separates
It's not exactly what you'd wear to Friday night sushi, but the nonchalance and relaxation in every stitch of this collection speak to the bridal world's evolution. A streamlined study in casual grace, Ms. Rose's ready-to-wear top and snug lace skirt feel almost revolutionary in their futuristic rigor. No need for traffic-stopping accessories or overly wrought hair; this is the style of authentic self-confidence.
Mira Zwillinger
The Trend: Signs of Spring
Unfurled leaves, tight buds, branches about to burst into bloom—themes drawn from the early days of spring dominated many collections, none more successfully than Ms. Zwillinger's extravagant ode to the season. And as befits weather that is wildly unpredictable, her strapless silk-organza A-line gown comes with a light cape, for the blustery days of May.
Marchesa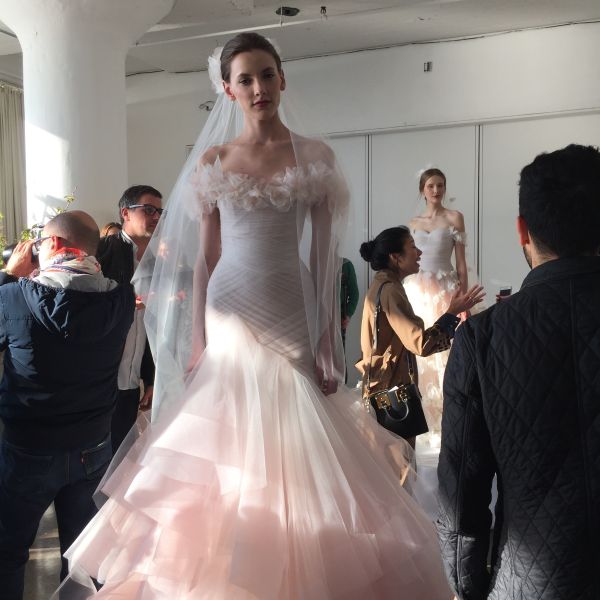 The Trend: Charmed Pastels
Aah, Marchesa. No need to look at the wedding gown as an anachronistic dinosaur headed for the history books. With an honest appreciation of all things pretty, the label plunges into the romance of the garden, celebrating the gentleness of sunrise, the soft petals of flowers, the blossom-scented air. Hand-cut rose petals embellish an iconic portrait neckline, as the body-hugging bodice explodes in feather-light layers on the fit-and-flair gown.