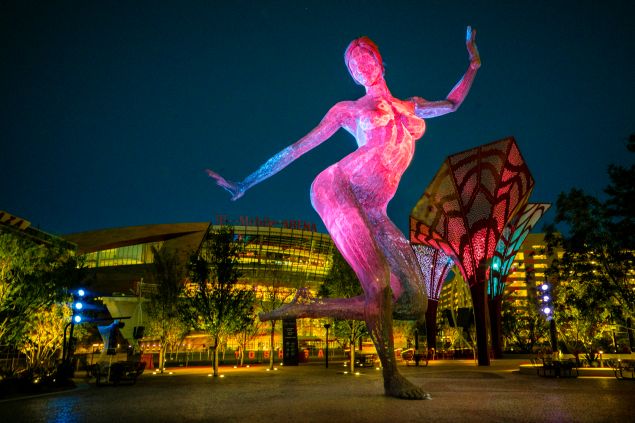 There is no other band that owns their city the way the Killers own Las Vegas. So of course Brandon Flowers and his crew were there on Wednesday, April 7, straddling the line between Sin City's gritty history and glam future, headlining the grand opening of the $375 million, 20,000-capacity T-Mobile Arena.
A lot's changed in Vegas since Mr. Flowers worked as a bellman at the Gold Coast and his bandmates subsisted on 50-cent shrimp cocktail. Vegas has become a luxury destination that goes well beyond gambling and ridiculous dining deals in grimy, smoky rooms. Game-changing properties like Wynn, CityCenter and the Cosmopolitan celebrate deep pockets and focus on rarefied restaurants, entertainment, nightlife and shopping more than slot machines.
Yes, there are places in town where you can still go for $5 steak and the smell of despair, but as the luxury boxes, craft cocktails (some on draft) from famed mixologist Tony Abou-Ganim, punch carts, 18,000-square-foot Hyde Lounge, made-to-order poke bowls, lobster salads and caviar service available at the new arena illustrate, Vegas knows how to rock the high-end market better than anyone.
Another thing that's changed since Mr. Flowers hung out at Sam's Town is that Vegas has embraced its status as a family-friendly destination even as it promises that what happens here stays here. (One hope for the arena, co-developed by MGM Resorts International and AEG, is attracting world-class sporting events like the NCAA basketball tournament and perhaps even the city's own NHL and/or NBA team.) The goal is offering something for everyone, and that's what you'll find at the new casual-cool Park dining district, nestled in between Monte Carlo and New York-New York. That's the gateway from the Vegas Strip to the arena.
The Park is billed as the Strip's first park, but you won't find any sports fields, playgrounds, dog runs or even strollable green space. The fun comes from the LED light shows, art installations and pretense-free dining.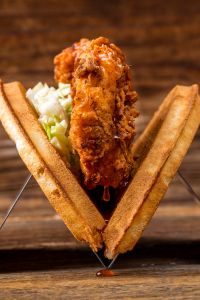 There's Shake Shack anchoring the Strip-facing side of the Park. Beyond that, there's the fried-chicken-and-waffle sandwiches, including a deliciously on-trend Nashville hot chicken, at Bruxie—a hip chain based in California that delights the masses who don't care so much about beach bodies.
There's the gorgeous patio at California Pizza Kitchen, which could well become the best place for people-watching in Vegas before shows at the arena. While you're there, you can fortify yourself for the night of dancing ahead by downing fresh-pressed juices and trying CPK dishes exclusive to Vegas like Buffalo cauliflower, a fire-grilled rib eye with pinot noir sea salt and the Santa Fe Bowl with cilantro farro. The latter eats like a power-grain bowl married with a fresh taco salad. There's also a new pizza with cremini mushrooms, pepperoni, spicy Italian sausage, mozzarella, fresh basil and Greek oregano.
Over at Beerhaus, you can gorge on sausages and porchetta sandwiches while drinking craft brews curated by Craig Schoettler (the Aria drinks guru who used to work at the Aviary in Chicago) and watching the game or playing Jenga.
Sake Rok is where you can pound sake bombs in between rounds of spicy baked crab hand rolls, tuna crispy rice and wagyu beef tataki. Or request a "tableside sensei" to make all your interactive sushi dreams come true. This is a restaurant built for revelry, a raucous irony-free zone with dancers bouncing from table to table as they groove to '80s hits. But the hotness really comes from chef Bobby Silva (formerly of the Vegas SushiSamba) who serves broiled Alaskan king crab with aji amarillo, serrano oil and key lime like something out of the Nobu Matsuhisa and Ricardo Zarate playbooks.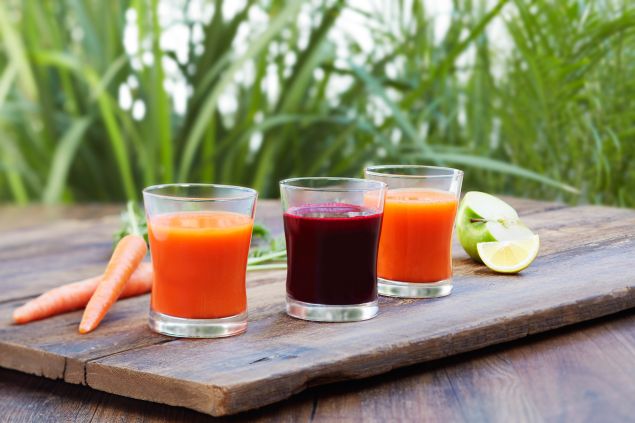 One warning, though, if you take the kids to the Park: Even if you're just outside Sake Rok, you might hear some ribald banter from the performers on the mic inside. Which we guess is appropriate given that the most dramatic piece of art at the Park is Bliss Dance, a glowing-at-night sculpture of a giant naked woman that was previously at Burning Man. Vegas after dark, yo.
The arena doesn't have its own parking structure, so one pro move is pre-gaming at Bellagio or Aria and then taking the tram or walking over to the show. CityCenter's Aria is in the middle of a tasty transformation with new restaurants like Carbone (which we've raved about before). Newest of all is Herringbone, where chef Geno Bernardo has resurrected the phenomenal black-and-white seafood spaghetti he used to serve at Nove Italiano in the Palms. That dish features lobster, crab, scallops, shrimps and calamari. You can and should complete your ocean-to-table feast with tuna poke, raw oysters and grilled fish.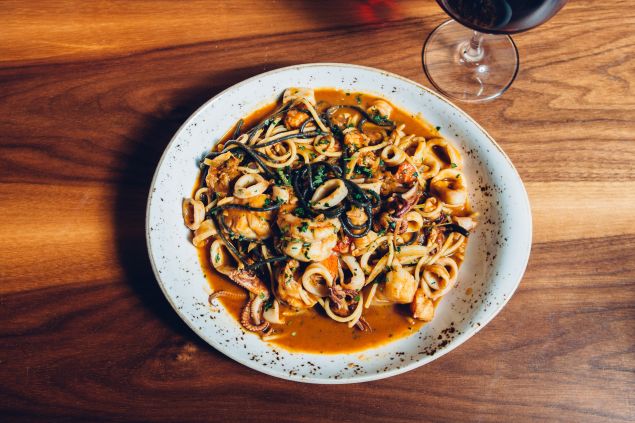 Once you're inside the arena, the eating and drinking options are similarly bountiful, of course. You can have Shake Shack or seafood here too, but the most Vegas experience of all is the upper-level Hyde Lounge, more than four times larger than the one at L.A.'s Staples Center. The DJ booth, bottle service and full-service catering make this a lofty perch for big bashes. But you can also just book a table for dinner and the show or pop by for a cucumber watermelon margarita. Don't just order vodka and soda. The signature cocktails are mixed with care and with ingredients like Earl Grey tincture, passion-fruit puree and housemade syrups. The servers are knowledgeable, ready with thoughtful suggestions whether your palate skews bitter or sweet. And you're in a city with no curfews and no limits, so why not shake things up?