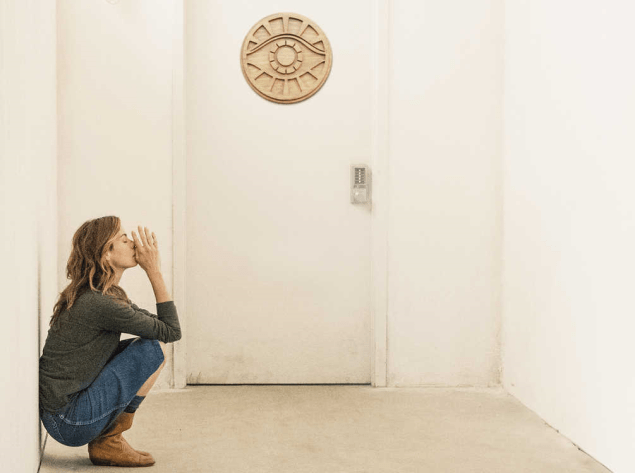 The cult compound in The Path has a placid, woodsy ethos. You don't notice that detail by detail so much as you just get it. "It's important that the production design is correct for the show you're doing and doesn't overshadow the story," said Russell Barnes, the show's production designer. "It has to enhance the story and show up only when you need it." We sat down with Barnes to talk through the process of giving The Path its look and feel.
How far along was the show when you got involved?
I came on eight or nine weeks before shooting started. After I read the pilot, I put forward my thoughts on the design for the pilot and where we would go from there.
Had the location scouts already established where the compound would be?
The producers had hired David McGuire, who is a talented location manager, to scout a dozen or so options for the compound. One of my first meetings after I came on was with him, and we spent a week going to these locations and whittling them down in New York while everyone else was still in L.A. We shot the scenes at the compound in Nyack, New York.
Once you picked the location for the compound, did you have to build much?
The compound was pretty much how you see it on the show. The only thing we had to build was the detention cells and the Lane house. We shoot with three cameras at the same time, so we built the rooms where we could remove walls for different shots to get a lot of different angles.
Where did you shoot the scenes that are set in Peru?
We never got on an airplane for that. We had a lot of discussion about having a second unit go to South America for those scenes. Mike Cahill [who directed the pilot] had a friend in Peru who was able to shoot hours of B-roll, which was great research for seeing designing that setting. David McGuire found a great location in Katonah, New York, that was a good cheat for South American architecture.
How do you design concepts for a show like this? Do you draw, use Photoshop, build models?
It's all of the above. It can be as simple as a napkin sketch all the way up through a full digital rendering with fly-throughs. The art director, Alison Ford, is a wiz at sketching plans. We would start with reference photos in discussions with directors and producers to come up with a general look for something, and then that went to art director to make sketches based on that. That sketch would come to me for notes and changes, we would go back and forth, bringing in different crew members — the DP to discuss lighting and where to put cameras, the construction department, etc. — and mix in ingredients until we get to the finished product.
The interrogation room has a bright, sparse look. Are there particular ways you would describe the other major sets?
With the Lane family's house, we wanted it to be normal with undercurrents of things that were slightly off. We made the house very monochromatic and put forward the idea that everyone in the household is focused on their place in the movement rather than what's going on in the house. With the other sets, we went for realism as much as possible. The Peru sets bring in a lot more color and texture.
In this episode, you shot several scenes in a hospital. How much did you have to design for that?
I'm there scouting for every location with the location manager and figuring out the logistics and scheduling with the producers of where we need to be geographically. We looked at a couple of different hospitals, and the one we used worked out perfectly. We had a lot of space and a lot of freedom to design because it was an empty space. We brought in everything — the pens, the paper, the desk, the decorations, everything on the walls.
At the end of the episode, Eddie (Aaron Paul) is digging a hole in the ground, and I don't think it's spoiling too much from next week's episode to say he digs a really deep hole. How do you design a hole in the ground?
We were looking for a place with a lot of trees surrounding it that had a clearing where Eddie (Aaron Paul) and Cal (Hugh Dancy) could walk from the compound. We had to be able to get equipment in there, and we had to make sure it was a place where we didn't damage the trees and the root system. We had to sketch out how big the hole would be and how we were going to shoot it, and then we dug the hole and had a lot of safety procedures to make sure Aaron and the crew were all safe.
Silas (Steve Mones) is using a satellite phone in this episode. Did somebody already have one, or did you have to find one?
Our prop master Morgan Pitts bought that, and we had a couple of different options. I had used one in Australia, so I had an idea what was available.
I've seen this episode twice, and I watched it the second time knowing I was going to talk to you about the production design. It's amazing how many details you have to pay attention to.
One of the joys of the job is that it's impossible to shut that off. When I watch a movie or a TV show, I'm always looking at the props and the design and the costumes.
Did you hire a graphic designer to do the eye logo, or did someone have a strong idea what they wanted that to look like?
Because the eye logo plays such a huge part of the show, I started doing sketches for that as soon as I came on. It was important that we get to a place where we could sign off early on that because the logo shows up so many places in the production. I sent a few concepts to the producers while they were still in L.A., and we came up with a semi-finished design that our graphic designer, Maggie Ruder. We were very happy with how the final design came out.
Scott Porch writes about American history, new media and popular culture. He has written for The Atlantic, The Daily Beast, Decider, Los Angeles Review of Books, New York Times, Politico Magazine, Salon and Wired. Follow him on Twitter: @ScottPorch.