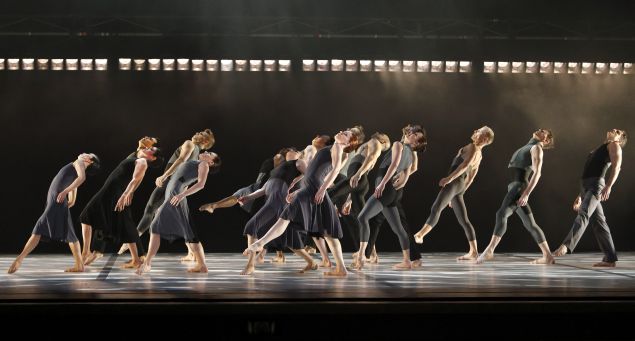 This has been the second year of what is now known as Paul Taylor's American Modern Dance—the expansion of his repertory from his own work to that of other masters of modern dance, and now to newly commissioned work by more recent choreographers. It's a noble endeavor, and if not a total success, that's because there are so few choreographers, past or present, on Taylor's level. This man has been creating masterpieces since Aureole, 54 years ago.
The current season, just ended at the Koch, challenged the Taylor dancers with Martha Graham's glorious Diversion of Angels (from 1948), Graham's greatest non-dramatic dance work. Do they look like Graham dancers? Not really—the sole ex-Graham dancer connected to the company is Taylor himself, who worked for (and adored) Martha for half a dozen years, although even back in the late 50s he looked more like a Paul Taylor dancer than a Martha Graham dancer. (I remember him well in Diversion of Angels itself.) But today's Taylor dancers look terrific in it nonetheless, because the work itself is so stirring, so appealing, and most importantly, so superbly constructed that it easily survives new emphases. That was evident when ABT performed Diversion a few years back: It wasn't exactly Graham, but it was swell.
This season's dancers—especially Parisa Khobdeh as the woman in red—haven't mastered the essential Graham contraction, but you can forgive that while appreciating her dynamic movement and enchanting presence. How odd, though, that the newest member of the company, Madelyn Ho—by far its most Graham-like dancer—didn't appear in this revival. With Taylor, longevity of service almost always trumps other considerations. Also odd: Laura Halzack as the woman in white, beautiful and commanding as always, flubbed her final extended balance, she of the hitherto ravishing balances.
The other imported piece was Donald McKayle's 1959 slice of agitprop, Rainbow 'Round My Shoulder—six "Men on the Chain Gang" and a single woman to inspire them in their sufferings. Agitprop doesn't wear well—even Kurt Jooss's The Green Table has finally lost its charge—and political correctness doesn't substitute for the underwhelming weakness of McKayle's dance invention. Rainbow was performed by Taylor's guests, the Dayton Contemporary Dance Company, who gave it their impressive, sweaty all, accompanied by some excellent off-stage singers, including a group called the Broadway Inspirational Voices. Those of us who relish curious dancer names were able to pluck Dayton's "Quentin Apollo Vaughn Sledge" for our collection.
Both the new pieces by Taylor himself were mildly pleasing and both were less than consequential. I preferred Dilly Dilly, partly because it brought back the beautiful renderings of folk songs by Burl Ives—"Foggy Foggy Dew," "Frankie and Johnny," "Big Rock Candy Mountain," and of course "Lavender Blue (Dilly Dilly)"—that my generation (and Taylor's) grew up on. But also because it was frisky and good-natured, if slight. Sullivaniana—set to the overtures for Iolanthe, The Pirates of Penzance, and Patience by Sir Arthur Sullivan—looked charming in Santo Loquasto's Victorian costumes but didn't seem to go anywhere in particular.
More exciting were the new commissioned works by Doug Elkins and Larry Keigwin. Both used the entire company of sixteen, both were clearly stimulated by having so big a bunch of top-level dancers to work with, both came up with kinetically exhilarating pieces that offered rewarding contrast to Taylor's more profound (or sometimes more goofy) art, and both elicited standing ovations. The dancers were stimulated and stretched. The Keigwin piece—Rush Hour—was very much like other pieces of his that show busy city people going about their business. Everything looks casual, but there's a firm organizing hand at the helm, and it was interesting to watch his supposedly anonymous men and women walking around unable to keep from looking like Paul Taylor men and women walking around.
The Elkins piece—The Weight of Smoke—was more original, more intriguing. Propelled by a score of sounds, noises, and yes, music by Justin Levine and Matt Stine, punctuated by snatches of Handel, the dancers get to add to their movement repertory such post-Taylor dance elements as hip-hop and what Deborah Jowett calls a "runway strut." Yep, the guys—from Michael Trusnovec on down—swing them hips and shake them booties in ways not to be found in Esplanade. The first-rate Michael Novak, waiting too long for significant new roles, finds one here.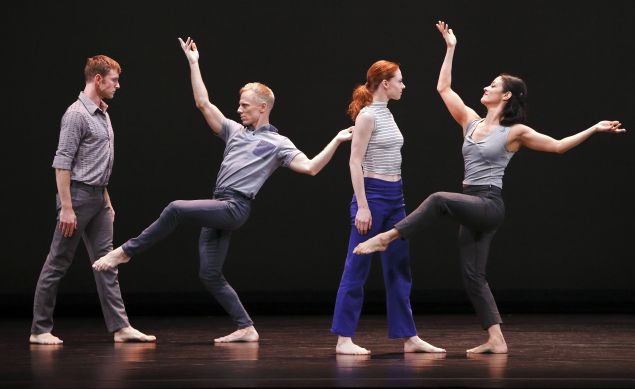 Let's hope the same wait doesn't happen to Madelyn Ho. She's the most exciting new girl on the Taylor scene in a long time—tiny, pliant, on fire. She really does look like one of those great Graham dancers of the '50s and '60s—Helen McGehee, Linda Hodes; you want to see her in everything. But the whole company is looking good. One always comes back to Trusnovec, because how not? In everything, whether calm or frenzied, he's superlative. He's grown even deeper as the Walt Whitman figure in Taylor's most recent masterpiece, Beloved Renegade. This season he's been deployed as the central character in Spindrift (1993)—one man, on the beach, looking back on his life, surrounded by a group of predatory birds, among others. This piece has a stunningly beautiful sky backdrop by Loquasto, and some of nonpareil Jennifer Tipton's most superb lighting. But for me it's too long, and I just can't enjoy the Schoenberg String Quartet Concerto (after Handel) to which it's set—maybe the only music Taylor's ever chosen that seems to me anti-dance.
The major revival was Orbs, his longest and perhaps most profound work (to Beethoven's late quartets). It's in two parts with an intermission, lifting us into the empyrean and through the seasons, and growing and growing into one of the finest of all Taylor finales. In 1966, Taylor himself was the Sun—one of his greatest performances. Neither that excellent dancer Sean Mahoney this season nor that excellent dancer James Samson several years ago has summoned up Taylor's majesty, his presence. But how wonderful to be watching Orbs again—four planets and four moons surrounding the Sun as time and life go by. As far as I know, the New York critics didn't bother reviewing it this time around. How disheartening. 
Finally, the dancers. It would only be just to name them all—it would be a roll call of honor. I do wish that dancers like Novak, Heather McGinley, Francisco Graziano were moving more regularly into roles their seniors seem permanently cemented in. Taylor's works—like all dance works—would benefit from new or double casting, even if the new casts weren't at first as splendid as the old ones. They'd be refreshed, and we'd see them differently. One example: Enough of Michelle Fleet in the lead role of Esplanade. She dances as energetically as ever, but her charm has hardened and there are new girls waiting in the wings. Please unleash them, Mr. Taylor.