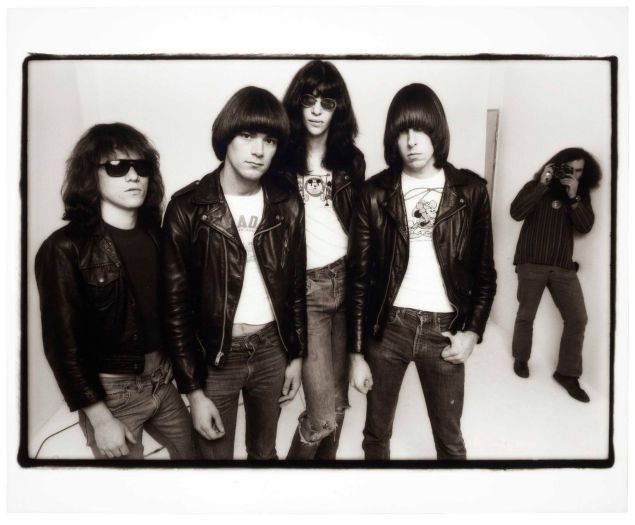 Imagine not only starting a revolution, but also creating an extraordinary work of art in the process. Imagine if Lenin could paint like Picasso.
Ramones, released 40 years ago this month, is one of the most original and satisfying works of art of our time. In just over 29 minutes, it introduced a truly new idea, magnificently realized. It was the soup can no one had ever thought to paint; it had always been the obvious destination of rock pop, so obvious no one had ever dared to try it.
"They were the Bizarro World Beatles," notes Craig Leon, the producer of the Ramones' remarkable debut album and a rare witness to one of the most important recording sessions of our era (we'll be hearing a lot more from him soon).
There are three primary ways to discuss the 40th anniversary of Ramones. The date—April 23, 1976—marks a convenient (if overly simplistic) way to demark the beginning of an important movement in music and fashion; it also denotes the ascension into the public eye of one of the fundamental artists of the last century. But what is frequently obscured is this: 4/23/76 marks the release date of one of the most skillfully executed and conceptually original recorded works of all time. This apex in pop rock must be examined both apart from the movement that Ramones is largely credited with instigating, and also separated from the subsequent career of the band that created that achievement.
We can date the era of "album rock" roughly to the release of Rubber Soul in December 1965. At this point, rock/pop artists began to release records intended to be greater than the sum of their parts, LPs that were more than a collection of tracks designed to fill the spaces between singles and well-treaded covers. Of course, jazz, classical, avant-garde and even folk artists had been conjuring album-length experiences for decades, but it was a relatively late development in rock.
In the half-century since Rubber Soul, very, very few flawless records have been released. These rare albums combine ferocious but user-friendly innovation; remarkably clear conceptualization and intent; not one song that could be considered filler, or less than the greatness of the whole; and the entire Megillah is executed in a way that never leaves the listener distracted by recording or production that is either too clumsy or too deliberate.
There are only two indisputably flawless pop rock albums that I can think of, whose conceptual and artistic perfection and execution cannot be questioned. These are Pet Sounds by the Beach Boys and Ramones by the Ramones. But the ubiquity of the Ramones as a T-shirt icon and hashtag for the very idea of "punk" often obscures the fact that they were great artists, they made one of our era's greatest works of art—and they made it on purpose.
"The Ramones in the beginning were like performance artists," Craig Leon, one of the only people still living who was present at the five-day, $6,200 session that produced Ramones, tells the Observer. "That's what attracted me, and several of the people I really trusted, to them as musical and artistic visionaries. When you saw them, especially in the beginning, it would be like a 20-minute performance-art piece. They wouldn't do 'a' song; it was an intact piece of work. And that was something that appealed to me, very much, about them, and it was something I wanted to convey on the record."
'The Ramones in the beginning were like performance artists.'—producer Craig Leon
Although many won't want to hear it (and it stands somewhat contrary to their deliberately created Queens everyman image), the Ramones were not mere lumpy proles doing the "only" thing they could do. Rather, they made a deeply artistic, intentional record that, daresay, had far more to do with Kraftwerk or Suicide then the Dictators or the Dolls.
"When we went into the studio," remembers Leon, "Tommy [Erdelyi, née Ramone] and I had a lot of conversations beforehand. A lot of the 'mythos' of the Ramones has them just appearing one night, and someone seeing them live someplace and signing them and putting them in the studio the next day. Well, that's a very nice fantasy, and very Hollywood, but it's not true."
Ramones was made possible by an absolute singular combination of original vision and original execution. It was deeply oppositional, honestly revolutionary music, and they knew damn well what they were doing.
"Tommy had come up to my office many times, and we had discussed what was going to happen on the album; and the idea was that it had to be very tight, and very rigid," says Leon. "And this was Tommy and the band's idea, he would be the spokesman, it wasn't necessarily his idea imposed on the band, it was the band's idea of what they wanted to do. They were going to be tight, like a steamrolling machine."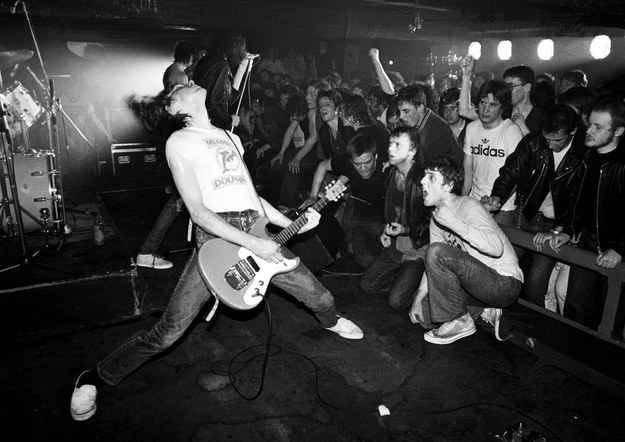 A recording strategy had to be applied to make this vision a reality.
"We didn't have computers to put things in time or anything back then, it was all analog," explains Leon. "So he had to play it that way. As the drummer of the band, he practiced for ages with a classical metronome with the light flashing—it had a little electronic light on it that would keep perfect time. So when he went into the studio—he had practiced with it a lot, with the metronome clicking and the light—when he set up in the studio, on a little mic stand in front of him, in front of the drum kit, was the metronome going, but without the click, obviously, just the light. And he played right in time with it. He looked like a little robot, like a member of Kraftwerk or something. He played straight to a metronome."
It all adds up to A-R-T, a word that Ramones fans might not want to hear.
"It was dear to my heart that they wanted to do that," enthuses Leon, who in addition to producing many fundamental first-wave alternative and punk records (and high-profile classical sessions) has released his own well-received avant-garde compositions.
The ubiquity of The Ramones as a T-shirt icon and hashtag for the very idea of "punk" often obscures the fact that they were great artists, they made one of our era's greatest works of art—and they made it on purpose.
"Because if you look at my other work, particularly my own music that I write, it's rooted very much in the synthesized music of Kraftwerk and the electronic music pioneers before Kraftwerk, as well as quote-unquote 'modern classical music.' That always appealed to me, and that was an element that was 'correct' in the Ramones. I have brought this up as an analogy, and a lot of writers think it's crazy, but I've said that the Ramones were very, very much an off-shoot of the Krautrock scene, in a weird way—there were bands in that scene that sounded a bit like them in kind of creating a trance, but the Ramones were a very fast one. And there was a band called Hawkwind, which was very, very reminiscent of the controlled chaos of the Ramones. It doesn't mean they sound exactly like that—it means that style was applied, or the Kraftwerk style was applied."
Which is all to say that the Ramones and their 3M modus operandi (metronomic maximum minimalism) were sui generis, as much (or more) than perhaps any "mainstream" act in our history (except for, perhaps, the aforementioned Kraftwerk). Other acts, of course, became absolutely distinct and pioneering, but who else emerged virtually out of the womb as original and complete as the Ramones?
It's all there on that first album. It's very, very hard to think of another artist appearing so early in their career with something so completely new, so fully realized, and so user-friendly (off the top of my head, one of the only things I can think of is young Marcel Duchamp making the whole world rethink figurative art with Nude Descending a Staircase, a controversial and scene-changing action that is comparable to Ramones).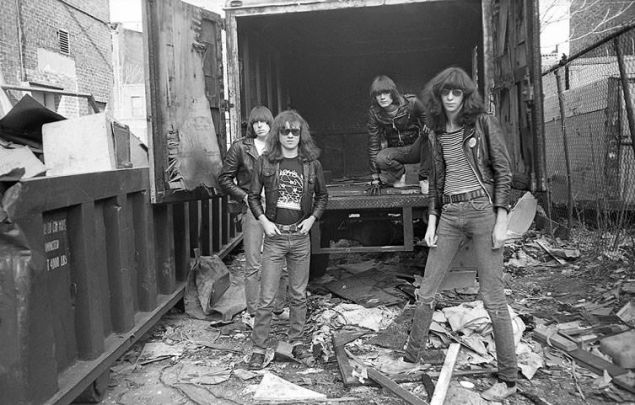 Many artists grow into genius, or into the style that would make them legendary: For instance, the Beatles debut, Please Please Me is, well, Beatle-esque, but it is only made brilliant or important via the future-filter of the Beatles arc; and Bob Dylan's debut, made up almost entirely of covers, is a charming document, but tells us virtually nothing about the songwriting leviathan he was to become.
Likewise, it's very, very unlikely that anyone is going to claim the freshmen releases of the Who, the Stones, or the Kinks are their absolute go-to albums, and Never Mind the Bollocks Here's the Sex Pistols is merely a satisfying bunt, since nearly half the album was previously available on 45s. As far as debuts go, only Patti Smith's Horses and The Velvet Underground and Nico reflect musical revolutionaries at the top of their game. But Ramones hit that ground running, with the work of art that would be the best representation of the revolution they proposed.
Here's some of the reasons why: First, Ramones' mixture of gorgeously childish melody—the Herman's Hermits/1910 Fruitgum Company/Bay City Rollers sing-songisms that typified their compositions, from beginning to end—were as adamantly oppositional to the Beatles wedding cake psychedelic Broadway frippery as anything Zappa or Van Dyke Parks ever came up with (sometimes the revolution comes out of the nursery, not music school).
'A lot of the "mythos" of the Ramones has them just appearing one night…someone seeing them live someplace and signing them and putting them in the studio the next day.…That's a very nice fantasy, but it's not true.'—Craig Leon
Secondly, the almost complete absence of guitar solos is such a shocking statement that, by and large, it remains the most un-imitated aspect of the Ramones musical palette (even the most public of punk's "revolutionary" bands, like the Clash and the Sex Pistols, used guitar solos frequently and traditionally).
Third, with the exception of manifold avant-garde composers and Krautrock bands like Kraftwerk and Neu!, no one had dared to combine such a fervent commitment to tonic notes with a metronomic, unelaborated rhythm. No act, with the possible exception of the Velvet Underground and the earliest rockabilly pioneers, had ever used live drums so minimally, and no "mainstream" pop act had ever complimented this metronomic quality with guitars that never arpeggiated and basses that had played only the tonic note of the chord, virtually without any variation. It all added up to something vastly unlike anything that had ever been heard before, yet vastly appealing.
This masterpiece of volume, simplicity, melody and concept, this unprecedented and unequaled triumph of the 3Ms, will be further memorialized with a 40th anniversary re-boot, remastered, remixed, and supervised by producer Craig Leon, to be released in the beginning of July. There's one particular thing that makes this re-issue vastly different than all prior re-releases of Ramones:
"I've recreated the mono version of the album that we wanted to do but never could," announces Leon. "We couldn't do it because we had a big distributor out in L.A., and in those days saying you wanted to put out a mono and a stereo on an unknown band was unheard of. Our promo guy at Sire said we'd never be able to do that. All the original monitor mixes and early mixes we did in the studio were mono. So I recreated the mono mix out of my original notes, which luckily were quite meticulous."
As long as we are on the subject of mixes, one of the most immediately singular things about Ramones is the mix that (with a few exceptional moments here and there) puts the guitar entirely in the right speaker and the bass entirely in the left speaker. It was a technique not heard since the low-fi heights of the British invasion, and it somehow worked perfectly to underline the radical artistic landscape of the album.
"We tried a conventional stereo mix," explains Leon, "and it was kind of boring. The band loved the Beatles, they loved the Who, those old English records which, because of the limitations of recording, had things split in very odd ways—you would have bass and drums on one channel, and guitar and tambourine on another channel, and the vocal off on the right side. And although we were recording 16 track, our record wasn't much different; we'd do a lot of different mics on the guitar, sometimes double track the guitars, and we'd bounce them all down to one track with frequency selective EQ that I'd learned from synths. So we had this very kind of monophonic look on the record…it's a pretty George Martin-esque homage—things bounced down in a very sparse manner, but there are a lot of instruments on there—if you listen closely to the record you can hear them."
The myth, idea and the iconography of the Ramones has taken on a life of its own, and when that kind of thing happens, artistic achievement can be obscured (Mötorhead and the Monkees are two other superior musical acts whose musical achievements were overshadowed by a T-shirt and a myth). Even if you've never bothered to take the Ramones seriously, take a moment to appreciate Ramones as a deeply intentional attempt to change history with an idea and make history by executing that idea masterfully. Like Pet Sounds, the innovation, the execution, the desire to meet a moment in time with a monument in music, was not an accident.
So let's take this 40th anniversary to remember the Ramones before they belonged to Hot Topic and asinine cameos in Vinyl, before they had outlived their art for the sake of the road dollar, before they left this incarnation for unpredictable and remarkable future adventures.
Let's honor the Ramones by honoring Ramones, an album so conceptually staggering that it put the brain on alert, so well executed that it made the body feel at peace with the universe, so full of childish melody that it rocked us like a happily loud cradle, an album that was an absolute triumph of grace and simplicity and art that it is one of the greatest pop rock albums of all time.
This piece is dedicated to the amazing Mickey Leigh, an unheralded back-up singer/handclapper/guitarist on this musical monument and a wondrous musician in his own right.