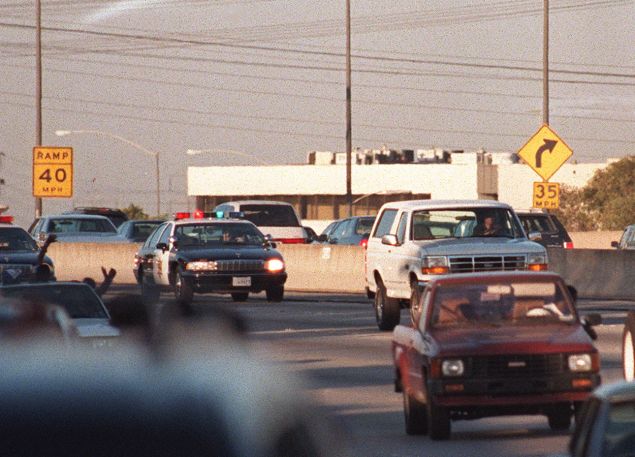 There is a very famous car in Mike Gilbert's garage in Hanford, CA.
It doesn't get out much.
"The Bronco is the second most viewed vehicle in world history," is how Mr. Gilbert puts it.
"Two Hundred million people watched the Bronco chase," he said. "And everybody can remember where they were when that was going on, just like when JFK was killed."
(The 1961 Lincoln convertible being the only car more famous, or at least more viewed, than the Bronco; Blessedly, it "disappeared.")
There were actually two white Ford Broncos in the O.J. Simpson saga.
Let's back up.
There were actually two white Ford Broncos in the O.J. Simpson saga.
O.J. was given his, by Hertz, the company he long served as a spokesperson, about a year prior to the murders that shook America, and spawned a new industry of murder-tainment.
His best friend Al Cowlings drove it, liked it, and decided to get one too.
"There aren't that many cars for guys their size," explains Mr. Gilbert, who for many years represented both former athletes, as a marketing agent. "They're 6 ft 2, 6'4. O.J. liked it because it was a big enough car for him to get into. So did A.C."
Two years after the criminal verdict, Ford discontinued the line. Now there is talk they will bring it back.
The two identical white Ford Broncos met very different fates, as did their owners. The one O.J. owned was dismantled by the LAPD during the criminal investigation. The more famous one, owned and driven by Al Cowlings during the legendary "Bronco chase," is co-owned by three businessmen—Mr. Gilbert being one—and leads a strange and mostly lonely life. People think the "famous white Bronco" was O.J.'s, but it was actually A.C.'s.
Mr. Cowlings, desperate to get rid of the car during the criminal trial, almost sold it to a company that wanted to use it for celebrity murder tourism—shuttling gawkers past the murder site in Brentwood in the infamous vehicle, which nobody in the OJ camp, thought would be "a good idea," said Mr. Gilbert. Mr. Cowlings didn't think so either. But he did urgently want to sell the car, so Mr. Gilbert and two other investors bought it, for $75,000—$25,000 each.
It spent a decade parked in an LA basement, before it was taken out, fixed up, and put on its first display, at a Vegas casino, outdoors, in 2003.
"It's a very famous piece of American history," says Mr. Gilbert, who understands such things, as it's his business. Memorabilia and marketing.
Mr. Gilbert reports that during the car's first "gig," the vehicle stood there, cordoned off by velvet ropes, affixed with plaques, containing some historical facts, and people "loved it." Walked around it, and took selfies.
It was so popular, it remained on display in Las Vegas for almost a year, before it was put back in storage. Soon after, it was again placed on display at a museum in Connecticut for a month. Later this year, it will go to yet another museum. There have even been requests for it to travel to other countries.
"We're in no hurry to sell it," says Mr. Gilbert, who says he and his partners turned down an offer of $270,000 from a buyer in Japan.
"It's a very famous piece of American history," adds Mr. Gilbert, who understands the memorabilia market.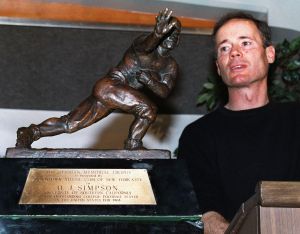 Mr. Gilbert has collected other artifacts from O.J's and his crumbled world. He owns the suit O.J. wore when he was acquitted of the murders, complete with a speck of blood on the lapel from that morning's nervous shave. He has a piece of the driveway at O.J's demolished estate Rockingham. He fought his most emotional battle over Simpson's 1968 Heisman trophy, which he and his client were ordered to turn over to the court over after the civil trial filed against O.J. by Fred Goldman, father of murder victim Ron Goldman. O.J. said he had no particular attachment to it, but Mr. Gilbert did. He almost went to jail rather than hand over the Heisman. Finally, he relented. He removed the nameplate, surreptitiously, but this was (of course) discovered, and he had to return to court several times more in failed efforts to keep it.
"Finally, O.J. actually took a knife to it," Mr. Gilbert recalls, "so his name would not be visible. Some guy was saying he was going to buy it and melt it down, to impress his girlfriend, that kind of thing. I remember the knife didn't work so O.J. went and got a screwdriver and scratched it up. He just wanted to destroy it, before they got their hands on it."
Mr. Gilbert did manage to keep the screws that held the nameplate in place. He still has them.
In 2008, he wrote his story, in a book called How I Helped O.J. Get Away With Murder.
He has been interviewed many times, but he inhabits a complex position. He says O.J. committed the murders, (in his categorical opinion,) yet he still despises the hypocrisy of many of the characters in this ugly never-ending saga. He's burned out on all things O.J., and did not watched "one minute" of the popular FX series, The People Vs. O.J. Simpson, which he considers a marketing vehicle for the Kardashians.
"Do you ever drive it?" I ask, bringing the conversation back to the Bronco.
"It's unbearable," he says. "They're re-writing history. This whole idea that Kardashian was a man of God and our moral compass. It's total bullshit. O.J. used to say, 'Bobby, why are you here? Go home, you don't need to be here all the time.' Turned out he was a plant. He was selling information to Larry Schiller for his book American Tragedy, all throughout the criminal trial. That's why he had that look on his face when the verdict was read. That look is dread. He thought it was a given that O.J. would go to prison, and he could promote the book, and come out and say 'O.J. did it!' O.J. called him Judas. They never spoke again, until the very end of Kardashian's life."
"What happened then?" I asked.
"O.J. called him up. He didn't want him to die feeling O.J. hated him for what he had done, so he decided to call him and say he had forgiven him."
"Do you ever drive it?" I ask, driving the conversation back to the Bronco.
"Just enough to keep the oil moving around and keep the battery charged."
Easter weekend, this year, Mr. Gilbert drove it with his two grown sons and their kids to a local Chevron dealer for a tuneup. It stalled out, and needed to be jump-started. Some people gathered around, laughed, and said, "That car you got there…looks alot like the famous Bronco."
"Yeah. Does kind of, doesn't it?" Mike said.
One of his sons whispered, "Oh come on Dad, tell em."