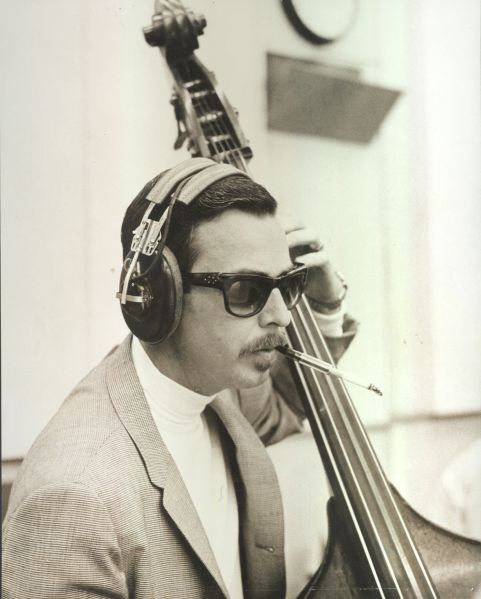 In the category of minimalist torch—if there is such a category—"Fever" by Peggy Lee has to be the assumed pinnacle of the form. Ms. Lee's voice, accompanied by little more than a creeping bass line and snapping fingers, captures not only a genre of music, but a specific milieu in a specific era in American life, where cocktail glasses clink, eyebrows raise, and pent-up prosperity percolates insistently in the body politic. The song is feral, assertive, and unrelenting, and an unequivocal classic.
"Fever" was suggested to Peggy Lee by jazz bassist Max Bennett, a veteran of the Chicago, New York, and West Coast jazz scenes, and Ms. Lee's close personal friend. It boasts a bass line for the ages.
"One day she said to me, 'Oh by the way, I'm looking for a torch song,' " remembers Bennett, now 88 and alive and well in San Clemente, Calif. " 'If you hear anything like that, give me a ring.' So I was working on Western Avenue, not the nicest area of L.A., with, like, a jazz trio. And a young kid walked in and said 'Can I sit in?' and we said, 'Sure why not, what do you want to sing?' He said, 'I want to sing a song called 'Fever.' I'd never heard of it. But it has like two chords. We played it, and I thought, perfect for Peggy. So I called her up and told her about the tune, and the rest is history."
It must have been a heady moment for a young man who, not that many years earlier, had left the unjazz capital of the world—Oskaloosa, Iowa—with just the clothes on his back, to seek his unfortunes in the music business. Now here he was, laying down one of the iconic bass lines in the American music canon with one of the most eye-popping and ear-caressing vocalists of the era.
"Oh, I didn't record it. Peggy wasn't working, so I was out with Ella Fitzgerald. So she recorded it with a friend of mind named Joe Mondragon. Howard Roberts, who was a great guitarist, was going to play but he didn't. All he did was snap his fingers."
Through the twists and turns of being a gigging jazzer and go-to session guy living in L.A.—he was a member of the mythical "Wrecking Crew"—Max Bennett would, however, leave his low-end imprint on many other important performances and recordings across several decades. Following the dissolution of his original Mothers of Invention, none other than Frank Zappa would tap Bennett as something of a de facto new Mother. That's Max all over arguably Zappa's meisterwerk Hot Rats, featuring the gorgeous and much beloved, "Little Umbrellas." That's Max on the sublime "Twenty Small Cigars" on Chunga's Revenge. And those are just a couple of the Zappa albums on Max's CV. It must have been a very special and inspiring period to be working with Zappa at the height of his powers.
[youtube https://www.youtube.com/watch?v=qKWNVXwlAk4&w=560&h=315]
"I was not familiar with Zappa's music. Our paths never crossed. I was never a big fan of avant garde music in that sense. It was while I was working in the studio, what was it, 1967, I think? And I got a call from John Guerin. He said, 'Get your stuff over to TTG'—that was in Hollywood—'I got a double session for you with Frank Zappa.' So we get there and we worked two double sessions for two nights. And that was the album, that was Hot Rats."
"I was talking to someone about that, and they were telling me that that particular album got the best write-ups of any of the stuff he ever did. What's interesting, I was on the computer the other day, and I'm seeing I'm on these other tunes. As it turns out—we would play the same chord changes for forever, you know, after we got through, just keep going and going—Frank took those takes and made other songs out of them. All of a sudden I realize I'm not just on Hot Rats, I did five Zappa albums! That was cool. I don't mind."
It's easy for him to shrug off these stops along the way. Max Bennett is a jazz guy. His jazz life is what looms largest in his memory.
"When I started in Oskaloosa, I was a jazz musician from Day One. I just wasn't a very good one. I was never interested in anything else. I didn't play on any pop music—literally none. I never did any casuals, I didn't play any commercial music till much later. I got started in Chicago, the late-'40s, used to go to Clark Street, there were a whole bunch of strip joints, and they used to hire groups from the South Side. They were good players—but the strip clubs wouldn't hire bass players, so those guys were glad to see me. I would sit in with them. I was just getting started, so I learned quite a bit from them. From there I went to New York and hung out there for a little while and then joined Georgie Auld's band and we went on the road."
[youtube https://www.youtube.com/watch?v=kpLlJwVQdT8&w=420&h=315]
Great things would follow. "My jazz influences are essentially, like, Chicago and New York. But I was fortunate, even after I moved out to L.A., I went on tour with Ella Fitzgerald, and when we got finished with the tour, she and Oscar went home—Oscar Peterson was the headliner—so when we got back from France, we went out with Jazz At The Philharmonic. That had Dizzy Gillespie and Stan Getz and Roy Eldridge, Big Joe Turner, Sonny Stitt—I don't know if you know who that is—all those guys…"
Eventually, West Coast jazz and points further afield were in the mix too, with Max joining Stan Kenton's band, and at some point doing a stint with a more Middle America jazz head. "Believe it or not I was working with Roger Miller, the country guy? All the guys he was playing with were jazz guys. He loved jazz music, he just couldn't, you know, play it. And he didn't like most country music. He was unique. He was very hip. He didn't want to be characterized with, between you and me, 'those goddamn hat singers.' He was a great guy to work for. I went on a couple tours with him."
His journey would eventually have him cross paths with saxophonist Tom Scott, and the two would embark on a fruitful and influential collaboration in the mid-'70s.
"The L.A. Express—that was actually all my idea. Tom Scott and I worked in the studios together—for a long, long time doing movies and TV and that whole thing that studio players do. But he had a quartet, it was a bebop quartet. He was working at the famous club in Hermosa Beach, The Lighthouse. On Sunday afternoons—he had a really great bass player, stand-up player, Chuck Demonico. He couldn't make it one Sunday, called me and asked me if I could come down and sub for him. I said sure, and I took my Fender bass, and I played that. And we played the first tune I ever wrote, a tune in E, called 'TCB in E.' We played that and…something, just, happened."
"We would play the same chord changes for forever—Frank [Zappa] took those takes and made other songs out of them. All of a sudden I realize I'm not just on 'Hot Rats,' I did five Zappa albums! That was cool. I don't mind."
"Joe Sample was down there playing with him—Tom probably called him for this job, because Joe was pretty busy with the Crusaders—and I think the drummer was Ed Greene at the time. And something just clicked. So Tom said, 'Well let's do it again next Sunday.' And I brought some tunes and he brought some tunes, and he changed all the tunes he brought so they kind of fit that format that I already started. And I kept writing. So that kind of started it, and we were working at The Baked Potato in North Hollywood—well actually Studio City—and we were doing it every Tuesday night, late, because that was the only time we could make it. And the crowd just got bigger and bigger and bigger."
"That was the quartet, we didn't have a guitar yet. I began thinking about 'Boy, the group sounds good, like it's real powerful'…so I got this name 'Express'—I didn't know what to put in front of it. I had a concert one night with Lalo Schifrin downtown at Dorothy Chandler, I think. So backstage I was waiting to go on, I was talking to this buddy of ours, Louie Shelton, and told him…and he said, 'Well, how about L.A. Express?' And that was it."
One of those in attendance at The Baked Potato was John Guerin's girlfriend, a famous folk singer by the name of Joni Mitchell. "She flipped for the band," remembers Bennett. They would go on to work together on four of the strongest albums in Mitchell's career, among the strongest by anyone in the '70s. One can imagine that it must have been rewarding and a little surreal for a contemporary jazz combo to ascend to working on the likes of Court and Spark, The Hissing of Summer Lawns, Hejira and Miles of Aisles.
[youtube https://www.youtube.com/watch?v=ejORU9R3rAo&w=420&h=315]
"We ran into the studio—I honestly didn't think much about it. I didn't even know who she was! We were buried in the studio. Her kinda music just didn't get to me. It wasn't that I didn't like it—I didn't know anything about it! Tom knew a little bit because he did some soprano sax on either For The Roses or Blue. Joni was great to work for. She really was. She had really good time, and she gave us carte blanche pretty much. I talked to her some time ago, and she had written something about how impressed she was with the band because if—she'd drop notes, she dropped time, stuff like that, which was her format, you know—we didn't mind that at all, she'd worked with people before that were kinda perplexed about it. But it wasn't real straight-like. So she really liked the band and it worked."
"She was intrigued by jazz. Once she got playing with it, she was really stoked about it, she kind of developed a real affinity for it. Like I did that one song with her on Court and Spark, 'Twisted'—Annie Ross did it first. There was actually a blues to it. But it was just John Guerin, and me, and her. It turned out nice, on the record. It's wonderful."
Max Bennett—in the neighborhood, and often right in the house, while music history was being made. Gigs with Charlie Parker and Billie Holiday and Aretha Franklin loom larger in his story, and sessions with Marvin Gaye and Harry Nilsson and Mel Torme are just the tip of that iceberg—a mountain of music considering those meager beginnings.
"I told you about when I was in Chicago, starving? We used to go to the High Note and have a jam session every night. 450 North Clark. They had headliners there, but they closed the doors at 2, but they left the back door open, and we'd have jam sessions from 2 till 6. All the strippers and hookers and musicians would come in the back door, because they'd serve alcohol but with the front door closed."
"So I'm sleeping in my car one night in front of a hotel, and there's a knock knock knock, and it's these two hookers that I knew that were real nice gals. Took me to breakfast, and, uh, then I moved in with them. They said if they had a run, rather than take a cab—I had a little Chevy convertible, so I could get them to their job, that way I could stay at their place for nothing. And, ah, I won't tell you the rest of it. It'll be in my book."
Max's band, Private Reserve, play at The Point in Dana Point, Calif., on Sunday, May 8, 3 to 6 p.m. with Rob Whitlock on keys, Amber Whitlock vocals, Grant Geissman on guitar, Tony Moore on drums, and Max Bennett on electric bass. Click here for a Spotify playlist of some of Max Bennett's music.