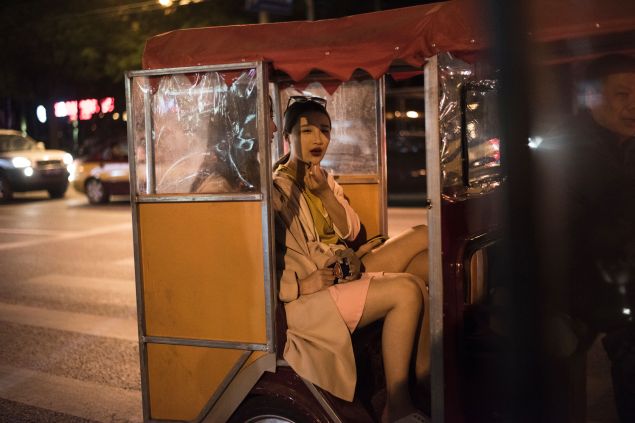 Chinese espionage against the United States is in the news again. Recently in this column I explained the sensational case of Edward Lin, the Taiwanese immigrant turned U.S. Navy officer who stands accused of committing espionage against his adopted homeland. This story raises many troubling questions about the dismal state of security in our navy, which seems unable to keep secrets anymore.
Although the navy is staying tight-lipped about Lieutenant Commander Lin, it's already evident that the damage he perpetrated—thanks to his high-level access to some of the navy's best-guarded secrets—is daunting. Damning, too, is the news that Mr. Lin was arrested while boarding a flight bound for China, the beneficiary of his alleged betrayal. No wonder top admirals want to keep as much of his impending trial classified as possible, to prevent public discussion of how much damage this traitor wrought on our national security.
Yet this is no isolated incident. In the two weeks since the Lin story broke, we have still more cases of Chinese immigrants accused of spying against their adopted country on behalf of their ancestral one. Szuhsiung "Allen" Ho, a Chinese immigrant and naturalized American, faces a raft of charges for running an espionage ring aimed at stealing nuclear secrets for Beijing. According to the Federal indictment, at the direction of a Chinese state-owned nuclear power company Mr. Ho recruited a half-dozen engineers to get nuclear secrets that Beijing wanted but could not obtain legally from the United States.
The key recruit in Mr. Ho's spy ring, none of whose members have been named by the Justice Department, was a senior executive with the Tennessee Valley Authority, the Knoxville-based Federal energy corporation. The TVA executive, a native of Taiwan who was naturalized in 1990, allegedly received $15,555 from Mr. Ho in exchange for nuclear secrets, which the ringleader presumably passed to Beijing.
This seems to have been a classic case of sexual entrapment, what counterspies term a honey-trap.
The other five engineers caught up in the spy net—two of whom are in Pennsylvania, with two more in South Carolina, while the last is in Colorado—include one naturalized Chinese immigrant. All received money from Mr. Ho in exchange for information on how to produce special nuclear material: plutonium, uranium-233 and enriched uranium. Public information does not reveal the extent of the damage to our national security caused by this espionage network, but the fact that it began back in 1997 hints that the amount of nuclear information it illegally passed to Beijing may be extensive.
Chinese espionage, both online and old-fashioned, represents a serious threat to American security and prosperity, as Washington, DC, has stated many times. Cyber theft and online pilfering of American intellectual property was castigated as "the greatest transfer of wealth in history" by the director of the National Security Agency back in 2012, and things have only gotten worse since then, with China taking the lead in stealing our secrets for profit and strategic advantage. Last year, the FBI reported a shocking rise of 53 percent in economic espionage, with the "vast majority" of those cases originating in China. Using immigrants to enable such theft is a serious problem, as evidenced by the recent case of a wealthy Chinese entrepreneur who moved to Canada, where he assisted hackers back in China with stealing Pentagon secrets, particularly relating to advanced aircraft designs.
Beijing's interest in our secrets extends far beyond national security and advanced technology. Chinese espionage aims at many sectors of our economy, even agriculture. Our government recently warned farmers to be wary of Chinese businessmen showing interest in genetically engineered seed and other commercial secrets—they may be spies. In January, Mo Hailong, one of six Chinese nationals Federal authorities accused of digging up seeds from Iowa farms to send back to China, pleaded guilty in a case that the Justice Department treated as a national security matter—not a normal criminal prosecution. This agricultural espionage ring was acting at Beijing's direction, according to authorities familiar with the case, constituting the norm these days as Chinese spies seek any commercially valuable secrets they can pilfer from unsuspecting Americans.
While Chinese espionage against the United States is hardly new, it has taken on fresh intensity. Since few Chinese spies get caught, thanks to weak American counterintelligence and limited public awareness of this threat, the risk to Beijing is low while the rewards can be high. Relying on quantity of spies rather than quality is not especially cost-effective by Western standards but makes sense here. The 300,000 Chinese students at American universities include a fair share of spies and very few (if any) James Bonds. Many may not even be spying willingly, since offering up purloined baubles to the regime is often the price of studying overseas for Chinese students. Yet their task is to serve as low-level collectors of trade and other secrets that happen to cross their collegiate path, and that's very difficult for American authorities to even notice, much less stop.
A Chinese-American fell under suspicion of espionage, yet the case was allowed to 'fall off the table' since higher-ups had no stomach for a nasty political fight amid cries of 'racial profiling.'
The most challenging part of how China spies on the United States is that Beijing's modus operandi relies overwhelmingly on co-nationals. Chinese intelligence agencies seldom stray far from working with ethnic kin and Beijing-related spy cases here that do not involve ethnic Chinese are very much an exception. Even when non-Chinese are involved, there is usually someone tied to Beijing by ethnicity somewhere in the operation.
For instance, in 2014 Benjamin Bishop, a 60-year-old former army lieutenant colonel and a defense contractor at U.S. Pacific Command in Hawaii, pleaded guilty to passing classified national defense information to an unauthorized person—his Chinese girlfriend. He met the 27-year-old woman, studying in America on a student visa, at a conference and the two began a romantic relationship. Soon Mr. Bishop was looking for classified materials she wanted and among the secrets he passed her was information about war plans, missile defense and nuclear weapons. This seems to have been a classic case of sexual entrapment, what counterspies term a honey-trap. Mr. Bishop received a seven-year sentence for his crimes.
This is an old pattern. A well-known case is that of Katrina Leung, a Chinese immigrant turned Republican activist who worked for the FBI for two decades as a spy against Beijing. Except Ms. Leung, whose FBI covername was "Parlor Maid," was really a double agent whose true loyalty was always to her homeland. James Smith, her FBI handler and the head of the Bureau's Chinese counterintelligence operations in Los Angeles, was also her lover for twenty years, illegally sharing classified information with Ms. Leung, which she surely passed to Beijing. The case, which broke in 2003, reflected poorly on the FBI, not least because Mr. Smith was not the only FBI agent Ms. Leung was sleeping with, coupled with the fact that the Bureau had repeated warnings that "Parlor Maid" was really working for China—all ignored.
The People's Republic of China has long relied on ethnic ties to enable its espionage. In spying, they are deeply dependent on the more than fifty million people of Chinese extraction worldwide who are living outside China and Taiwan, whom Beijing terms Overseas Chinese. China is hardly alone here. Many of the biggest espionage threats to the United States exploit ethnicity to induce betrayal. Russia has done this for decades, co-opting émigrés to spy for Moscow. Even in Soviet times, there were always Russians abroad who loathed Communism yet might be convinced to spy for the Motherland. Iran, too, exploits émigrés as would-be spies, sometimes ruthlessly, while Israel has not been above calling on certain Jews in the diaspora to work for the Mossad on grounds of tribal solidarity.
It should be noted how differently Beijing handles such matters: Traitors are dealt with harshly in China.
That said, Beijing is unique in the degree that it is so heavily dependent on Overseas Chinese for espionage. This is hardly confined to the United States. Canada demonstrates an identical pattern, with Chinese immigrants serving as the main source for Beijing's espionage against our northern neighbor. China represents the biggest counterintelligence threat to Canada, according to Ottawa security agencies, and that involves numerous immigrants and Canadians of Chinese background. Reflecting a common pattern in Canada, where politicians routinely ignore good security advice, as I've explained in this column before, in 2010 Canadian intelligence warned the government that Michael Chan, a Chinese immigrant turned Liberal Party politician, was close to Chinese intelligence. However, this did not harm Mr. Chan's career, and today he remains a minister in the Ontario provincial government.
Indeed, Mr. Chan protested his innocence amid accusations of "racial profiling" by ethnic activists. The same happens in America, where any person of Chinese origin who falls under suspicion of nefarious activities for Beijing will get backing by activists eager to make the case go away amid cries of "racial profiling."
Of course, not every accused person is guilty as charged, and sometimes the FBI goes overboard in its efforts to catch spies. However, allegations of ethnic bias have a chilling effect on our operations to curb Chinese spying on our country, particularly when members of Congress get on the bandwagon. I recall from my own days in the counterintelligence business more than one case of a Chinese-American who fell under suspicion of espionage for Beijing—based on solid evidence, not hearsay—yet the case was allowed to "fall off the table" since higher-ups had no stomach for a nasty political fight amid cries of "racial profiling."
It should be noted how differently Beijing handles such matters. Traitors are dealt with harshly in China, where a computer technician has just been sentenced to death for passing secrets to unnamed foreign spies. This is part of a push to root out spies in China, where fears of espionage on behalf of foreign powers run high. A new campaign by the regime to raise awareness of this threat includes a cartoon titled "Dangerous Love" which features a Chinese woman falling prey to the charms of a red-headed Caucasian man who is in reality a foreign spy. There seems to be no fear of profiling, racial or otherwise, in Beijing.
It can be safely assumed that Chinese espionage against the United States will continue and that it will rely heavily on spies of Chinese origin. Today's news brings word of yet another Chinese immigrant, here a woman in Florida, arrested for illegally exporting our defense technology to Beijing. It can also be safely assumed that Edward Lin and other Americans accused of spying for China will get fairer and more humane treatment from our government than they would if they were suspected by Beijing of spying for the United States. Racial profiling is going on here—in how the Chinese Communist regime exploits Overseas Chinese for espionage and the betrayal of our country. That is the fault of nobody in Washington, DC.
John Schindler is a security expert and former National Security Agency analyst and counterintelligence officer. A specialist in espionage and terrorism, he's also been a Navy officer and a War College professor. He's published four books and is on Twitter at @20committee.