Ever since former boxing champ Michael Olajide started a boxing camp for Victoria's Secret models, the once male-dominated activity has been trending among women. Though fitness is my thing, this did not appeal to me until a friend swore by Gloveworx in Santa Monica (1415 Wilshire Blvd.).
Founded by Leyon Azubuike—whose mentors include Mr. Olajide—the client roster at Gloveworx includes the likes of Adriana Lima, Doutzen Kroes, and Jake Gyllnehall (need I say more?). I decided to put my on fierce-girl pants and give it a try.
Said friend and I signed up for a "boom-session" with Mr. Azubuike—the studio offers three types of sessions: "boom" in which two to five people train together; one-on-one, and a signature session which is circuit training with a one-to-five trainer to student ratio.
"I want every person who walks in here to feel welcome," Mr. Azubuike said as we warmed up on stationary bikes. Though, at 6'3″ it's hard to imagine that he would ever feel intimidated. "I never want anyone who comes in here to feel that way," he emphasized. To his point, Gloveworx is warm, inviting and an all-around positive environment. By the end of our session I (at 5'3″) was throwing powerful punches. File under: New obsession.
'Anytime there is something in front of you and you have to punch it, it's going to trigger you to give it your all.'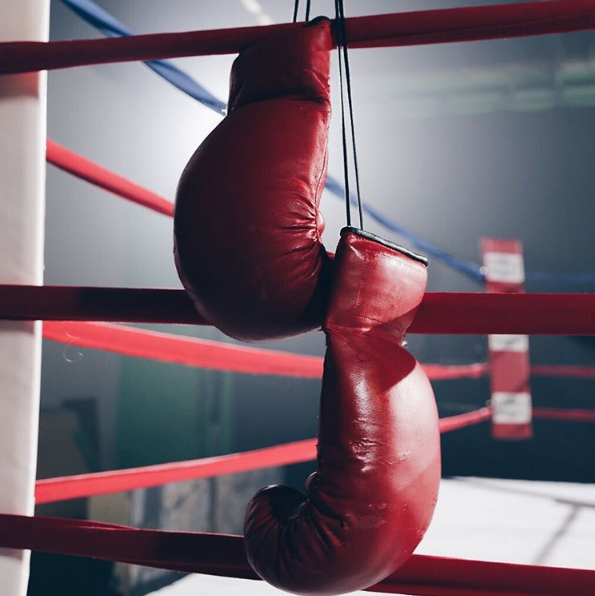 How did you get your start? I got my start in boxing at a young age from my dad who was a boxer. I competed until about 22 and transitioned from fighter to coach.
Who was your mentor? I had two mentors: Jeff Mayweather and Michael Olajide.
In college, you were on your way to playing professional football until you had a career changing injury in your senior year. Was there a time you wanted to give up? For about six months post injury, I felt down in the dumps about my career and injury. I definitely wanted to give up a couple of times but took up boxing again to get through that dark period. I used it as a way to fight my way out of those feelings and that time.
Who's an ideal candidate for your classes? Our sessions are designed for everyone. At Gloveworx it wouldn't be uncommon for you to see an NFL player next to a retired nurse.
What kinds of results can people expect? People can definitely see themselves getting results from a boxing based workout. It offers tremendous cardio and leaning out throughout the body. You will see noticeable toning in the arms and mid section.
What makes boxing such a vigorous workout? Boxing is an adrenaline-inducing activity. Anytime there is something in front of you and you have to punch it, it's going to trigger you to give it your all, leaving you exhausted.
What other parts of the body are we working out? Abs, arms, glutes, lower back, legs… though boxing really works the core and the arms.
What's up next for Gloveworx? A studio in Brooklyn!