Designers assemble this week in Milan for the Salone del Mobile design fair and vie for the attention of an expected 300,000 visitors. These fashion brands are earning plaudits before pop-ups even open doors, venturing into home collections and designs that display innovative use of materials and color taken directly from this season's runway. We're seeing playful displays that take on an endless variety: dainty and whimsical lace and patterns collide with graphic lines, bright plastics and cool marble.
Opposites Attract: Kartell and N°21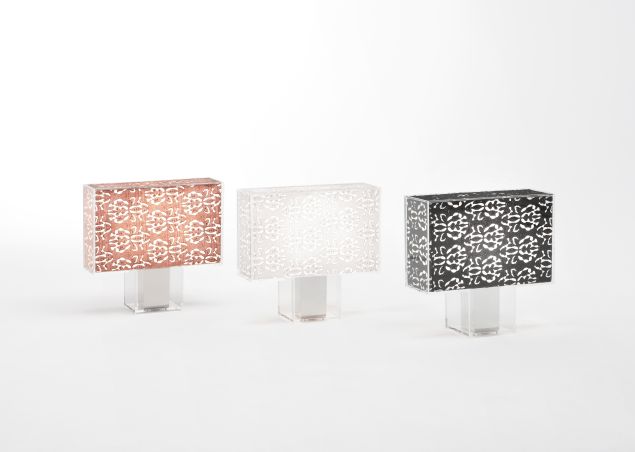 Kartell's severity and N°21's sensuality convened to create an exclusive reinterpretation of the 'Tatì' lamp this year. Ferruccio Laviani's chrome base enclosed in clear PMMA and the macramé lace rectangular shade marry to create an art deco silhouette. The lamp will be featured in the N°21 flagship store in Milan, a space bedecked in marble surfaces and muted monochrome color schemes, aiming to emit an air of sophistication.
The fashion accessories brand debuted its Home collection at Salone del Mobile. Perennial attention to elegance translates to home decor in the unveiling, which features designs by, among others, Aldo Bakker, Daniel Libeskind, Raw Edges, Ron Arad, and the late Zaha Hadid. Some designs experiment with new materials for the brand, like marble and metal, similar to Ms. Hadid's metalic, wave-cut centerpiece called 'Crista.' Ron Arad honors the Swarovski tradition in figurines with 'Alphabet & Numbers,' a collection of digits and letters in carefully-cut slabs of crystal that would add a palatial tone to any bookcase. The Raw Edges designer duo that has done commissions for Stella McCartney and Cappelini, once studied under the same Ron Arad, and features laser-cut and color-rich centerpieces for Swarovski.
Maximalism: LaDoubleJ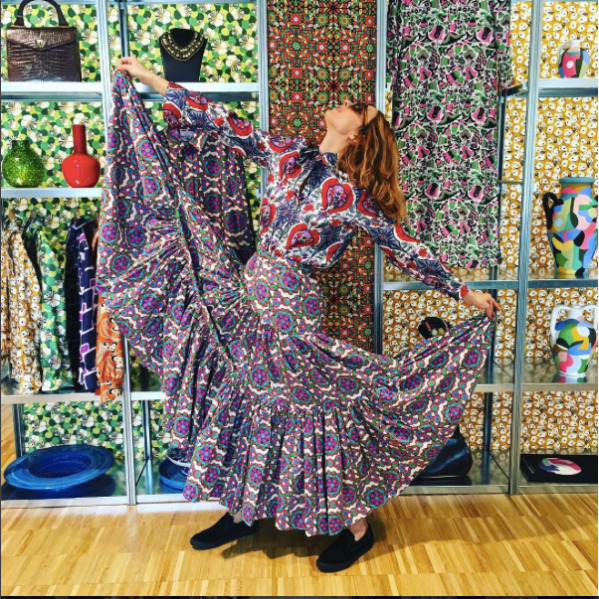 The self-proclaimed maximalist JJ Martin, creator of the vintage clothing website LaDoubleJ.com, opens a pop-up installation at Salone del Mobile this week featuring her vintage clothing and accessory items on a 'Wunderwall.' The wall was created by a community of Martin's artist friends, among them Liselotte Watkins, who also shows her collection of graphic vases. The 'Wunderwall' presents a mashup of patterns and colors that has caused Martin to comment that if she might have been a maximalist before, she is sure to be one now. The graphic patterns and pastel collages evoke a '70s happy-go-lucky vibe.
Moving Colors: Marni
Marni stays true to form in its show for Salone del Mobile. Never afraid to be playfully bold, their woven PVC furniture design for the fair does not stray from any spectrum of the rainbow. Marni has also converted its space into a ballroom "cumbria party" called Marni Ballhaus, and will feature dancers in their iconic colorful full skirts dancing the Columbian Cumbria, surrounded by the bright colors of the fabrics as well lounge chairs, lamps, vases, and tables of the same inspiration. The experience is open to the public and the Cumbria skirts are available for purchase at the event, where a portion of proceeds will be donated to the Vimala Association.
Extra Graphic: Valextra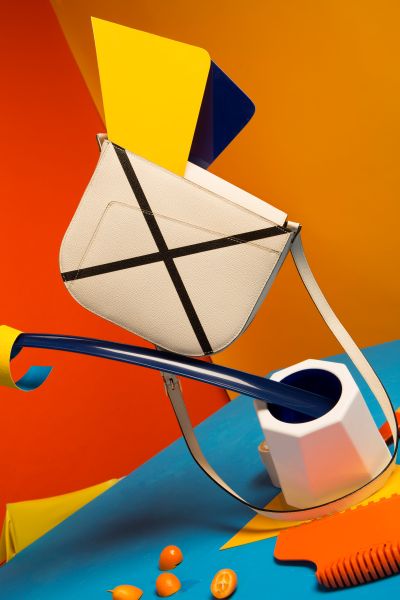 Leather goods label Valextra embraces the structure of graphic design and color-blocking in their displays this year. Their love of engineering is apparent in their accessories, as well as their pop-up store design, created this year by architect Bernard Dubois. Their project, titled Inside Out, was completed together with the collaboration of sculptor/photographer Lorenzo Vitturi. The pieces include subtle details that can be viewed upon closer examination: black-ink edging, hidden zippers, and secret compartments. No logo to be seen here, only the recognizable craftsmanship of this wearable Milanese art.
Stylish Walls: KNITOWN by Missoni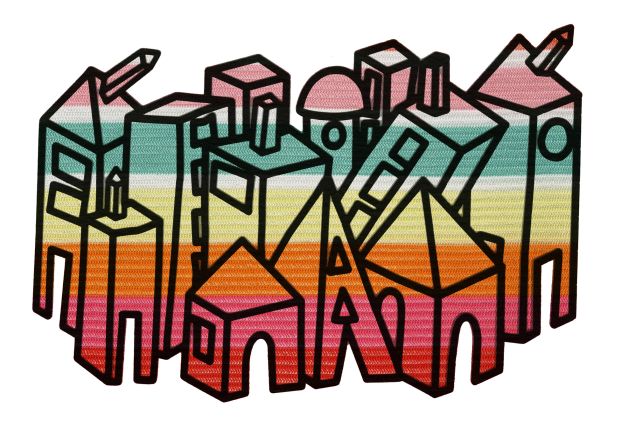 Missoni doesn't stray far from its aesthetic in their art contribution to Salone del Mobile. KNITOWN mixes patterns and colors to evoke the feeling of a cityscape, and intends to visually speak the "uniquely Missoni language" to viewers. The abstract works of art, imagined and designed for Spazio Missoni and by creative director Angela Missoni, provide warmth with their knitted texture and add a surreal addition to any space. The pervasive boldness in the patterns- and colors-trend in Milan this year finds these works of art in good company.