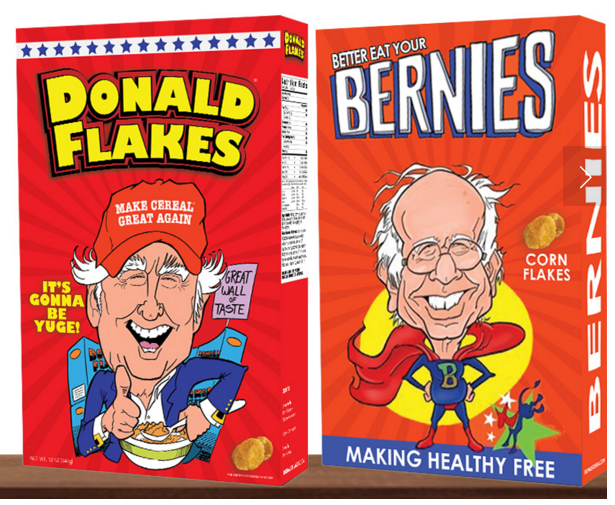 People say you should never talk politics at the kitchen table, but doing so is about to be easier than ever.
A Kickstarter campaign that launched today is crowdfunding $10,000 to bring Bernie Sanders and Donald Trump cereals to the masses. While the caricature boxes are meant to be collectibles, real cereal and comic relief from the election are included.
"The current political campaign is tense, controversial, fueled by emotion and policy and there's only one solution—cereal!" creator Miguel Dominguez wrote the Observer in an email.
Early birds can get the box of their choice for $20, and five percent of the net profits will be donated to the corresponding campaign and The National League of POW/MIA Families.
[protected-iframe id="9f4bc6d5be646c721974b3925ec72da0-35584880-65782705″ info="https://www.kickstarter.com/projects/1426382935/election-cereal-bernie-sanders-and-donald-trump-ce/widget/video.html" width="640″ height="480″ frameborder="0″ scrolling="no"]
Disclosure: Donald Trump is the father-in-law of Jared Kushner, the publisher of Observer Media.