Text is the secret.
Converting podcast recordings into a transcript makes it possible for podcast producers to give listeners a better experience. That insight powered Anne Wootton and Bailey Smith's successful venture into media technology. These founders of three year-old Pop Up Archive and Audiosear.ch have built a company around making audio recordings more usable to creative people, like journalists, filmmakers and historians.
"Podcasting was not even a focus of ours at first," Ms. Wootton told the Observer, during a phone call. The team started in grad school at UC Berkeley's School of Information, working on ways to make audio archives in libraries and newsrooms more useful. Now, their technology has led to a collaboration on the forthcoming audio sharing app from This American Life, which the Observer reported on previously.
That partnership grew out of the Audio Hackathon, presented by the show and ThoughtWorks, a software development agency. At the event, the topic of sharing specific selections of audio-on-demand shows came up again and again.
"Coming out of the hackathon, we developed some open source software, yet to be released, that leverages our transcripts, making it easy to highlight a portion of a podcast that creates a short video with words that they can actually play," Ms. Wootton said. Pop Up Archive creates automatic transcripts of recorded audio, a feature that gave her team a leg up in solving the problems of search engine discovery and social shareability that the Observer has written about before. The forthcoming tool will let listeners highlight specific text on a transcript and post the corresponding audio on sites such as Facebook, Twitter or their own blogs.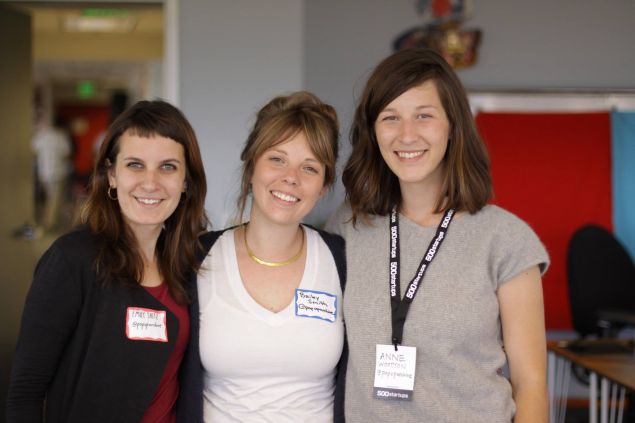 "That's technology that we're not even necessarily looking to charge people for, but we think that will generate interesting data," she said. "I think there's a lot of valuable insight people can get around what works and what doesn't."
Which feeds into the company's second, still nascent business, Audiosear.ch. Pop Up Archive has been largely sustainable through paying customers and grant-funded projects. For its next venture, the start-up began to gather piles of data about popular podcasts, both from transcribing the shows and from the rest of the internet.
The brouhaha around defining a podcast download
"I think everyone agrees that reporting and metrics and measurements still have a long way to go," Ms. Wootton said. By letting the listening community use this audio-sharing software, the company will get important insights about what sort of moments move people. How long are those moments? How many people watch those clip videos? (It already knows something about audio on social thanks to its experimental Twitter player).
Beyond that, Audiosear.ch lets people plumb its transcripts of the most popular podcasts. What they search shows the system what kind of information people want out of podcasts. It also indexes what tastemakers of different kinds say about different shows. This also creates engagement data, as well as tags for shows that producers might not have thought of (such as "spooky," "sad" or "educational"). Customers of Audiosear.ch will get access to this information, learning more about what's working on their shows.
"I think the podcast listening experience is going to get better and better," Mr. Wootton said. She's written that she's looking forward to voice commands for podcast apps and told us that she expects monetization to get much more sophisticated. For example, creators are moving beyond ads. We've already covered Howl's subscription model, and Audible recently announced that its members will get unlimited access to its podcasting service, which will include original content.
"Part of what is so fascinating about podcasts is there is such a less of an issue of scarcity," she said. "There can be as much as anyone wants there to be."
Which liberates producers from the old tyranny of radio's finite programming schedule, but introduces the new terror of the rising sea of competing content. Listeners don't have infinite time and they will inevitably gravitate to shows they can talk to other people about. One way to break that ocean's surface will be by using deep insights about creating episodes (or even just moments) that stand out.