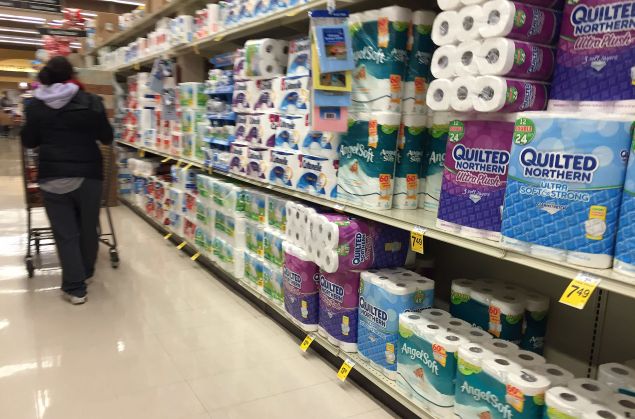 "Mr. Lafley joined Procter & Gamble in 1977, ascending to the CEO post from his start as brand assistant for Joy dishwashing liquid. He worked his way up through the company's laundry division, winning renown for launching liquid Tide. At a crucial meeting in the 1990s, he went around a group of top laundry executives asking each if the company should move ahead with a concentrated detergent. Half said no. Most of the rest were undecided. He pressed ahead." — The Wall Street Journal
The Morgan Library's exhibit, "Procter & Gamble, A. G. Lafley and the Renaissance of American Thought," provides a unique insight into the multinational consumer-goods company and the leader who played a key role in much of its extraordinary growth. At the core of this comprehensive retrospective are unpublished diaries penned by Mr. Lafley, P&G's executive chairman and former chief executive officer, which afford a ringside seat to the complex psychodrama at play within the Cincinnati-based conglomerate.
Mr. Lafley's successes with liquid Tide and concentrated detergent notwithstanding, P&G faced an almost never-ending series of intellectual challenges during his tenure, which included two stints as CEO over more than 11 years. (His first run was from 2000-2009; he then came out of retirement in 2013 to lead a company overhaul, and ultimately handed over the chief executive role to David Taylor in November.) At a now legendary executive-committee meeting—not long after he had resurrected the moribund Mr. Clean® brand by introducing a concentrated formula with a citrus scent—Mr. Lafley went around the room asking Oral Care executives whether Crest should add "advanced whitening" and a "fresher mint flavor" to its cavity protection toothpaste.
Most said no. A few were undecided. Mr. Lafley pressed ahead anyway, introducing the revolutionary Crest Complete Whitening. Critical acclaim followed.
The diaries reveal Mr. Lafley's gifts—versatility, a desire for constant reinvention and a creative sensibility—that he would time and again employ to great effect in many of P&G's most notable products. Although Mr. Lafley has only recently been recognized for his fluency across multiple media, he had long been confident of his own skills. As he noted in an early diary entry, "Am equally comfortable working in the Fabric Care, Personal Care, Home Care, Feminine Care, Grooming or Health Care."
Mr. Lafley went around the room asking executives if P&G should embrace the greater absorbency. Most said yes. A few were undecided.
In one mid-career diary entry, Mr. Lafley reflected on the "demanding challenges" he faced with mature brands, and the constant "quest for growth" that lay at the heart of so much of his work. A fine illustration of this is the diary's description of the dilemma facing the Health Care division, which marketed Pepto-Bismol, Pepto-Bismol Cherry and Pepto-Bismol Max Strength. At a critical board meeting, Mr. Lafley asked the directors whether the brand could be extended further.
Most said no. A few were undecided. But Mr. Lafley opted to press ahead, and two years later Pepto-Bismol Cherry Max Strength was introduced, to rave reviews.
Historians may debate whether Mr. Lafley's earlier work with the Metamucil brand provided the intellectual basis for the Pepto-Bismol strategic offensive, but Ernst Wellesz's suggestion is more plausible: It was Mr. Lafley's innate genius that allowed him to so skillfully navigate the colossal chessboard of P&G's two dozen multi-billion-dollar brands.
Although Mr. Lafley's oeuvre has been justly celebrated in the U.S., he's an acquired taste for most Europeans, who have generally been puzzled by his desire to work in multiple genres. Mr. Lafley, however, is unrepentant: "I'm proud of our package and graphics innovation," he wrote in one of his rare self-congratulatory entries. "The simple elegant curve of the new Head & Shoulders bottle design conveys the softer, more cosmetic side of the brand, while the Flake-Free Technology and Advanced Thickening Treatment provide the total hair experience that consumers expect from Head & Shoulders."
Mr. Lafley's diaries display his lifelong obsession with innovation and creativity, and his successes are too numerous to list here. Some that stand out include reengineering Bounty as a two-ply towel; rebranding "Oil of Olay" as "Olay" and moving beyond mere hydration; the $250 million in research and development that lead to the Holy Grail of hair care, Pantene's "2 in 1 Shampoo & Conditioner"; and, of course, his crowning achievement: the long-awaited introduction of the five low-resistance-coated blades in the Gillette Fusion Proglide® with FlexBall™ Technology.
The diaries also reveal corporate secrets that are of considerable interest to even a casual observer. In 2008, for example, research at the Paper Products Segment had yielded a promising version of Charmin toilet paper that provided greater absorbency, but the product had yet to be rolled out in test markets. At a retreat for the Paper Division, Mr. Lafley went around the room asking executives if P&G should embrace the greater absorbency.
Most said yes. A few were undecided. But this time, Mr. Lafley didn't press forward—and it made all the difference. "All the absorbance in the world isn't worth a whit if Charmin's renowned softness is compromised," was how Mr. Lafley explained his reasoning.
His now-famous apothegm is a reminder that leadership itself cannot be packaged. It would be five long years before P&G finally unveiled the seminal Charmin Ultra Strong with Increased Absorbency and Added Softness at the 2013 Venice International Exhibition, where it won the coveted Palma d'Oro Award.
David Schiff lives in New York. For many years he wrote Schiff's Insurance Observer.