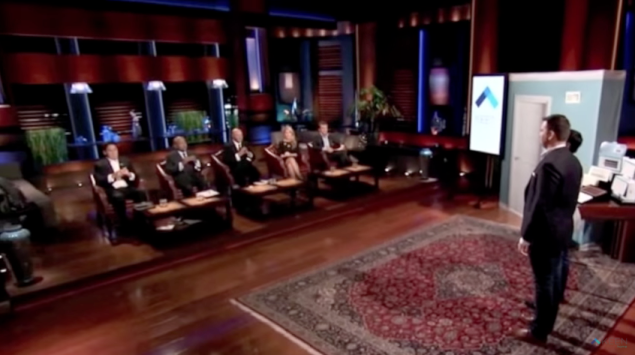 When Nayeem Hussain and Ryan Fant walked into the tank for an episode that aired in February 2015, they had no sales but a big ask—$750,000 for 10 percent. The sharks' eyes grew wide, but soon the entrepreneurs behind the Keen Home smart vents hit them with two punchlines—first that they recently raised a $1.5 million seed round and then that they had pre-sold 35,000 units to Lowes.
"Now you're talking dirty," Daymond John said.
Kevin O'Leary, Lori Grenier, Daymond John and Robert Herjavec all took the bait and made offers. After a lot of back and forth with everyone except Mark Cuban, the entrepreneurs, who met while earning their MBAs at NYU, struck a deal with Mr. Herjavec—$750,000 for 13 percent, which is among the biggest deals made on the show. Considering the fact that they had no sales, this was a big Shark Tank moment.
It's no wonder ABC got back in touch with Mr. Fant and Mr. Nayeem to film an update segment, which airs during tonight's new episode.
The update will feature the founders talking about their success since the investment and sitting for a meeting in the Keen Home offices with their investor, Mr. Herjavec. Although the segment is only a few minutes long, Mr. Fant told the Observer it required eight hours of filming, from 7 AM to 3 PM.
"The first few hours were just an interview with us, and then they got B roll of us around the office and with our team—stuff for a voice-over," he said. "Then Robert came in around lunchtime. We showed him around, introduced him to the team and then had the meeting, which was about 45 minutes. Then they filmed Robert by himself and spliced it together to get the segment we'll see." 
He added that although it was a legitimate meeting where they were discussing new issues withMr. Herjavec, it wasn't representative of their routine interactions with him.
"They coordinated everything with Robert, because it's rare we sit down with him," Mr. Fant said. "We do a lot over the phone. It's definitely staged for television."
He elaborated, explaining that the day of,  they said "here's what we would've talked about with Robert anyway," and worked to narrow it down to three topics in order to make sure the cameras would capture discussions that would be both real and interesting. 
"It has to be a compelling story but is succinct enough that someone watching the first time will get it," Mr. Fant said.
If you missed it, here are Mr. Hussain and Mr. Fant pitching the sharks: