"If you already pitched, get out of my chairs!" Scott Slayer, the supervising casting director for ABC's Shark Tank, yelled into a bullhorn over and over again. He was being playful, but also 100 percent serious. At one point, he made everyone raise their arms so he could inspect for the proper wristbands.
We were at a Shark Tank open casting call, held last Thursday at TechDay NYC at Pier 94. All the way in the back of the conference, behind the presentation stages and startup booths, auditions for the show took place in a sort of pleasant chaos. But it wasn't at all disorganized—rather, the disarray was the natural result of gathering hundreds of hopeful entrepreneurs and shuffling them around as they practiced their elevator pitches, props in hand. There were poster boards galore as well as stuffed animals, cupcakes, a windshield, a tool box on wheels and a translucent inflatable shark. Founders sported costumes, and some families wore matching Shark Tank T-shirts. Without context, the waiting area Mr. Slayer was trying so hard to keep in line could have easily been mistaken for the audience for the game show Let's Make a Deal.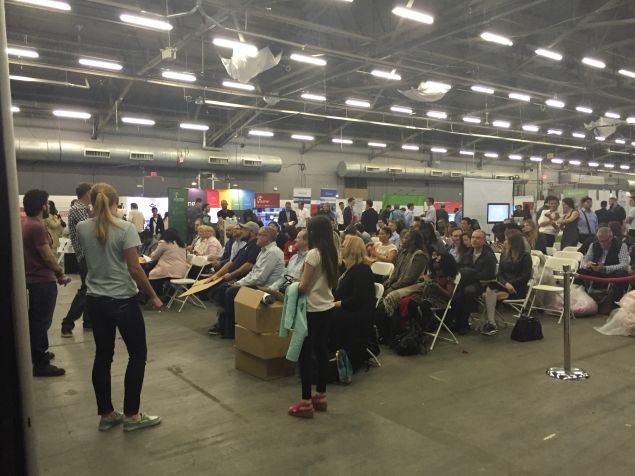 The day started early at around 5 AM when entrepreneurs began lining up for the 10 AM start time. When we spoke to Ms. Slayer a few hours into the auditions, he said it looked like they'd hit around 300 pitches by the end of the day, which would come out to around 600 people. This is quite a crowd, but certainly not their largest—at a casting call last year in Miami, there were 780 pitches. This year, the show will hold eight open casting calls and receive around 40,000 applications (including those submitted online). Only 180—about one in every 222—will make it in front of the sharks, but everyone gets a shot.
"Everyone who shows up gets to be seen," Mr. Slayer told the Observer. "I can't guarantee it in case 8,000 people show up, but we've never turned anyone away."
This stage of the game is quick and simple. When your number is called, you go behind the curtain to the table of one of the three casting directors, hand them your application and give a 60 second pitch. In that 60 seconds, you need to prove your passion above all.
"They're looking for people that are memorable, people that are excited about whatever it is they're pitching," Mr. Slayer said of the casting directors who hear the pitches. "Today, it's not so much about what they're pitching—it's how they're doing it. It's their energy and their passion. Great sales and stuff won't hurt your pitch, but that doesn't come into play until way further down the line. Very rarely do we see something we haven't seen before, so it's like, what it is about this person that will make us want to move them forward?"
While numbers and specifics are nearly everything on the show, they don't matter here at all.
"We have nothing to do with business, we don't have MBAs, we're not entrepreneurs. We are casting directors for television," Mr. Slayer said. "It's not American Idol, we don't want to say 'no.' I want to say 'yes' to as many people as I think have a shot. There are so many steps to get on the show, this is just the first of many." He added that he's learned he isn't a shark. "I'll think something is a great business and the sharks hate it. And others I think 'I don't understand what this is about,' and the sharks love it. My job is to get people that as a viewing audience, I can think 'ooh wow, I can relate to that person.'"
That's not to say he's just looking for people that will be entertaining on TV, though. When we asked how they balance choosing people with businesses that will entice the sharks with choosing people who will be fun to watch, he said that oddly, he doesn't even care about that.
"It's about if they care. We want the stakes to be as high as possible," he said. "We want them to say 'this is my company. It's so great, but if I don't get this funding, I might not be able to pay my rent next month.' We don't need people to be crazy just to be crazy. That's not the show. There's enough drama already because this is their livelihood. This is their business."
We chatted with some of the Shark Tank hopefuls, who were more giddy than stressed. The two founders of Einhorn, a fair trade vegan condom company, pitched dressed in unicorn onesies. When I spoke to them shortly following their pitch, the men, who flew in from their home city of Berlin the night before and joined the line at 5 AM, felt great about how it went. The only problem was that only companies based in the U.S. are eligible for the show.
"She said she's going to do her best to get us in because she really liked it," co-founder Waldemar Zeiler said.
Their approach was a Sam Horn pitch, which starts with a "did you know?" question. The casting director followed up with questions about the next steps in their business and revenue. So far, Einhorn has sold over two million condoms for $500,000.
One Atlanta-based woman we spoke to named Katrina Robinson was there pitching her business Anthrese Atown Apples, which offers new twists on the traditional candied apples with varieties like cookies and cream, half baked and cinnamon roll. The sample she gave us was a "Gooey Granny," a Granny Smith covered in caramel and cookie dough.
"Like I was just telling the lady, I'm 100 percent entrepreneur. I do hair to invest into my apple business, so I'm just here on a hope and a prayer," she said. Ms. Robinson was optimistic and thought it went well. "I gave a lot of energy and she was smiling, so I have my fingers crossed now," she added.
We caught up with another hopeful Shark Tank entrepreneur, Andro Samuel, as he scoped out the pitch tent prior to his turn. His company, LiveESQ, aims to instantly and digitally connect people who might want an extra set of eyes on their police interactions with nearby lawyers. With all that's happened with racial injustice and police brutality, he sees this as a way to make sure everyone is able to exercise their rights.
"We know that if you or I or anyone gets pulled over, there might be different outcomes despite us doing the same things. What this does is preserve our rights, and it really shifts equilibrium back to the people," Mr. Samuel said, adding that he plans to launch it first in areas where police brutality has been a major issue such as Baltimore and Ferguson.
If any of these companies make it onto the show, it won't be for months. One thing we can say for sure, though, is that we can see all of these entrepreneurs in The Tank.