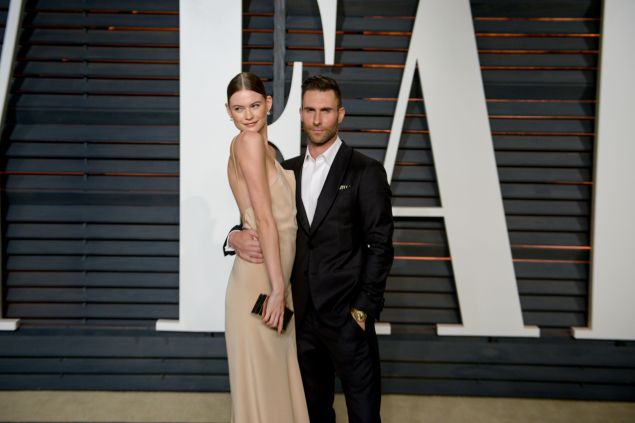 Of course this really beautiful couple has a really beautiful Soho loft, but it looks like Maroon 5 frontman Adam Levine and his supermodel wife, Behati Prinsloo, have outgrown their 2,800-square-foot starter home.
Now that the couple are expecting their first child—which they announced in the cutest way possible when Mr. Levine posted a photo of his Victoria's Secret Angel wife with the caption "my two favorite laker fans"—it makes sense they'd want to trade in the co-op at 112 Greene Street, which they purchased shortly after they got married in Mexico in July of 2014.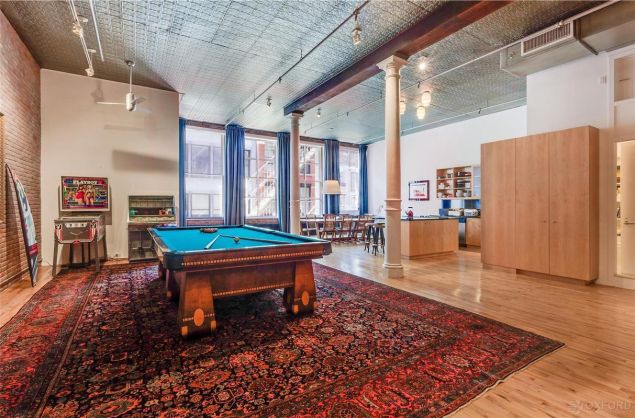 While the very stylish loft, complete with exposed brick and 13-foot ceilings, looks like it may have been perfect for newlyweds, it is a one-bedroom, two-bathroom abode, and the giant pool table dominating the living room doesn't exactly scream baby-friendly.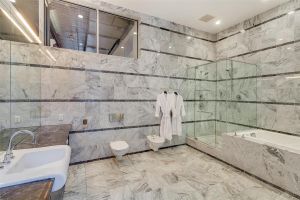 Per the listing photos, the couple decorated the apartment with giant blue velvet couches, a few leather furnishings, and enormous chandelier-esque light fixture. The fashionable pair also adorned their home with a pinball machine (with Playboys atop it) and a jukebox in the 40-foot living room. Even the windowed marble en-suite bath is adorable, but do they really keep perfectly-hung matching white robes by the glass shower all the time?
The $5.5 million listing, shared by Oxford Property Group brokers Adam Mahfouda and Jules Borbely (the same brokerage Ms. Prinsloo used when selling her Alphabet City bachelorette pad just before she and her new husband traded up to Greene Street), also notes that all furniture can be included in the sale–though we're not sure if the Louis Vuitton trunks in the huge master suite count. There's also just a peek of the closet, where we spot with the many hats Ms. Prinsloo is known to wear perched atop a rather enviable wardrobe–sadly for any prospective buyer, those will probably be going with the model as well.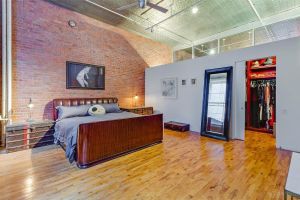 Other highlights of the co-op include 6 original columns, direct elevator entrance, and four windows facing north, along with an open kitchen complete with stainless steel appliances and black granite countertops.
Ms. Prinsloo's Instagram provided a peek of the apartment last November, when she posted photos of the red roses her husband filled the apartment with to celebrate her return from the opening the 2015 Victoria's Secret Fashion Show.