Though New York women are known and praised for their impeccable style, let's face it: At the end of the day we all want to be French girls. They know how to look effortlessly chic, as if they were born wearing skinny jeans, a striped top and a bold red lip. Luckily, there are a few French women willing to help out any Manhattan girl in need. The women behind Rue Mercer, a new clothing brand, are in that group.
Founded by French designers Pamela Semmache and Julie Luyindula, Rue Mercer's focus is on the blouse, an essential of any classic wardrobe–whether you are Parisian or American. Surely this concept brings to mind Katharine Hepburn, Grace Kelly, Catherine Deneuve and Charlotte Gainsbourg.
Ms. Luyindula told Observer: "Button up shirts have been and always will be a staple in a woman's wardrobe. They are timeless. As customers, we found ourselves a bit frustrated not finding a brand that will focus on blouses and offer a choice of style for every occasion. With Rue Mercer, we are playing on duality: femininity and masculinity, perfect tailoring with loose cuts, beautiful mix of fabrics, simplicity and eye-catching details, modern and timeless."
With most of the items in the $200-$300 price range, a French fashion makeover is rather attainable. The key, according to the founders, is to not overthink it (so please, get rid of that baguette, bicycle and beret.) "Even our most simple styles are impeccably tailored. There is therefore no need to overdo it. Simplicity is key," said Ms. Luyindula. She also offered some styling advice, to help attain that Parisian je ne sais quoi. "We love rolling up the sleeves, it always gives an elegant yet modern vibe to any shirt. The half tuck is a favorite for us."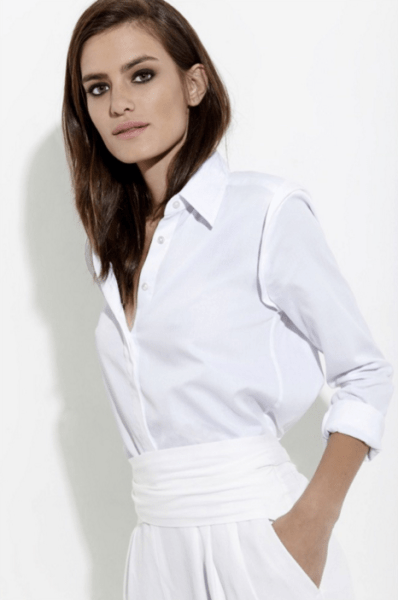 The women said their Kennedy shirt was a best-seller, a simple white shirt with an eye catching detail on the shoulders. Their silk styles have also been a hit, as well as the Honoré shirt, a short sleeves blouse with three interchangeable bows, and the Victoria, a blush silk with rose gold trims.
There seems to be a recent influx of francophile labels, as we recently saw two former Vogue editors launch La Ligne, in which all the clothing revolves around the unspoken national French symbol: The line. "The French woman is not loud in what she wears. She likes to wear simple design, but always with a perfect fit and the right detail that will make all the difference. You can wear a white shirt with denim and have fabulous shoes or bag. If you wear makeup, focus on eye or lips, and leave your hair as natural as possible. The French woman is never overdone," said Ms. Semmache.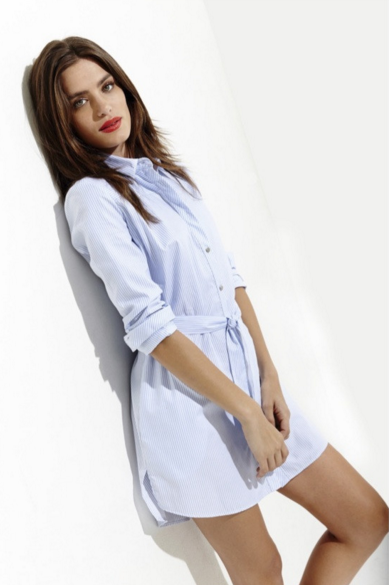 But the Rue Mercer women say they are definitely fans of New York women's style as well. "The Parisian woman is simple, chic and may have one key piece on her outfit. The New Yorker is more put together and is often dressed with the latest trends, several in one outfit, but always tasteful."
Rue Mercer plans to hold some popups in Manhattan as they continue to grow and add more styles. So rather than spending money on roundtrip airfare to Paris, you can stock up on handful of elegant tops.