As creator of BeautyandWellBeing.com and the third generation of French beauty gurus (both her mother and grandmother were editors at French Vogue), Clémence von Mueffling has quite a few words of wisdom when it comes to beauty, wellness, and lifestyle. Amid air kisses and the the trill of platitudes en francais, Ms. von Mueffling arrived in the French Institute's Le Skyroom in her signature blousy white button-up to present a kinder message geared towards self-care. The Parisian-turned-New Yorker had Spring and Earth-Day tips for focusing on a balanced lifestyle and creating a healthy environment instead of the usual restrictive eating and harsh scrubbing. Here are some highlights of her suggestions meant to ease you into the warmer weather with an air of je ne sais quoi à la BWB.
Leave your peeling behind. Scrubs and peeling cleansers are too harsh, says Ms. Von Mueffling. Removing three layers of the epidermis, as chemical peels and scrubs often do, leaves your skin vulnerable to sunspots and other undesirables. But her mother and grandmother's number one rule was to always clean your face before bed, "perfectly."
The editors recommend: Gentle cleansers like Omorovicza Cleansing Balm, Joelle Ciocco. Instead of exposing your skin excessively to the sun, try adding drops of Comodynes or Clarins self tanners to your favorite daily moisturizer.
Choose organic. Your skin is your largest organ. If you are going to invest in organic or all-natural products, go for the ones that cover the greatest area of your body: body lotion and deodorants. "For makeup, I use makeup that is not organic, because I love it: the pleasure of buying a Yves Saint Laurent eye product is wonderful," says Ms. von Mueffling. Consider going natural with the products you use the most. Look for plant-based ingredients and short ingredient lists when looking for a product.
The editors recommend: New York baby-friendly brand Bobo Botanicals, Tata Harper, Pai, Ren, or organic coconut oil. Ms. von Mueffling says she has tested a number of aluminum-free deodorants (a chemical you might want to avoid applying near the sensitive lymph nodes in the underarm area), and that Soapwalla and Lavanilla work for her. When on vacation, you might want to consider UV protective clothing and t-shirts to make sure your shoulders and décolleté are covered from the sun: an easier, less messy, and more certain alternative to sunscreen.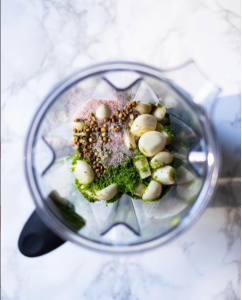 Balancing act. Instead of restrictive diets and strict rituals, foster balance by adding positive things to the repertoire you already have in place. It's "an easy place to start," says Ms. von Mueffling. Try getting inspiration from the Instagrammers that find pleasure in cooking at home like @deliciouslyella.
The editors recommend: The Vitamix for easy meal preparation, the Spiralizer for making fun noodles out of veggies, the Green Pan instead of non-stick cooking surfaces, which can release toxins you don't want near your food. The Seafood Watch app can make your meal choices both healthier and more environmentally friendly. The app helps you choose fish that are currently sourced in a sustainable way, as well as recommends that you go for smaller fish that carry less heavy metals like mercury.
Detox chez toi. The Beauty and Well Being team has plenty of tips to help you create a green environment for your home and body. Hidden sources of toxins like your water and air indoors have easy solutions: Try a water filter on your shower, add in a pop of green with an air-purifying house plant, and get in the habit of leaving your shoes by the door. That last simple action can reduce lead dust and other toxicants in your home by 60%, cites Ms. von Mueffling. Cleaner air may also help you get better rest at night. Rest easy by adding nuts, dark leafy greens, and chamomile tea to your evening before-bed snack routine.
The editors recommend: Naturally purify indoor air with plants like Chinese evergreen or peace lilies. Get some rest when you're not at home with YeloSpa 'YeloNap' nap rooms. Nab Arianna Huffington's book The Sleep Revolution for some bedtime-relevant before-bed reading.
Bonus tips: Hit the pavement, and pencil in Happy Hour. New Yorkers are famous for keeping their heels in their purse and walking to work (these days walking doesn't seem to take much longer than riding the subway. And any chance to avoid the dreaded slack-jawed 'subway face'…). Enjoy the warmer weather by taking to the streets instead. The Parisian-turned-New Yorker also cites studies that have shown that the benefits of having a drink with friends outweigh the negative effects of alcohol – the happiness gained by enjoying your social connections can help you live longer. Santé!