When Raf Simons made his exit from Dior there was a rash of rumors that the Belgian would soon be headed to a top post at Calvin Klein. Depending on who you asked, the tale got quite elaborate, with names like Grace Coddington mentioned as part of a team set to support him, around the time that the editor left her in-house role at Vogue. Although, it's worth noting that this far flung rumor would be repeating history: Ms. Coddington left British Vogue in 1987 to become the designer director at Calvin Klein. She obviously returned to the editorial world not long after, arriving at American Vogue, per Anna Wintour's request.
But with the slate of changes in the fashion world over the past few months, the reality of Mr. Simons' arrival at Calvin Klein seems to be a a real possibility.
Today in a statement, Calvin Klein announced that both Francisco Costa and Italo Zucchelli, the heads of both the men's and women's Collection lines at Calvin Klein, respectively, would be leaving the company. The brand's mission? To "ultimately follow one creative vision across all categories of the business."
Mr. Zucchelli and Mr. Costa have both logged pretty amazing stints at the brand, characterized by a minimal take on sexy clothing. If it's their choice to continue on in the industry, having both served over a decade at CK, there's no doubt that the pair will land squarely on their feet.
For the brand, there will be no runway shows for the rest of 2016; press presentations will be held in their stead. The in-house design team will conceptualize and produce collections, ensuring that the business continues to run smoothly. In practicality, that means the brand could hold out this announcement until the end of the year. Thankfully, we've got our own thoughts on who should take the plum position to fill our time with.
Raf Simons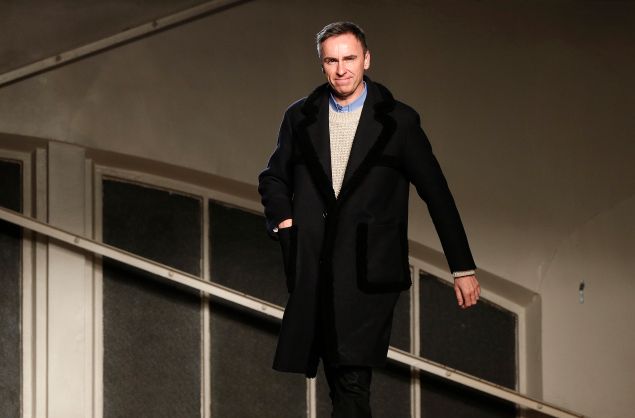 Many are already reporting that Mr. Simons is a shoe-in for the gig, and with good reason — his tenure at Jil Sander would be well reprised with a role at the helm of Calvin Klein. Having shown the world that he can handle the highest ends of luxury with his work in the Christian Dior ateliers, the designer would be a definite win for any American label. But with his staunch opposition to being over extended and insistence on slowing the pace of fashion, does Mr. Simons even want the job?
Hedi Slimane
While not a lot of people are tossing his name in the ring, Hedi Slimane could possibly be a contender for the gig. As a denim company, Calvin Klein would definitely respect his devotion to the material as seen in his tenure at Saint Laurent, and the man can certainly cut a nice suit that sets the bar for the entire industry. Anyone else remember his work at Dior Homme? What's more: clearing out the entire creative team and unifying a brand under one vision seems like quite the Mr. Slimane thing to do.
Stefano Pilati
Though the Italian has had a hard time these past couple of years being shuffled from Yves Saint Laurent and through the Ermenegildo Zegna Group in a few capacities, his skill is undeniable. With a personal love of wide legged, louche silhouettes, his history of work for Miu Miu, Prada and Giorgio Armani would no doubt be covetable to Calvin Klein. For a while it was said he was up for the top job at Lanvin but as that has been filled, this definitely wouldn't be a downgrade.