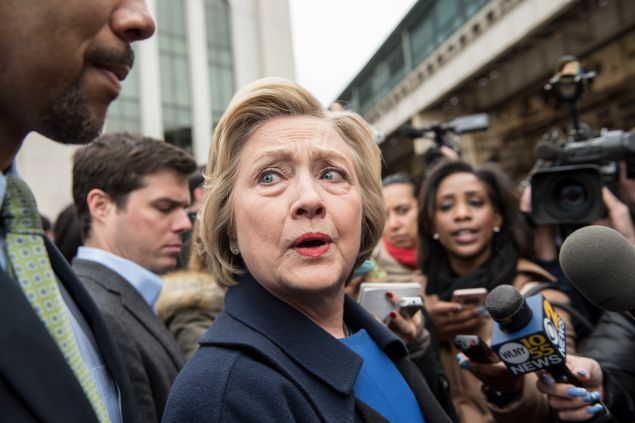 One of Hillary Clinton's top New York City surrogates slammed Sen. Bernie Sanders for alleging that the former secretary of state, first lady and New York senator may not be "qualified" to be president, charging that the Vermont independent was only aiding "Republican extremists" like Donald Trump and Sen. Ted Cruz.
"Whether it's her service as secretary of state, eight years proudly representing New York in the United State Senate, her time as first lady or a lifetime of working to uplift women and families, Secretary Clinton is one of the most qualified people ever to run for President, period," Council Speaker Melissa Mark-Viverito, a Manhattan Democrat, said in a statement to the Observer.
Mr. Sanders' "highly personal attack only helps Republican extremists like Donald Trump and Ted Cruz as they work to restrict a woman's right to choose, deport families and cut healthcare for millions," she added. "It's time for Bernie Sanders to get back to the issues and stop trying to divide Democrats."
Mr. Sanders drew the ire of Ms. Clinton and her many supporters when he said during a rally in Philadelphia yesterday he didn't believe she was "qualified" to be president if she raised money from Wall Street for her super PAC and supported the Iraq War. The Vermont independent couched his declaration by saying Ms. Clinton was "nervous" and "has been saying lately that she thinks that I am, quote unquote, not qualified to be president."
Ms. Clinton has sought to discredit Mr. Sanders, though it's not immediately clear she ever said directly that Mr. Sanders, a former congressman and mayor of Burlington, lacked the qualifications to be president before the self-described democratic socialist made the remark. With the New York primary less than two weeks away and Mr. Sanders on a winning streak, Ms. Clinton, the Democratic front-runner, is hoping to stop him dead in the state she represented for eight years in the Senate.
The two will meet in a debate in Brooklyn next Thursday before New York Democrats head to the polls on April 19.