Broadway Joe is heading back to Broadway! Or at least, between West End Avenue and Riverside Boulevard.
Legendary New York Jets quarterback Joe Namath has purchased a duplex on the Upper West Side, along with his daughter, Jessica, and her husband Brian Kennedy.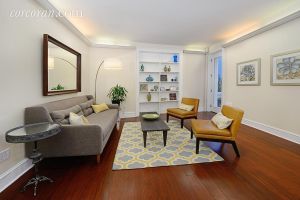 Since Mr. Namath maintains his primary residence in Florida, it seems safe to say that the apartment is intended for Ms. Namath and Mr. Kennedy, who married in Montauk last July—perhaps it was a belated, $1.02 million wedding gift. Or, maybe they just wanted an additional apartment for the whole family in the city, but since it's a two-bedroom, one-bathroom pad, we're thinking it's for the younger Namath, who also has a daughter named Jemma–three J-names and counting!
Still, we bet Mr. Namath will claim visitation rights with the co-op at 345 West 70th Street whenever he's in the city. The apartment has such features as a formal dining room, living room, renovated open kitchen with custom maple cabinetry, along with wide-plank bamboo floors, high ceilings and built-in bookshelves.
Per the listing, shared by Corcoran brokers Deanna Kory and Jane Martin, the prewar duplex also has an outdoor deck with custom seating and a staircase leads to a lower level garden. There's also a separate studio-slash-workspace, which, according to the listing, can also be converted into an additional third bedroom (or guest room for Dad).
According to Ms. Namath's website, she's a writer and photographer living in the city, and her new abode has plenty of wall space to hang such works, along with any sports memorabilia she might feel like adorning the home with.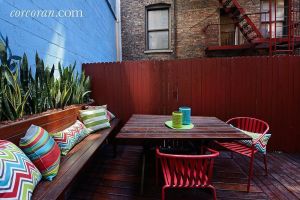 And we bet that the unique feature of a custom built-in pet door, which leads to the outdoor space, was particularly appealing for Ms. Namath. Ms. Namath lost her Shih Tzi mix pup when it ran away from the backyard of Mr. Kennedy's home in Jupiter, Florida. She was reunited with her beloved dog five years later, when it was found 200 miles away in St. Petersburg, Florida, thanks to a microchip. Luckily, their new Upper West Side pad, which the Namaths purchased from Richard and Emily Ford, has an enclosed outdoor area that will be harder to escape from.