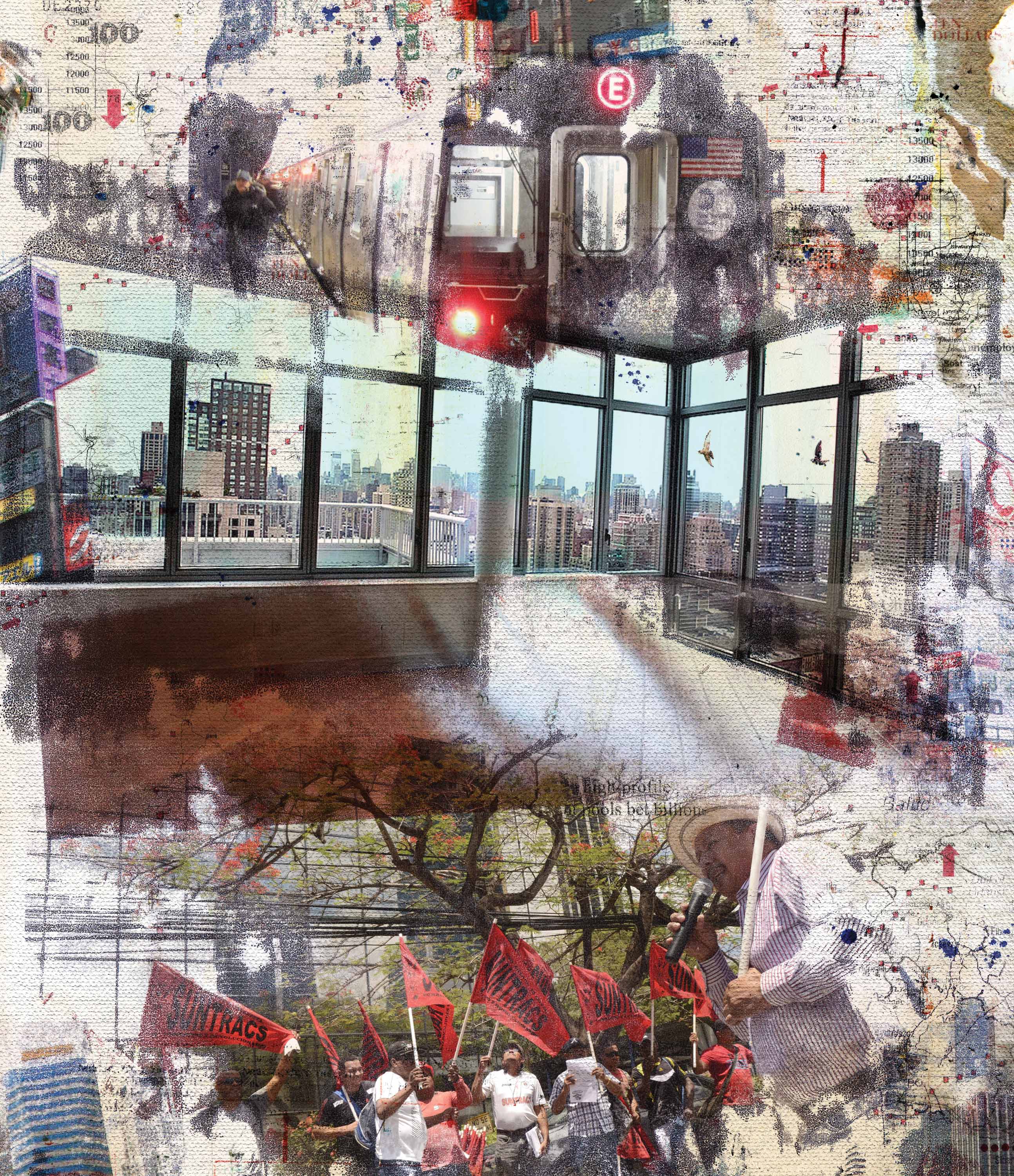 If you happen to find yourself in Manhattan and you'd like to understand the United States in the 21st century, look up and then look down. It's an exercise that can tell you more than your average economics textbook.
Look up, and somewhere in the near distance you're likely to see a towering new apartment building. The rise of the ultra-tall luxury apartment tower has been coming to New York City for a long time and has seemed inevitable for ages, but its arrival somehow still seems sudden. When I came to the city recently for the first time in a little while, I knew exactly what to expect when I looked out on the skyline, and yet I was still shocked as my taxi made its way in from LaGuardia. Those hideous, gleaming towers, looking down on the old symbols of New York, are still mostly unfinished, but they are an unavoidable reality for the city and its denizens. The shadows they cast are both literal and symbolic, and they remind everyone who walks beneath them that the city, the country and the world have bent to serve the needs of the ultra-wealthy.
Look below, and within spitting distance you'll likely see the signs of the subway system below, grates and station entrances and sundry parts of the infrastructure that makes up the vast catacombs of transportation that lie under your feet. The contrast with the luxury towers above could not be starker. The former permit only a few thousand residents, at most, to enter them, with their scowling doormen and elaborate security systems intended to keep out whatever random interlopers are not already excluded via social expectation and geography. The Metropolitan Transportation Authority is open to everyone who wants to ride. The luxury towers are ostentatious by design, conspicuous consumption taken to a ludicrous degree. Their massive heights are not merely a means of stuffing more multimillion-dollar units into the space; they also signal to everyone who passes by that Very Important People live within. The subway, meanwhile, simply hums along underfoot, as unobtrusive as such a massive system could possibly be. While the elite preoccupy themselves with how to be even more visible in their ambitions, regular people underground simply want to get to work.
Maybe the most important difference is this: The subways are full; the towers are empty. One of the saddest twists of the ultra-luxury apartment building economy lies in the fact that many of them will sit mainly empty even after completion. The U.S. Census Bureau recently found that one-third of the city's most expensive apartments are empty for at least 10 months of the year. There's reason to believe that the ultra-luxury towers that have risen in recent years are even worse in this regard. For example, a report from The New York Times, which has extensively documented the disturbing quirks of this industry, found that 60 percent of the CitySpire luxury apartment building across from Carnegie Hall is investment properties or pieds-à-terre. Similar situations are thought to exist in many of the city's most expensive properties. These conditions are in part caused by the number of apartments being bought by wealthy foreign nationals who are looking to park their money in Manhattan real estate, considered a remarkably safe investment. That a city with an affordable housing crisis could simultaneously house dozens of half-empty skyscraping apartment buildings speaks to the absurdity of 21st-century urban life.
The entire federal transportation infrastructure of the United States has been raising red flags for years and not just among civic-minded liberals who believe in public investment but from engineers who worry about basic safety.
Meanwhile, the subway underneath is crammed to capacity. According to MTA numbers, the subway system saw an increase of 2.6 percent in the number of daily riders on weekdays from 2013 to 2014. That might not sound like much, but it brought the system to a staggering 5.6 million riders a day. Meanwhile, those riders are facing far more delays. The MTA reported in 2015 that the number of delays rose a staggering 45 percent from 2013 to 2014. Surely, the continuing recovery efforts from Hurricane Sandy factor into these numbers, and New York's underground remains the envy of America's major cities. But all throughout the system, there are signs of strain and underfunding with the subway's basic functions facing severe threat moving forward. Of course, the transportation infrastructure is hardly alone in its financial precarity, joined by other basic needs like the K-12 and higher education system and infrastructure to help the homeless.
***
This stark disconnect—a city awash in vast sums of money, amounts undreamed of even a decade ago, that simultaneously cannot pay for badly needed governmental circumstances—is hardly unique to New York. Washington, D.C., and San Francisco, for example, also have seen vast influxes of wealth and yet face existential risks to their decaying public transportation infrastructure. Nor are these problems unique to urban life: In my home state of Connecticut, Yale University sits on more than $25 billion in untaxed endowment money, while the state's public university system faces draconian cuts. The entire federal transportation infrastructure of the United States has been raising red flags for years and not just among civic-minded liberals who believe in public investment but from engineers who worry about basic safety. We have gleaming towers of impossible opulence for the very few and decaying necessities for the many.
***
Again and again in American life, we see a disconnect between the vast wealth distributed among the super rich, while systems vital to a functioning society wither from underfunding. We've reached a period where our refusal to raise tax rates appropriately has started to undermine the basic day-to-day needs of a modern state. Scandals like the Panama Papers, which demonstrate the lengths the wealthy will go to avoid paying their already low taxes, only deepen the outrage.
How long can we starve essential municipal needs before the effects are too obvious for even the people in the gleaming towers to ignore? As much as the average American may want tax rates low, he or she is probably also accustomed to a certain quality of life that has been provided in large measure by the public sector. Functioning streetlights, adequate social services for the drug addicted and the mentally ill, regular trash pickup, transportation to bring workers to work—these are not amenities but essentials. The refusal to fund them adequately will in time erode the standard of living even for the richest. The question is whether we will realize how badly we need to abandon austerity and embrace shared sacrifice before it's too late.