Twenty seconds into Elena Kunikova's Divertimento at last Saturday's Dance Theatre of Harlem matinee at the City Center, I whispered to my companion, "This isn't a company ballet, it's a school performance." It would have been more accurate to say, "It's a teaching tool." Kunikova has been a superb coach and pedagogue in America for many years, drawing on her experience first as a student and then as a leading dancer at the Kirov (now Maryinsky); she's been particularly successful staging 19th-century Russian classics for the Trocks, somehow marrying her immaculate renditions of obscure ballets to the company's parodic predilection. In other words, she's a treasure.
For DTH, she's put together (to say "choreographed" would be an overstatement) a trot through the classical vocabulary. Three men and three women steer us through the basic elements of ballet, from pirouettes and grand jetés and barrel jumps on to the inevitable fouettés. (I kept wondering which of the women would get to spin and spin, and wasn't really surprised when at the very end all three of them did the honors.) As a learning exercise this piece should serve the company well; as a ballet it belonged at a school workshop, not on a stage for a sophisticated audience. We won't know how useful it may prove until we have a clearer idea where Virginia Johnson, the artistic director and one-time leading ballerina, is leading the company. Long ago, when it was much larger than it is today, DTH did a famous Giselle (set in the bayou), starring Johnson. Is she hoping to move the company back in that direction? If so, Divertimento is laying the groundwork.
As it is, the dancers are often on pointe in their non-classic works. Two pieces from the 1990s constituted the meat of the performance I attended, both featuring pointe work: Nacho Duato's Coming Together (1991) and Robert Garland's Return (1990). They were canny choices. The Duato is handsomely and sleekly designed, mostly in black, demanding non-stop energy and bravura, and choreographically more organized (and less pretentious) than most Duato offerings. The pretention—the portentousness—came in the intoned voiceover that battled with Frederic Rzewski's minimalist score: lines written by a prisoner killed in the 1971 Attica prison riots. No, no, Nacho. Special pleading of this kind only gets in the way of dance.
The Garland is a hit—how could it not be, given the glorious sounds of James Brown and Aretha Franklin? It flings everything together—from over-calculated flirtatiousness (Chrystyn Fentroy), to crowd-thrilling boogie (a sensational Francis Lawrence)—and if it's a little cynical in its populist appeal, it's also a lot of fun. The dancers were having a great time, and so was the audience.
DTH is to a considerable extent a Balanchine offshoot, founded by his principal dancer Arthur Mitchell and supported by him and Robbins. No Balanchine this time out, but he'll be back. These energetic and committed dancers deserve him, and the classics as well; how else will they establish themselves as anything beyond a smaller version of Alvin Ailey? Meanwhile, you can't help rooting for them.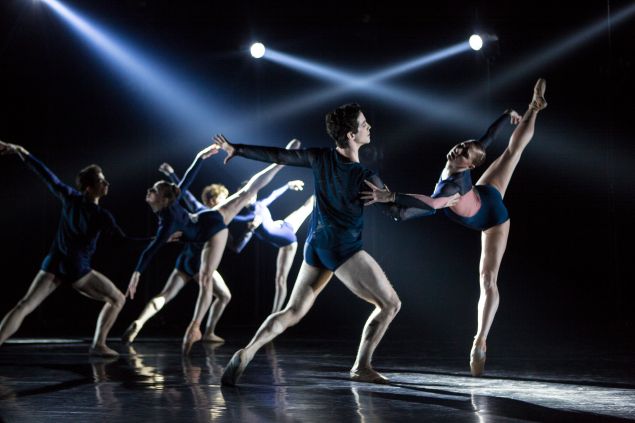 Another company in the process of re-inventing itself is Pennsylvania Ballet, also a Balanchine offshoot. But no longer. ABT's onetime adorable star Angel Corella has taken over from a series of Balanchinians, and the company is in tumult, staff and dancers turning over at a rate you can see as either alarming or exciting. The results are far from in.
At the Joyce recently we got works by three current choreographers of some reputation. Matthew Neenan's Keep is a weak effort—he can be much better than this. (I did have a good time, though, recognizing tunes from Kismet, since the score includes Borodin's String Quartet No.2.)
I liked Trey McIntyre's The Accidental less than most of my colleagues did—try as I might, I couldn't discern any structure whatsoever. And I found Craig Wasserman's climactic yet casual solo over-extended and not very appealing, although his dabbing at his armpit was a first for me. McIntyre is certainly accomplished, but The Accidental doesn't take me very far.
On the other hand, Grace Action (to the inevitable Philip Glass) is the best piece I've ever seen by Nicolo Fonte—it makes sense structurally, it's powerfully costumed and lit, and it presents the dancers very effectively. The company is filled with strong men and women, and they go for broke. Who knows how many of them will be with us the next time Pennsylvania hits New York? Who knows what Corella's aesthetic will turn out to be? Fingers are crossed.