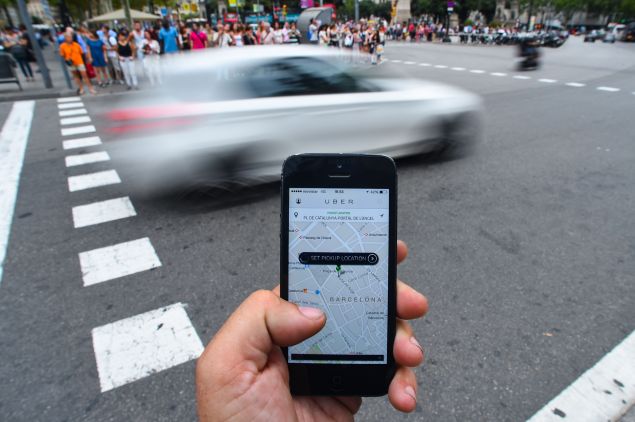 It's no secret that Uber drivers have been upset with the company. The clash has been going on for a while now, and when drivers' earnings were slashed to below minimum wage in January, protests erupted all over the country. One massive rally even aimed to shut down the Super Bowl. Drivers felt their voices weren't being heard, especially after CEO Travis Kalanick allegedly began blocking them on Twitter. 
The latest event in the always interesting saga of Uber vs. its own drivers revolves around a lawsuit filed by two drivers from Ann Arbor, Michigan. The duo is suing over wages and benefits, claiming that Uber keeps their tips, denies them benefits and forces them to pay for gas and maintenance out of pocket.
"One of Uber's key selling points is that passengers do not need to tip their drivers because gratuity is included in the fare. However, Uber drivers are not compensated for gratuities, and Uber specifically instructs its drivers via a training video to refuse a cash gratuity if offered," reads the lawsuit filed in U.S. District Court on Tuesday, according to Detroit Free Press.
Uber has always touted itself as a convenience. Its site reads, "no cash, no tip, no hassle: When you arrive at your destination, just hop out—we'll automatically charge the credit card on file. And there's no need to tip."
Although we are not familiar with the contents of the training video, we do know that Uber has in the past said drivers are permitted to accept tips if they're offered. The company also refutes that it's withholding tips from drivers, claiming gratuity isn't being collected in the first place.  Uber's position regarding the tips claim is "the fare does not include a tip, and Uber has not withheld any tips from drivers," according to Detroit Free Press. It's true the company seems to be running a no-tip business (as some restaurants have begun doing as well). The company advertises that "there's no need to tip," not that gratuity is included. While receipts detail the cost of the fare, tax, fees and tolls (if applicable), there is no charge listed for tip.
The lawsuit also addresses the fact that Uber drivers are considered independent contractors rather than employees, a classification that makes them ineligible for benefits and certain worker rights. Uber claims this classification is to allow for flexibility to choose driving hours and zones as well as work other jobs. Many drivers agree, but just as many feel it is simply a tactic Uber uses to avoid responsibility for its workers.
This lawsuit follows two that the company has just settled. Two months ago, Uber agreed to pay out $28.5 million to roughly 25 million rides to settle a class action lawsuit regarding safety check claims. And just last week, Uber agreed to pay another $10 million to settle allegations claiming the company was misleading about the quality of its background checks.