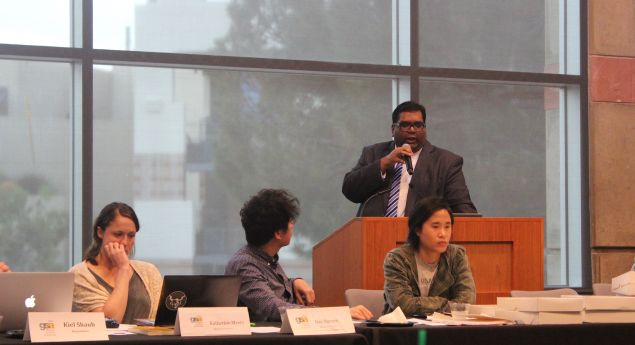 The University of California, Los Angeles graduate student government is normally an obscure forum operating on bylaws that can be vague and byzantine.
But since October, the national conversation on the boycott, divestments and sanctions (BDS) movement against Israel has turned it into a flashpoint for legal jockeying and media scrutiny.
The shakeup at the UCLA Graduate Students Association forum came to a head on Wednesday night, as embattled GSA president Milan Chatterjee delivered a lengthy defense of an attempt this fall to ban BDS discussions from a GSA-funded event. During an executive session, the forum upheld 16 ethics charges against Mr. Chatterjee and voted to write a letter censuring him but opting away from impeachment proceedings.
In a characteristic twist of irony, an abortive attempt by Mr. Chatterjee to bar discussion of divestment from a single campus event led to months of proceedings against him, involving him in local, state and national BDS conversations.
In October, Mr. Chatterjee, a third-year law student, sent a pair of emails to a campus organization saying $2,000 in funding from the GSA cabinet for a town hall on diversity was contingent on a "zero engagement/endorsement policy toward Divest from Israel or any related movement/organization."
Mr. Chatterjee claims the stipulation was meant to promote "inclusion and neutrality" by banning a sometimes venomous conversation from an event on diversity and inclusion.
'I'm very sorry that for the last five months our GSA meetings have been spent on this frivolous witch hunt.'
A Hindu of Indian descent, he vehemently denies having a public stance on the Israeli-Palestinian conflict.
He said he was a proponent of the diversity forum and had helped secure funding for it, only to see his words used against him. "The funding wasn't denied—they got the money," he added.
But a month after he sent the emails, the ACLU and Palestine Legal, a branch of the progressive legal advocacy group Center for Constitutional Rights, wrote UCLA's chancellor on behalf of Students for Justice in Palestine to decry a "policy of discrimination against students with pro-divestment viewpoints."
Pro-Palestinian blogs like Mondoweiss and Electronic Intifada pilloried Mr. Chatterjee, as did submissions and opinion columns in the UCLA Daily Bruin, while a conservative blogger with The Daily Wire News jumped to his defense. When he retained counsel, the student newspaper ran an illustration of Mr. Chatterjee standing behind a thick-necked, grumpy-looking bodyguard with an earpiece and "attorney" written on his suit. (A representative of the law office he retained filmed the GSA meeting.)
In February, the GSA voted to investigate his actions and subsequently failed to bring charges. Nonetheless, at the April 13 hearing, GSA member Katherine Myers brought forward a list of 16 charges that included "engaging in retaliations against critics" and "applying policy outside the authority of the office."
Mr. Chatterjee presented a point-by-point rejection of the charges against him, saying it was implicitly the GSA's policy to stay neutral on the issue of boycotting Israel.
He said he was the latest victim in a "smear campaign" against student leaders who don't support the cause of BDS, noting that in 2014 two UCLA undergraduate student government officers were brought before the student judiciary for taking free trips to Israel.
This sentiment was echoed by Tammi Rossman-Benjamin of the anti-Semitism watchdog group AMCHA Initiative. In an exclusive statement to the Haym Salomon Center, Rossman-Benjamin stated:
"The guerrilla warfare and bullying tactics used by anti-Zionist groups to squash any and all views but their own is frightening. It's reminiscent of the intimidation tactics used two years ago when anti-Zionist groups required UCLA candidates running for student government to sign a pledge that they would only visit Israel with Muslim or Christian groups but not Jewish groups. These actions and many others underscore the harassment, intimidation and bullying that are the hallmark of the anti-Zionist BDS movement and what is also leading to the rise in anti-Semitism on campus."
Mr. Chatterjee repeatedly apologized at the hearing that the conversation had hijacked student government business, but placed the blame on his opponents.
"I'm very sorry that for the last five months our GSA meetings have been spent on this frivolous witch hunt," he said. "Thank you for considering this situation and I hope we can move on to do bigger and better things."
Eitan Arom is a freelance journalist and contributor to the Haym Salomon Center for News and Public Policy. He resides in Los Angeles and is a graduate of UCLA. He has spent time reporting in Washington D.C. and Jerusalem. You can follow Eitan on Twitter @Eitan_Arom