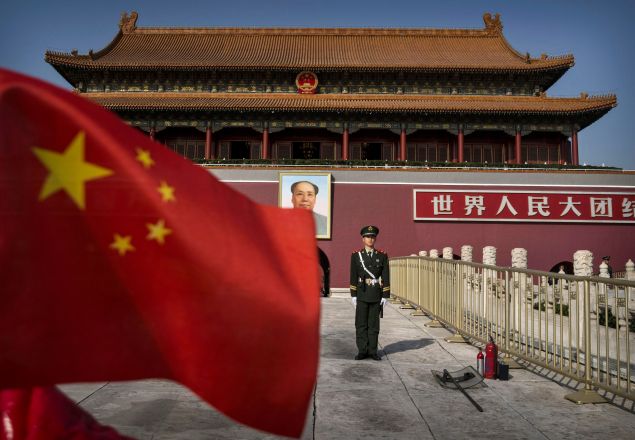 President Obama hosted 50 world leaders in Washington this past week for a summit that focused on controlling nuclear weapons. Russia's Vladimir Putin chose not to attend. As did representatives from Iran and North Korea, though the hermit kingdom was a major focus of the conference.
Oddly, Iran was barely mentioned, owing, perhaps, to Mr. Obama's nearly-blind faith in Iran's professed intentions—rather than its actual behavior. Teheran's post-nuclear agreement missile tests and recalcitrance on allowing UN inspectors near its Parchin military facility—even as construction camouflaged to be secret continues there—suggest the need for greater vigilance toward Iran, not less. But for Mr. Obama, the ability to pretend that all is under control in the Euphrates Valley seems sufficient.
The delegates' concerns about North Korea, however, were well-founded. On Friday, as the conferees met, North Korea test-fired yet another missile eastward into the sea toward Japan. And the North Koreans apparently tried to jam South Korean GPS signals.
Beijing is concerned about the two Koreas unifying because it would lead to American troops being stationed much closer to the Chinese border.
That there is a clandestine link between North Korea and Iran's nuclear and ballistic missile ambitions is widely presumed. What perplexes us is how North Korea—unable to feed many of its people beyond a bare-minimum subsistence diet—can be so successful developing both nukes and missiles.
We asked a friend who has high-level contacts within the South Korean government. His answer surprised us: blame Japan.
Japan occupied Korea from 1910 until 1945. During that period, the Japanese rulers organized industry and agriculture in a seemingly logical manner: the South, which was generally flat and conducive to farming would focus on feeding the population (and the Japanese occupiers). The mountainous North would focus on manufacturing. As a result, most of the scientists and skilled workers were in the North when the country was partitioned after World War II.
Appreciative of the history lesson, we asked our friend why China didn't do more to rein in its client state. Surely nuclear weapons and missiles in the hands of an unpredictable Kim Jong-un couldn't be reassuring to an ambitious China.
Our friend explained that Beijing has two main concerns about North Korea. First, it wants to limit North Korean refugees from seeking asylum across the Yalu River. In exchange for China tolerating its anti-social behavior, the North Korean regime keeps the migrant flow in check along the 880 mile-long border.
Beijing's second concern was more surprising: reunification. According to at least one high-level South Korean diplomatic interpretation, Beijing is concerned about the two Koreas unifying because it would lead to American troops being stationed much closer to the Chinese border.
When we pointed out that in the aftermath of the reunification of Germany, American troop levels dropped from 250,000 to 50,000, our friend just patted our hand and reminded us that, too often, our understanding of Eastern history and concerns is so very limited.
Drawing conclusions based on Western experiences is not always the wisest path in the East.