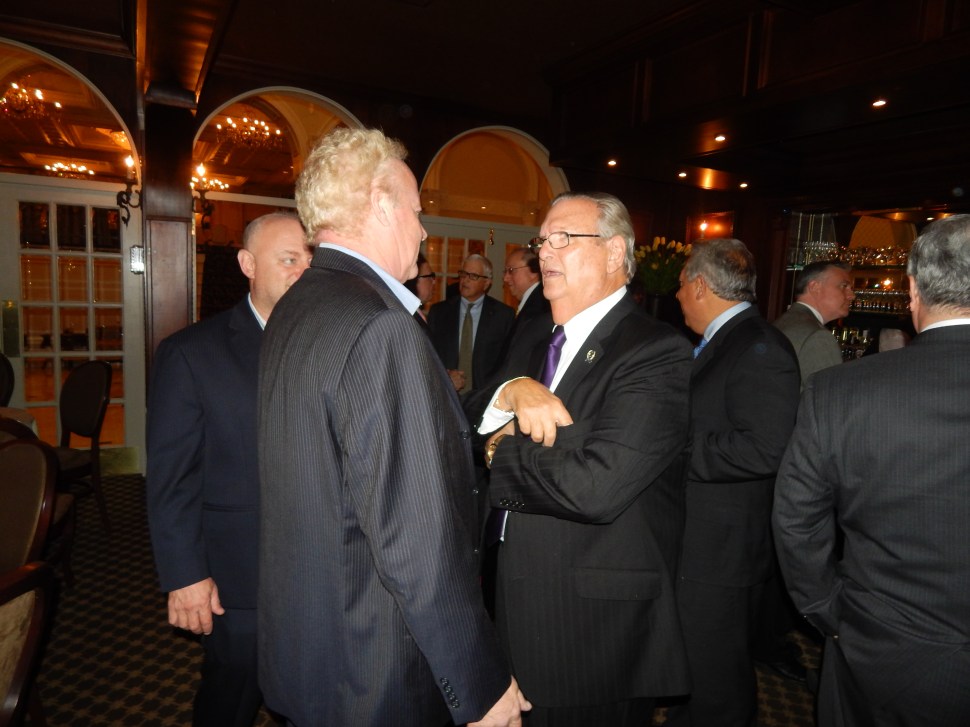 Trained as a matter of political survival to understand the value of compromise, Assemblyman Ralph Caputo (D-28), Nutley, has several vital points of view on the Atlantic City situation as state lawmakers face a deadlocked bill on the state takeover of the embattled, nearly bankrupt seaside resort city.
Senate President Steve Sweeney (D-3) has one bill, which already passed the state senate, and which Gov. Chris Christie said he would sign. Speaker Vincent Prieto (D-32) has a second bill, which has a leg up in the assembly on the senate version by virtue of its passage on Thursday out of the Assembly Judiciary Committee. Then there's the bankruptcy option for the city, which Assemblyman Jay Webber (R-26) argues would relive the matter from the pernicious realm of partisan politics.
Christie's dead set against Prieto's bill.
But Caputo said the to-date inflexible governor has to bend here as Sweeney must, to a bill that incorporates the best of an AC takeover plan and addresses Atlantic City alone.
"The main criticism from the governor's office is that Prieto's bill is just for collective bargaining, but it's more than that," Caputo said. "There are constitutional rights that this bill protects. The senate version gives the state power to take over any government and that's not what we want. We want something for a specific problem here. If another municipality has financial trouble and needs assistance, this Prieto bill can be a template."
But it can't supplant another bill for a specific municipal problem, he notes.
The assemblyman said he does not believe the governor or Sweeney had in mind the contributions of the assembly when they forged their alliance on the takeover, but now, with Prieto's bill best positioned to move on the assembly side and Republicans like Assemblyman Chris Brown (R-2) and Assemblyman Sean Kean (R-30) in position to support it, the governor and senate president must adjust and come to the bargaining table, he said.
"We're not the lower house, we're the other house," the assemblyman said.
"Everybody has to compromise," Caputo added. "No one is going to completely get their way."
Caputo is personally an expert in delicate procedure, diplomatic politics.
He was a public sector worker when he had a job as a teacher, and he also worked in the casino industry. He learned to straddle the no man's land that exists between Essex County Executive Joe DiVincenzo and state Senator Ronald L. Rice. Both are allies. He's one of Steve Adubato, Sr.'s best friends – and he supported the campaign of Newark Mayor Ras Baraka, whom Adubato's North Ward machine unsuccessfully tried to defeat in 2014. The respected chairman of the Assembly Gaming Committee wants North Jersey gaming, and he wants a bill to bail out South Jersey casinos.
As in many of life's challenges, a dead set strategy won't work in this case, he argues, and neither will ad hominem attacks.
Throughout this process, he feels Christie has exercised an impolitic and ineffectual practice of scapegoating people, including Atlantic City Republican Mayor Don Guardian, Prieto and the local government of Atlantic City. In point of fact, Caputo says, competition from Pennsylvania and New York harmed AC more than anything, in addition to the lack of a decisive response at all levels of government in New Jersey, from the local up to the state level.
"Everyone looked the other way," said Caputo, "What happened in Atlantic City was caused by the collapse of the New Jersey casinos industry, and the fact is that nobody would listen."
Guardian told the press last week that Christie put him up in front of reporters as a party to a takeover strategy he didn't support, and Caputo – who said he believes Guardian – faults the governor. Christie, the assemblyman says, has compounded the problem by name-calling.
"Guardian is an innocent victim," Caputo said. "I'm an old school guy, and what I was taught is 'never break your word and never blindside anyone.' But we're in an atmosphere where people want to win at any cost, and that is exacerbating our difficulties."
The governor needs to join the legislative leaders to consider Prieto's bill, Caputo said.
He left open the possibility that the governor and senate president would dig in against the speaker's version, and the possibility of the city falling into bankruptcy.
"If nothing works and eventually they have to go for bankruptcy, I do think people would trust an independent judge who could make fair decisions, decisions that impact the selling off of properties, like Bader Field and the water authority," Caputo said. "You want people who are positioned to make the best decisions, and I think given what's gone on here with the decision-making process at the statehouse and the governor's resistance that I see bankruptcy as a viable last resort."